It's been a rough couple of weeks.
I received a lovely little cold that I can only believe came from my adorable toddler who currently likes to open mouth kiss.  Ugh.
I had to deal with doctors that don't seem to care whether "me the patient" has any feelings.  Any. Feelings. At. All.   Why even have a patient chart??  Eye-roll.
And somehow my social calendar went from "who?" to "holy cats!!"  I know I'm stressed when I'm walking around in a circle and mumbling, "I'm so stressed."  Outside the head, I mean.  And my shoulders are on an even level with my earlobes and can't be pried away from that post with a crowbar…  Stressed.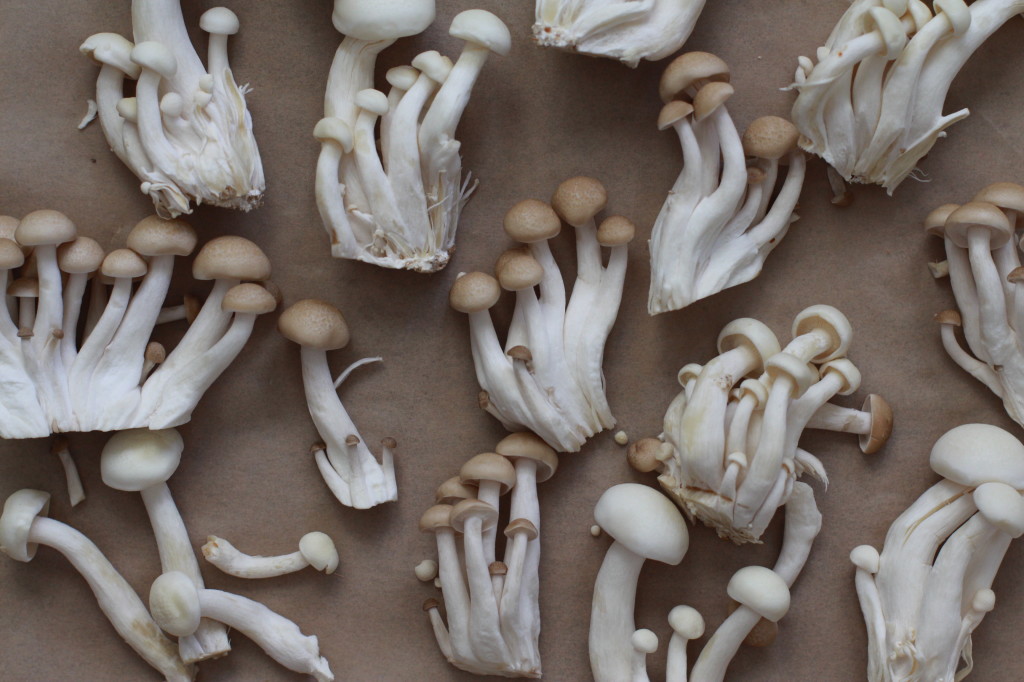 And like normal, when I have an overly emotional/stressful week or so, I tend to spend lots and lots of time in the kitchen.
Hearing the knife hit the wooden cutting board in a rhythmic "chop, chop, chopping" calms me.  Stirring diced vegetables in olive oil as they slowly caramelize and release all of their aromas, well, that lets me think.  And making something from start to finish, chopping, stirring, cooking, tasting – well, being able to finish a project makes me feel like at least I can get something right.  Finally.
This warm, slurpy ginger and star anise scented broth soup just hits the spot – whether you are fighting a cold, or fighting your social calendar – and makes it all better from the inside out.
Now I just need to work on getting those shoulders back to their original position…
inspired by Mai Pham via Epicurious
1 1/2 pounds of mushrooms
2 inch piece of ginger
1 medium yellow onion
1/8 cup fish sauce
1 1/2 tbsp. sugar
5 whole star anise
3 whole cloves
1/2 tsp kosher salt
8 oz fresh rice noodles
olive oil
salt and pepper
garnishes – cilantro, sliced thai chile, bean sprouts, thai basil, white onion, lime
Wash and trim the mushrooms – save all the trims and the stems to make the broth – set aside.
Preheat your oven to 400 degrees.  Line a baking sheet with parchment and place the mushrooms on the parchment.  Drizzle with a bit of olive oil and sprinkle with salt and pepper and toss to coat evenly.  Roast mushrooms until fully cooked, about 20 minutes.  Turn mushrooms halfway through cooking and watch closely to make sure they don't burn.  Once they are fully cooked, remove them from the oven and set aside.
Turn your oven to the broil setting.  Wash the ginger and cut the piece lengthwise.  Cut the onion in half (leave the onion skin on the onion.)  Place the ginger and the onions, cut side up, on a baking sheet and place under the broiler.  Broil the vegetables until they are charred then remove from the oven and set aside to cool.  Once they are cooled, peel the ginger and remove the onion skins.
Place the star anise and cloves in a small sauté pan and toast the spices over medium heat, stirring constantly, until fragrant.  Remove from the heat and allow to cool.
To make the broth – Place the mushroom trims and stems in a 4 quart sauce pot.  Fill up the pot with water and bring to a boil.  Once the broth comes to a boil, add the ginger and onion and reduce the heat to medium/low and simmer for 30 minutes.  Add the toasted spices, fish sauce and salt and simmer for another 30 minutes.
Strain the broth and discard the vegetables and spices.  Return the broth to the pot, add the mushrooms, and keep warm over low heat.
To assemble – Bring a pot of water to a boil over high heat.  Once the water is boiling, drop the fresh noodles into the water, stir, and turn off the heat.  Immediately remove the noodles from the water and place into a serving bowl.  Ladle the mushroom broth over the noodles and add some mushrooms to the serving bowl.  Garnish with the following – bean sprouts, thinly sliced white onion, cilantro, thai basil, lime wedges, green onions, thinly sliced thai chilies.
notes:  If mushrooms don't make you as happy as they make me, chicken, beef or shrimp can be used in place of the mushrooms.  Mai Pham's original recipe uses beef so just follow that recipe to make a meat version of this stock, etc.  I attached a picture of the brand of fresh rice noodles that I used below.  I found them at my local Asian market, however, you can use any type of dried noodles like spaghetti or angel hair pasta in place of these rice noodles if you can't find the fresh version at your grocery store.  Cook the dried noodles as the package suggests, and then add them to the soup at the end and right before serving.