Happy New Year Day!!  Let's celebrate the brand new year with a traditional Southern dish – Hoppin' John!!
Since I grew up in the South, this dish was a staple in my neck of the woods, and I've been making (or eating) a version of this traditional New Year's Day stew for as far back as I can remember.  It's basically a good luck stew made with black eyed peas, and served with some sort of greens (turnip, mustard or swiss chard), pork (bacon, ham or ham hock), cornbread and vinegar based hot sauce.
The good luck part of the stew is as follows: when black eyed peas cook, they plump up which represent prosperity; the greens symbolize money; and the pork – because pigs move forward when foraging – represent positive motion.  The cornbread represents gold and the hot sauce…?  Well, it's just there to make everything just that much better!!
Every year I make a combination of these ingredients (because who doesn't need more prosperity, money and positivity??!!) and this year I put almost all of them into a rich and creamy stew.  Onions and garlic sautéed with some tasty ham chunks – cooking the ham until it gets all kinds of crispy – and then adding the beans, a bit of cream, some stock and some chopped up greens.  It's everything you need on the first day of the year, and even includes some good luck for a few days after, thanks to the leftovers!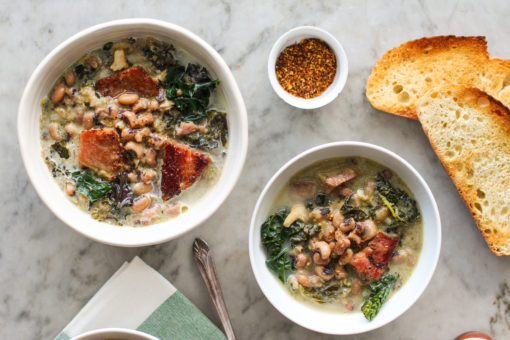 Wishing you your very best year yet – Happy 2018!!
XO,
Jenn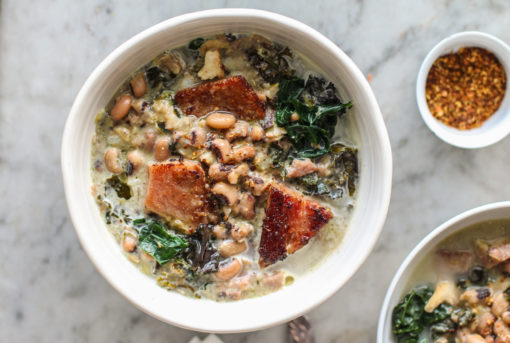 hoppin' john
makes about 6 servings
2 tablespoons extra virgin olive oil
8 ounces ham steak, bacon, or ham hock, cut into 1-2 inch pieces (I used ham steak)
1/2 cup chopped white onion
2 cloves garlic, minced
1 teaspoon dried oregano
1 teaspoon dried thyme
4 cups cooked black eyed peas
8 cups chicken or vegetable stock
1 cup milk, almond milk or oat milk
1 bunch swiss chard, stems removed, leaves washed and roughly chopped
salt
black pepper
In a heavy bottomed pot over medium-high heat, add the olive oil and the ham pieces.  Cook the ham pieces until they start to crisp up and turn brown, stirring or flipping them as they cook so they don't burn.  Remove the ham pieces with a slotted spoon and set aside for later.
Turn the heat on the pot to medium-low and add the onion and garlic to the pan.  You may need to drizzle a bit more olive oil in the pan, or there may be some ham fat left over – use your best judgement here – and cook the onions until translucent, 3-5 minutes.
Add the oregano and thyme to the onions and stir to combine.  Add the peas, stock and milk and bring the mixture to a boil.  Turn down the heat and simmer for 20 minutes.  Stir in the swiss chard and cook an additional five minutes until the chard is tender.  Turn off the heat, season with salt and pepper to taste.
Ladle the pea stew into bowls and top with the crispy ham bits – alternately, you can add the ham bits to the stew before serving.  Enjoy!