Hi friends!!
Although I make beef stew on a semi-frequent basis, I can honestly say that I don't remember ever making one with Guinness before.  It's not difficult.  It's just that when I'm cooking I always reach for the red wine bottle (ahem) instead of the Guinness draught.  But as I saw St. Patrick's Day looming on the calendar, I was willing to give it a try – you know, for research purposes.
So I flipped around on Pinterest for ideas – and found this Guinness beef stew from Morgan at Host the Toast.  Let me be honest – it was the cheddar herb dumplings that originally grabbed my attention because dumpling-anything sounds like it would make any good day even better.  But I read through her recipe and decided that I would combine both hers, my basic beef stew, and a recipe that my dad sent over to make the perfect batch of Guinness beef stew.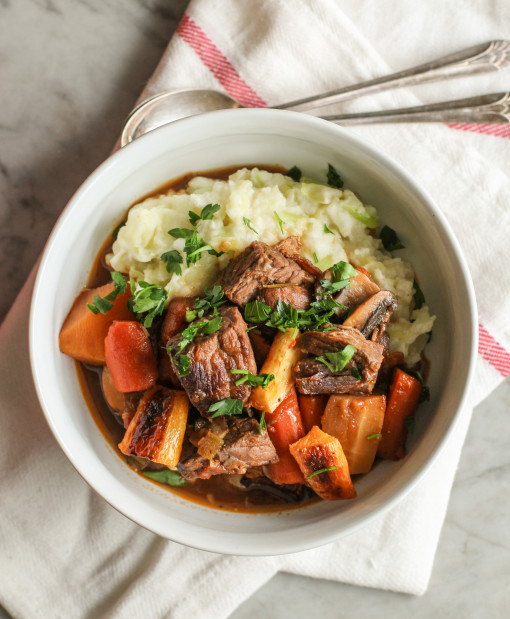 And here it is.  Perfectly soft cooked beef with tons of root veggies and lots of fresh herbs – and the most amazingly rich sauce.  Not beer-y (if that's even a description) but rich and deep, and layers of flavor.
When I wasn't eating it directly out of the pot while taking it's picture, I was spooning big ladles over these potatoes colcannon for a complete Irish meal.   Hope you guys like it!!
Happy St. Patrick's Day!
xo,
Jenn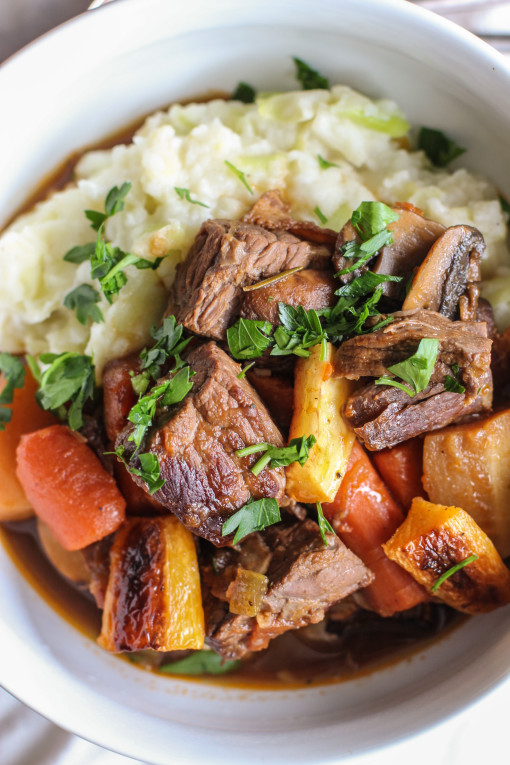 Guinness beef stew
makes about eight portions
1/4 pound bacon, cut into small pieces (optional)
salt
black pepper
2 pounds beef stew meat, cut into 2 inch pieces
1 cup roughly chopped onion
1 cup roughly chopped celery
4 garlic cloves, minced
3 tablespoons tomato paste
2 tablespoons balsamic vinegar
2 tablespoons soy sauce
12 ounces beef or chicken stock
1 can of Guinness draught
3 sprigs fresh thyme
1 sprig fresh rosemary
3 small bay leaves
4 medium carrots, peeled and cut into 1-inch pieces (cut larger pieces in half so everything is about the same size)
4 medium parsnips, peeled and cut into 1-inch pieces (cut larger pieces in half)
2 medium rutabagas, peeled and cut into 1-inch pieces
8 ounces mushrooms, trimmed and thinly sliced
3 tablespoons fresh parsley
In a large, heavy bottomed pot, cook the bacon over medium-high heat until it has rendered it's fat and has become crispy.  Remove the bacon from the pan and set aside.  (Alternately, you can place a good glug of olive oil in the bottom of the pan.)
Working in batches, season the meat with salt and pepper and sear the meat in the bacon fat (or olive oil) – adding some olive oil as needed.  Brown all the meat and on all of the sides.  Remove the browned meat and set aside.
Add a bit of olive oil to the pan, and add the celery, onion and garlic too – stirring and scraping the bottom of the pan to remove the browned bits.  Cook the vegetables for about five minutes or until they start to soften.  Add the tomato paste, balsamic vinegar and soy sauce and stir everything together.
Add the beef back into the pan and slowly pour the Guinness over the beef, scraping the bottom of the pan to remove the last of the browned bits.  Add the chicken stock, thyme, bay leaves, and rosemary and bring to a boil.  Once the stew comes to a boil, reduce the heat, partially cover the pan, and simmer for 1 1/2 hours.
Add the rest of the vegetables to the pan – carrots, parsnips, rutabaga and mushrooms – and continue to simmer, partially covered, for another 30 minutes.
Stir in the fresh parsley, taste, and adjust seasonings as needed.