I love it when my hubby wants to cook dinner.  Although he makes a mess from one end of the kitchen to the other – and uses every single pot, pan and utensil we own in the process!! – his meals are so amazing that I am more than happy to stand in front of the sink the next day just so I can eat one of his delicious meals!!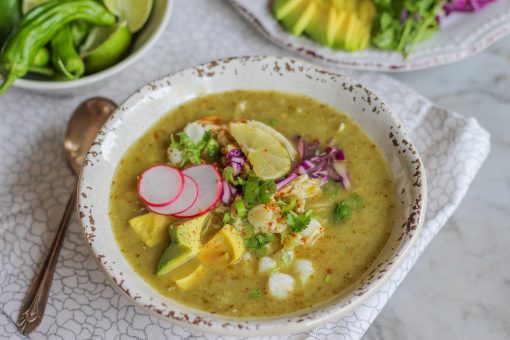 My husband loves to grill and really excels when it comes to fish and shellfish cookery, but his most amazing inventions are always his sauces and dressings.  He thinks outside the box and blends flavors that don't always go together in a "classic" cooking sense but always, always, taste so amazing!
Just last night he made a vibrant and tangy creation by blending jalapenos, cilantro, onions, lots of lime, garlic and roasted poblano peppers into a spicy green sauce that he served with a big pile of grilled shrimp with a side of corn on the cob and roasted fingerling potatoes – I'm telling you, it was heaven on a plate!!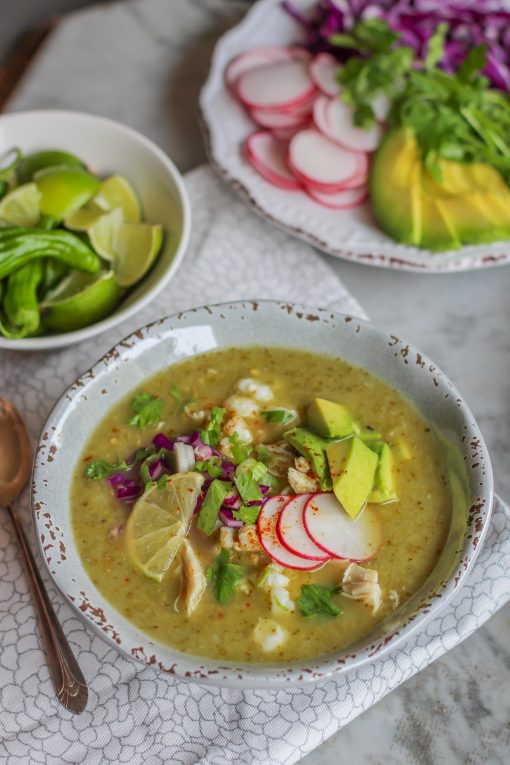 And every day after a delicious meal made by my hubby (and after I've cleaned the entire kitchen haha) I get really inspired to make something using the ingredients that he has brought into the house.  This time I followed up his delicious dinner with this green chicken pozole.  If you haven't had pozole before, you are really missing out.  Pozole, which means "hominy", is a traditional soup or stew from Mexico.  This dish is made with hominy, usually contains pork or chicken (but can be vegetarian/vegan with the substitution of beans), and is garnished with all kinds of fun things like shredded cabbage, chile peppers, onion, garlic, radishes, avocado, salsa or limes.  Also, it is DELICIOUS!!
If you want to make this meal during the week and are pressed for time, use precooked or shredded rotisserie chicken in place of cooking the chicken from scratch but either way, just make sure to make this dish at least once – you won't regret it, and I promise the clean up is minimal!!
XO,
Jenn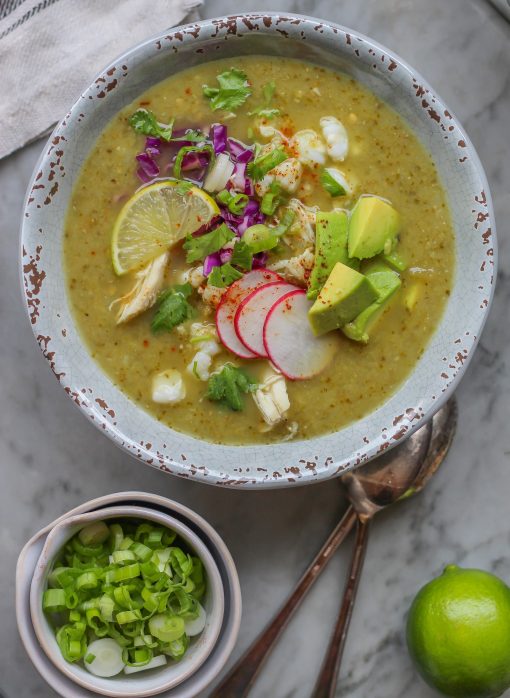 green chicken pozole
makes 4 servings
4 cups chicken stock
1 1/2 pounds chicken
1 garlic clove, chopped
1/2 cup chopped white onion, divided
8 ounces tomatillos, husked and washed
1 fresh jalapeno, quartered, seeds removed and discarded
1/2 cup chopped fresh cilantro
1 teaspoon dried oregano
1 15-oz can white hominy, rinsed
salt
black pepper
freshly squeezed lime juice
optional toppings: shredded cabbage or lettuce, sliced radishes, ripe avocado, fresh feta cheese or cotija cheese, lime wedges, fresh tortillas or fried tortilla chips, sour cream or yogurt
Bring the chicken stock, 1/4 cup onion, garlic and chicken thighs to a boil in a covered medium sized pot, then reduce heat and simmer for about 20 minutes, or until chicken is cooked through.  Once chicken is cooked, remove from the broth and place on a cutting board to cool.  Pour the broth through a strainer into a large bowl, discarding solids and reserving the liquid.  Once chicken is cool, shred with your fingers or roughly chop with a knife.  Set aside.
Preheat your broiler to high.  Place the tomatillos, remaining onion, and jalapeno onto a baking sheet.  Place the baking sheet under the broiler and cook the vegetables until they are browned and bubbling.  Remove the vegetables from the oven and place them into a blender.  Add the broth, cilantro and oregano to the vegetables and blend everything together.
Place the broth into a large pot and bring to a boil.  Turn the heat down and simmer the broth for about 15 minutes.  Add the hominy and chicken to the broth and cook for another 5 minutes.  Turn the heat off and season with salt, pepper, and lime juice.  Ladle the soup into four bowls and top with your favorite toppings.
my notes: You can use precooked chicken or even shredded rotisserie chicken in this recipe.  Just make the broth like the recipe states, omitting the raw chicken and adding the chicken at the end of the recipe, as stated.  You can also make this a vegan dish by omitting the chicken and using vegetable broth in the recipe.