Does anyone else see some new seasonal food item show up at the market and then buy like all-you-can-carry??!! Please tell me I'm not alone!!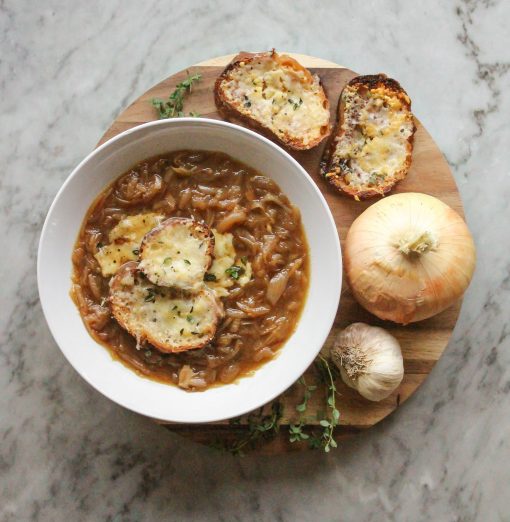 Just a couple of weeks ago I bought 20# of apples during our trip to the orchard. At first I had buyers remorse. I mean, that's ALOT of apples!! But, I am happy to say that there are only 9 apples left on the counter. I made one apple galette, the kids have been eating three/day, and I only had to throw out two rotten ones, so I would call that a success. Or, maybe I should have bought TWO cases instead of the one?!?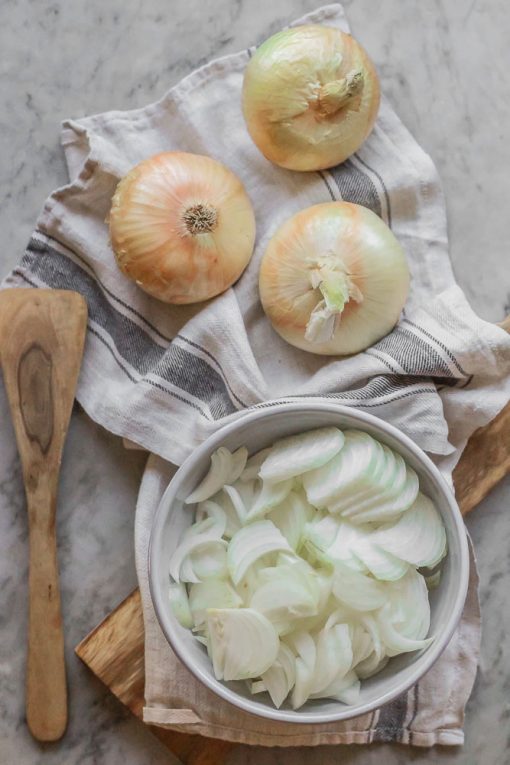 Anyway, just yesterday I saw the new crop of sweet Vidalia onions (eeeeek!!!) at the farmers market and…..I BOUGHT ALL THE ONIONS I COULD CARRY!!
Seriously, I made my daughter walk back to the car so I could carry the onions and not her. Now before you put me on a guilt trip, our car was only around the corner and she's a good walker so it all worked out and we lived happily ever after!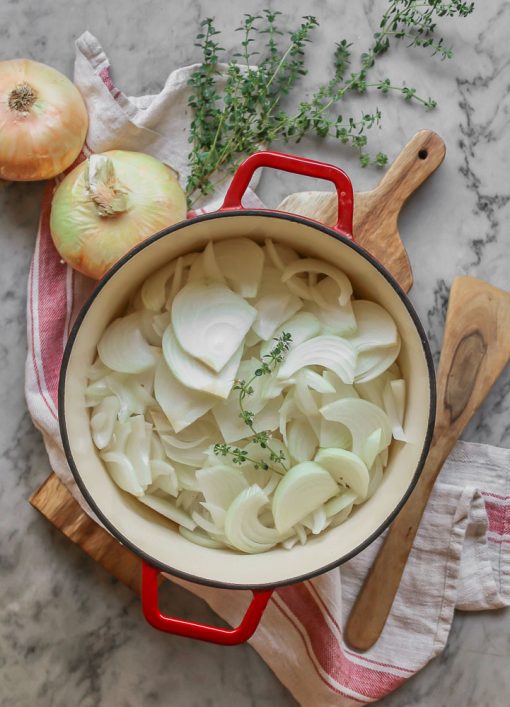 And now I'm in full onion-mode! Whatever that means…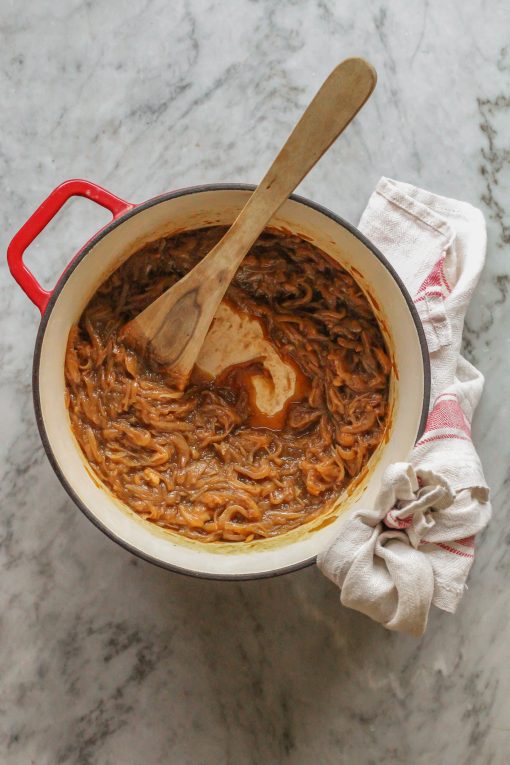 So first up, French onion soup.  Have you made this soup before?  It's SO easy and SO delicious and just perfect for those cooler fall nights!!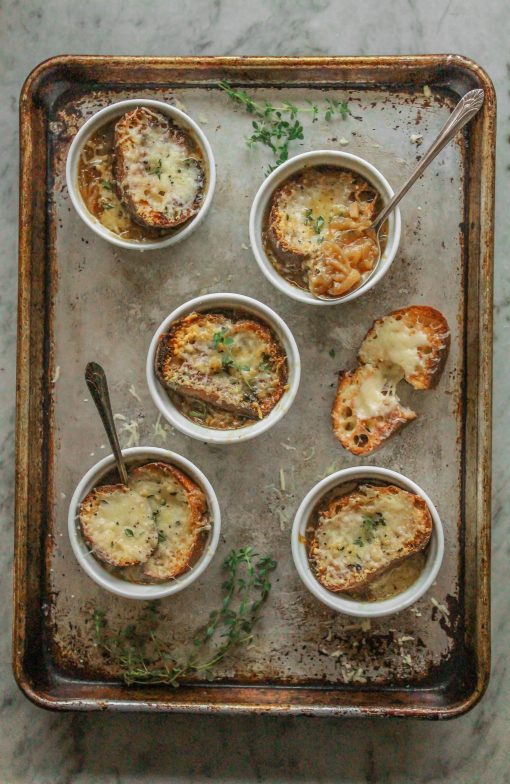 French onion soup is one of those really simple soups that taste amazing because of the layers of flavors that you develop as you combine the ingredients – a rich broth with a hint of thyme, slowly caramelizing onions until they are so browned, intensely and wonderfully flavored, and then topping everything with a piece of toasted bread (or three!) absolutely smothered in cheese!!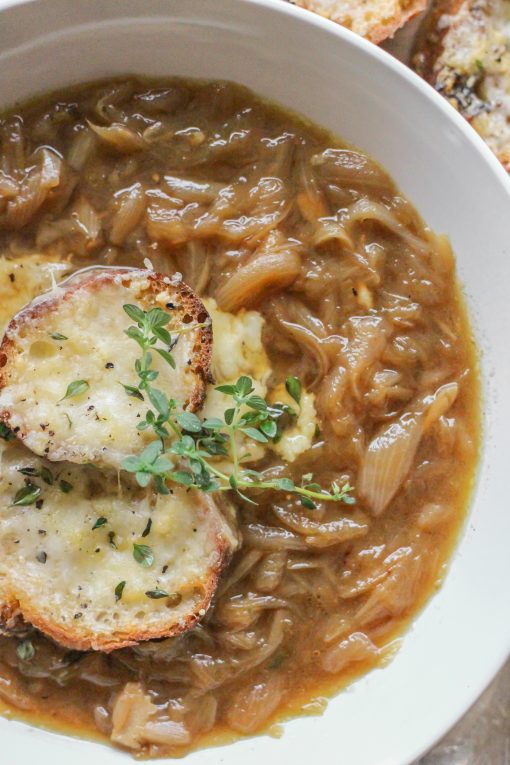 I make this soup every fall when the sweet onions come into season and I usually make a HUGE batch because French Onion Soup is just as delicious when you reheat it from a frozen container on a Wednesday night in the middle of a long work week as it is when you first make it.  Just make sure you have some toast on hand and enough cheese to smother the entire bowl, or all you have is onion soup!
XO,
Jenn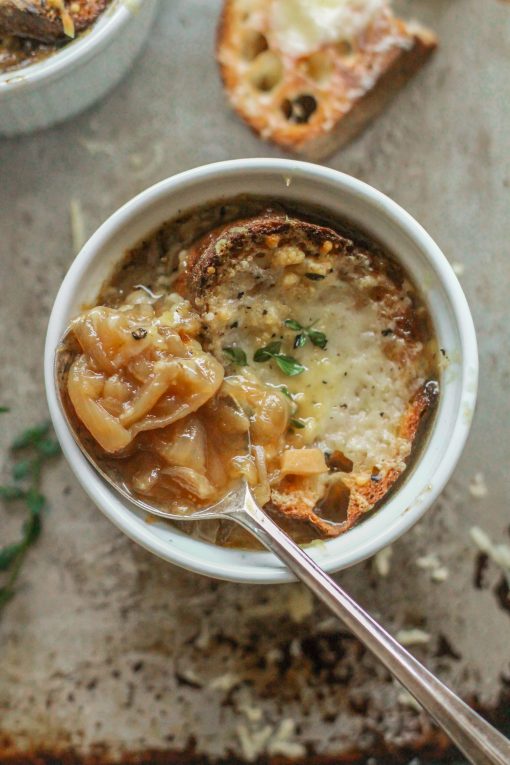 French Onion Soup
makes 4-6 servings
2 tablespoons olive oil
4 sweet onions, such as Vidalia or Maui
3 fresh thyme sprigs
2 quarts chicken stock, beef stock or vegetable stock
salt
black pepper
slices of your favorite bread – I recommend day old baguette or ciabatta
8 ounces grated gruyere cheese
4 ounces grated parmesan cheese
Add the olive oil to a large pot over medium heat. Add the onions, and thyme to the pot and cook until the onions are very soft and caramelized, about 25 minutes. You will need to stir the onions occasionally while they are cooking so they do not burn.
Once the onions have cooked completely and have turned a rich, dark brown (see picture above), pick out and discard the thyme leaves.  Add the stock to the onions and give them a stir.  Turn the heat down to medium low and simmer the soup for 30 minutes. Season, to taste, with salt and pepper, and then remove the soup from the heat.
Preheat the broiler. Arrange the slices of bread on a baking sheet in a single layer. Sprinkle the slices with the Gruyere and Parmesan cheese and broil until bubbly and golden brown, 3 to 5 minutes.
Ladle the onion soup into bowls and top with the cheese-bread.  Serve immediately.