Chips and dip.  Dip and chips.  Is there anything else we need to discuss?
Oh yeah, there's that big football game right around the corner and that calls for snacks.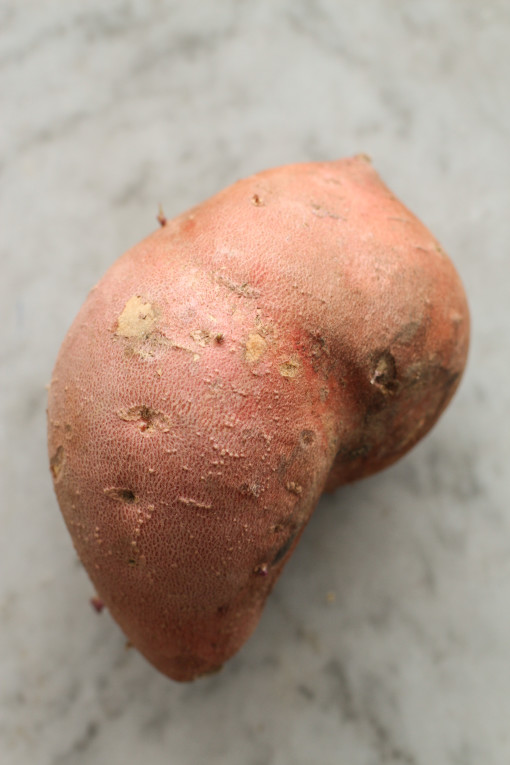 I love a good snack.  I even get more excited about the appetizer course than dinner sometimes.  So when someone says "party time" I am the first to rsvp with an appetizer in hand.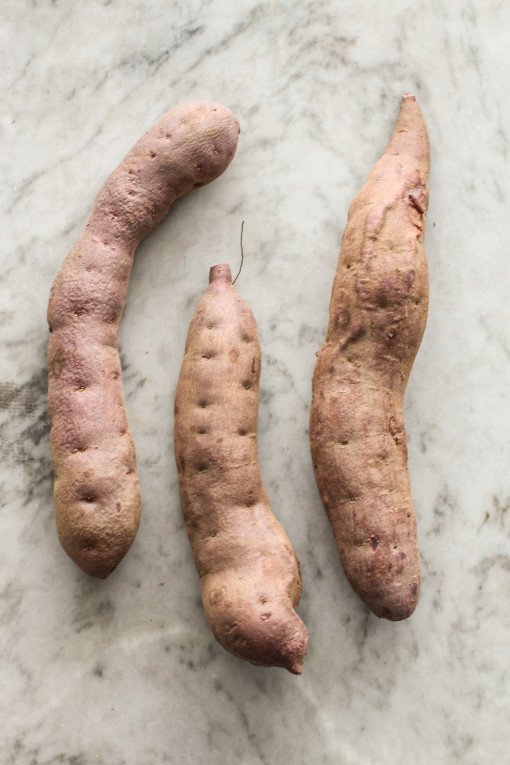 And what's better than a party with one appetizer?  A party with many, many appetizers.  A super bowl full of appetizers if you will…aha!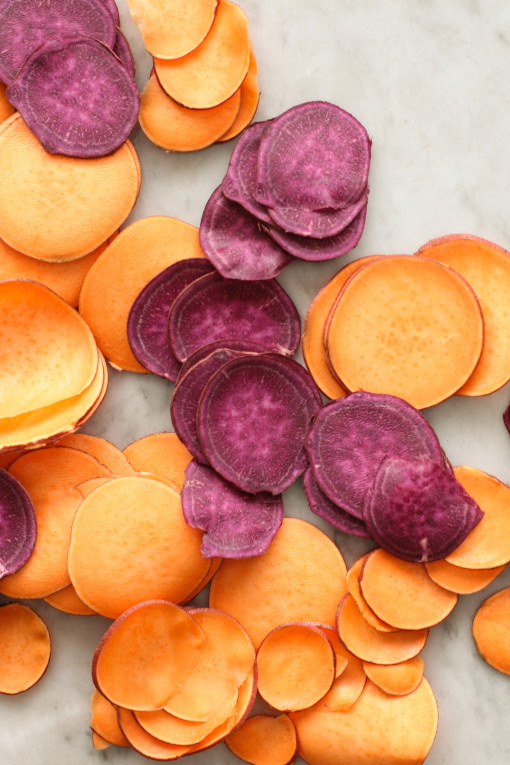 Drumming up ideas for something fun and yummy to bring to the table, I found these fun little purple and orange sweet potatoes in the market.  Thinly sliced and slowly baked with a bit of olive oil and salt – they make the perfect chip…now I just needed a dip.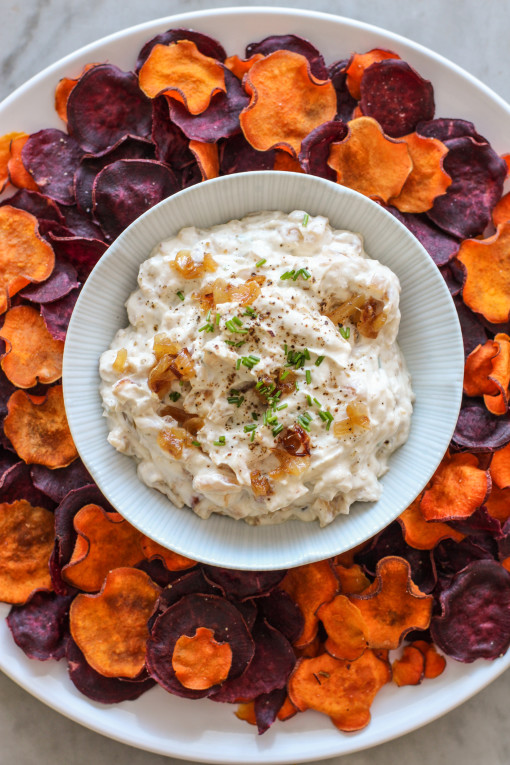 Dips are a wonderful thing and the one that shows up at every party is the classic onion dip.  So the challenge was on – could a healthy version of onion dip be made that still tastes like the classic version?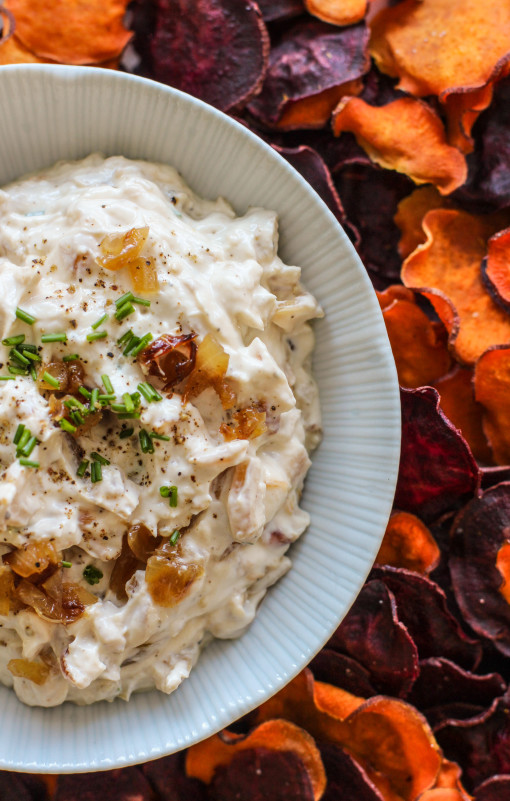 Yes.  Yes it could be done and here it is.  Creamy nonfat greek yogurt, feta cheese, slowly cooked caramelized onions, fresh chives, a bit of apple cider vinegar and viola!  Healthy caramelized onion dip with freshly baked sweet potato chips – happy party ya'll!
xo,
Jenn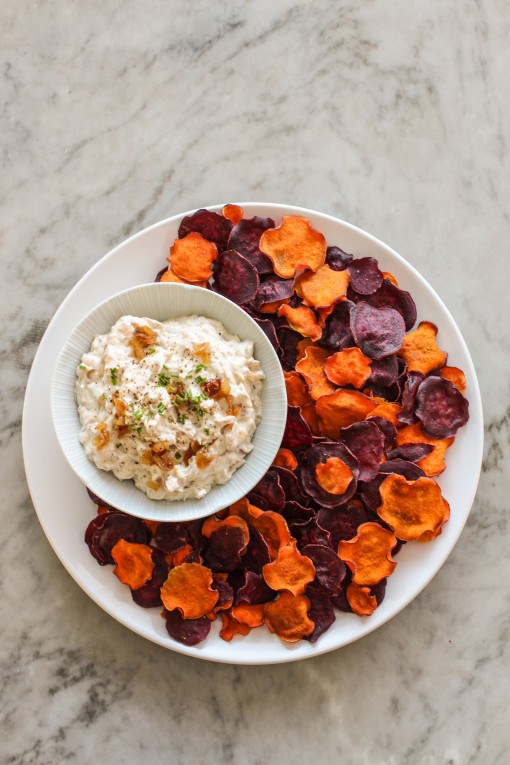 caramelized onion dip with baked sweet potato chips
onion dip adapted from bon appetit
1 medium purple sweet potato, washed
1 medium orange sweet potato, washed
olive oil
1 yellow onion, peeled, cut in half and then thinly sliced
1/2 cup feta cheese
1 cup nonfat greek yogurt
1 teaspoon apple cider vinegar
salt and black pepper
fresh chives, minced
make the baked sweet potato chips
Preheat your oven to 300 degrees and line two baking sheets with parchment paper.
Using a mandolin, thinly slice the potatoes – keeping the purple separate from the orange potatoes so they won't become discolored.
In a medium sized bowl, toss one type of potato slices with a good amount of olive oil so that each side of the slice is coated in oil.  Place each slice of potato onto the parchment paper, making sure that they slices do not over lap each other.  Sprinkle a big pinch of salt over the potatoes and then place them into the oven.
Bake the potatoes until they become crispy – about 25 to 30 minutes – checking them frequently.  You want to pull the chips out before they are completely cooked as they will continue to cook once they have been removed from the oven.  Allow the chips to cool completely.
make the caramelized onions
Place a large heavy bottomed saute pan on the stove over medium-high heat.  Add the onions and the olive oil and stir to combine.  Cook the onions until they begin to soften, about 5-10 minutes and then turn the heat down to medium/medium low.  Continue to cook the onions – stirring frequently and scraping the bottom of the pan to release the browned bits – until the onions have completely cooked down and have turned brown.  Add a pinch of salt and black pepper and stir the onions once more, then turn off the heat and allow the onions to cool for about five minutes.
Once the onions have cooled a bit, place them on a cutting board and roughly chop them.  You want smaller bits of onion, but don't turn them into a paste.  Set aside.
assemble the dip
In a medium sized bowl, stir together the feta cheese and yogurt.  Add 1 cup of onions, apple cider, a pinch of salt and black pepper and stir to combine.  Taste and adjust seasonings as needed.
Scrape the mixture into a serving bowl, cover with plastic wrap and chill overnight or for at least two hours.  Serve with freshly minced chives and a side of baked sweet potato chips.
my notes: I used sweet potato chips because I like them, but you can make these with regular russet potatoes, or any root veggies that you like.  The orange potatoes will curl up as they bake but if you want flat chips just place an additional piece of parchment over the potatoes and place an additional baking sheet on top of everything.