Let's start this post with a little game.  I'm going to say two words and then you tell me the first thing that comes to your mind, okay?
Ready?  Here we go….
Wild.  Rice.
What were your words?  Crunchy?  Weird?  Stick-like?  Grassy?  Weird?
Oh wait, we used that last word twice…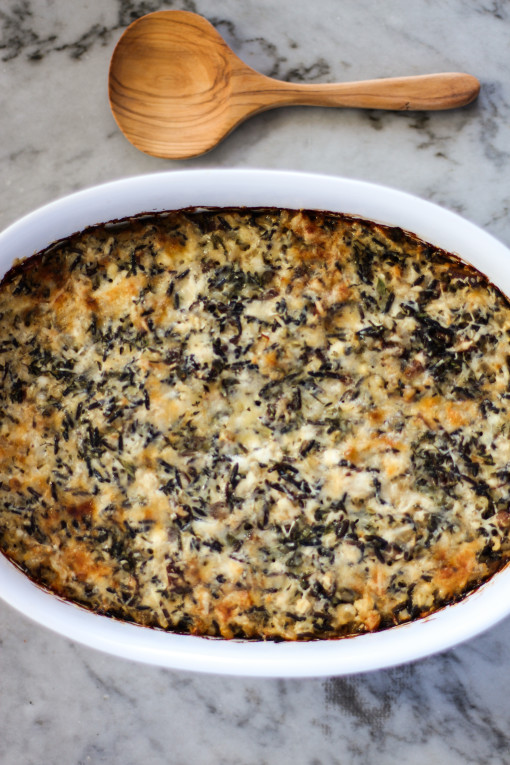 I have to agree that wild rice is a little…weird.  I mean, it's not really a rice at all but a grass that grows in shallow water found in rivers and lakes.  It's duck food for goodness sake.
So when one of my friends asked me what they should make to join their roasted duck dinner, my first thought was wild rice.  However, instead of wild rice, I told her about some potato dish that I had just made the week before.
It wasn't that I was trying to keep the wild rice all to myself (I wasn't, it's weird, remember?) but I honestly couldn't remember the last time I had cooked wild rice and what if she asked me how to prepare it?  I would have said, "uh…uh…uh, look over there I think that's a bird!"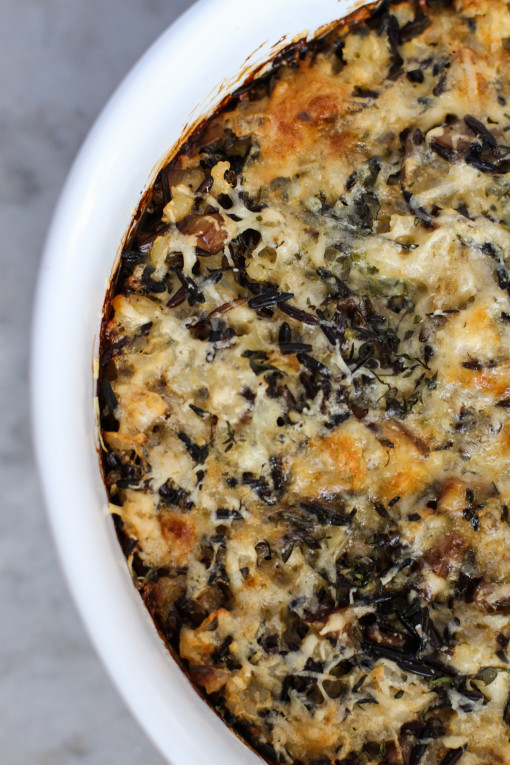 My friend went home that day with a potato recipe idea and I went home with a bag of wild rice and the determination to cook it, and make it so good that the next time I was asked, I would be prepared.
And here it is – a deliciously light and creamy wild rice casserole.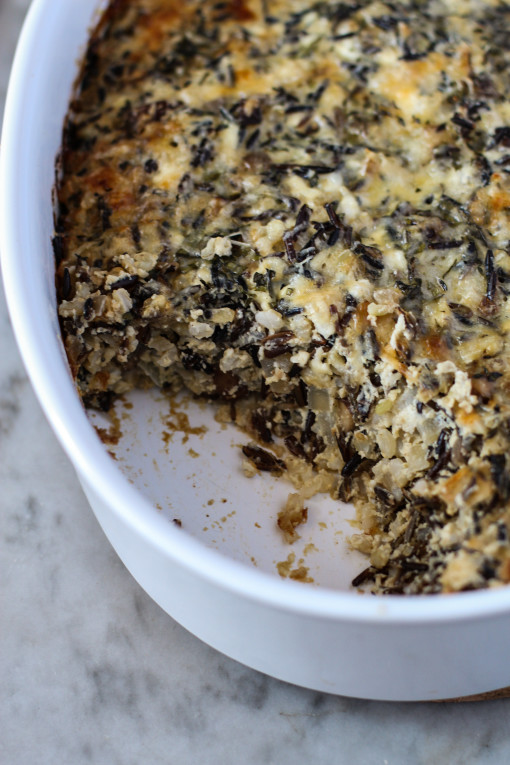 wild rice casserole
2 eggs
1 cup non-fat cottage cheese
1/2 cup greek yogurt
1 tbsp. Dijon mustard
2 tbsp. extra virgin olive oil, plus more for the baking pan
8 ounces cremini mushrooms, chopped
1 medium yellow onion, finely chopped
3 cloves of garlic, finely chopped
3 cups of cooked wild rice/brown rice (I used 1 1/2 cups of each but you can use all wild rice or all brown rice)
1/3 cup grated parmesan cheese
3 tbsp. chopped fresh thyme
Preheat oven to 350 degrees and place a rack in the top third of the oven.  Rub a medium-large baking dish with a bit of olive oil.
In a large bowl, whisk together the eggs, cottage cheese, yogurt and mustard.
In a large skillet (non-stick if you have it) over high heat, combine the olive oil and the mushrooms.  Stir a few times and then leave the mushrooms alone until they release their water and the water evaporates, about five minutes.  Continue to cook and stir every couple of minutes until the mushrooms are browned.  Add the onion and cook until the onion is translucent, another 2 to 3 minutes.  Stir in the garlic, cook for another minute and remove from the heat.  Add the rice to the skillet and stir until just combined.
Add the rice mixture to the cottage cheese mixture, stir well to combine, and turn into the prepared baking dish.  Cover the dish with aluminum foil and place in the oven.  Bake for 30 minutes.  Remove the foil, sprinkle the cheese and the thyme over the casserole and bake for another 30 minutes, until the casserole takes on a lot of color and the cheese has completely melted.
my notes:  To make this a stand-alone entrée, stir in cubes of roasted butternut squash or some broccoli bits before baking.