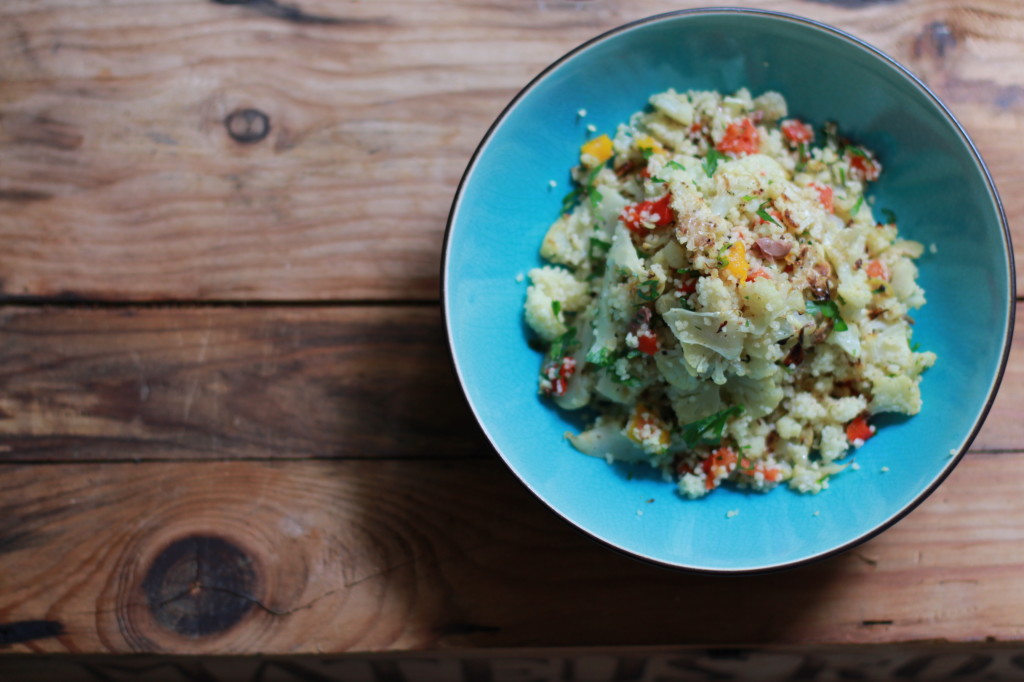 This is SO not the recipe that I wanted to post today.  In fact, I have been working on this one (other) recipe for the last two weeks!!  Tweek this, tweek that, change this, add that….and finally, we have a winner. However, that recipe will have to wait so I can make it again and doll it up and take some pictures and make it as wonderful for you as it is to me.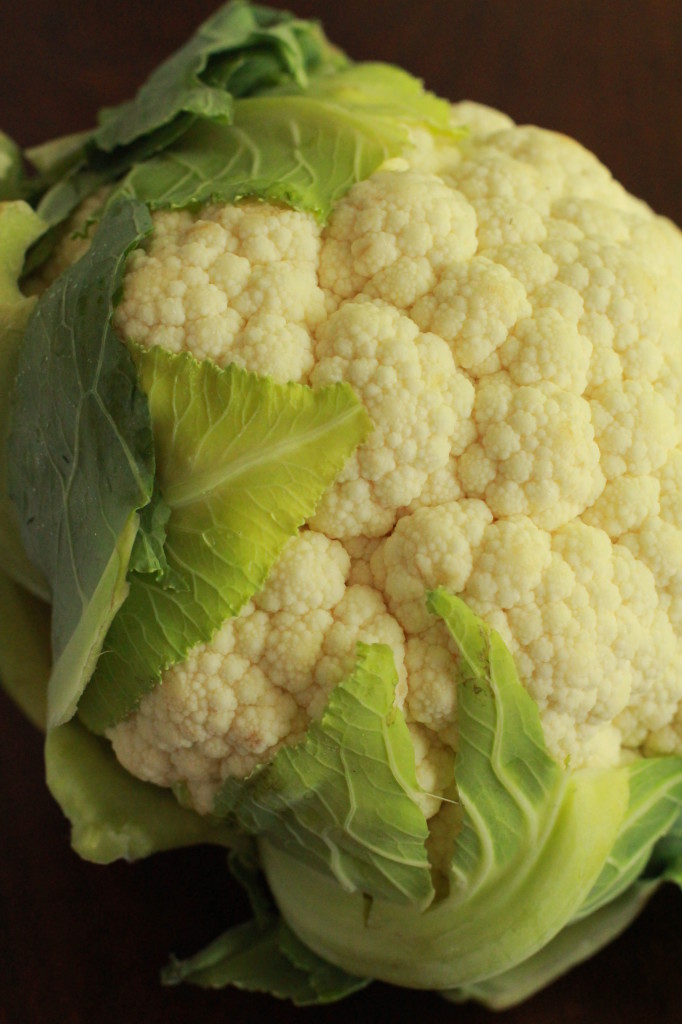 In the meantime, I give you this cauliflower recipe.  This was made at the last minute when I had no idea what in the world I was going to eat for dinner that night.  Do you ever do that?  Open the refrigerator door and peer helplessly into the bright lights and look for some inspiration?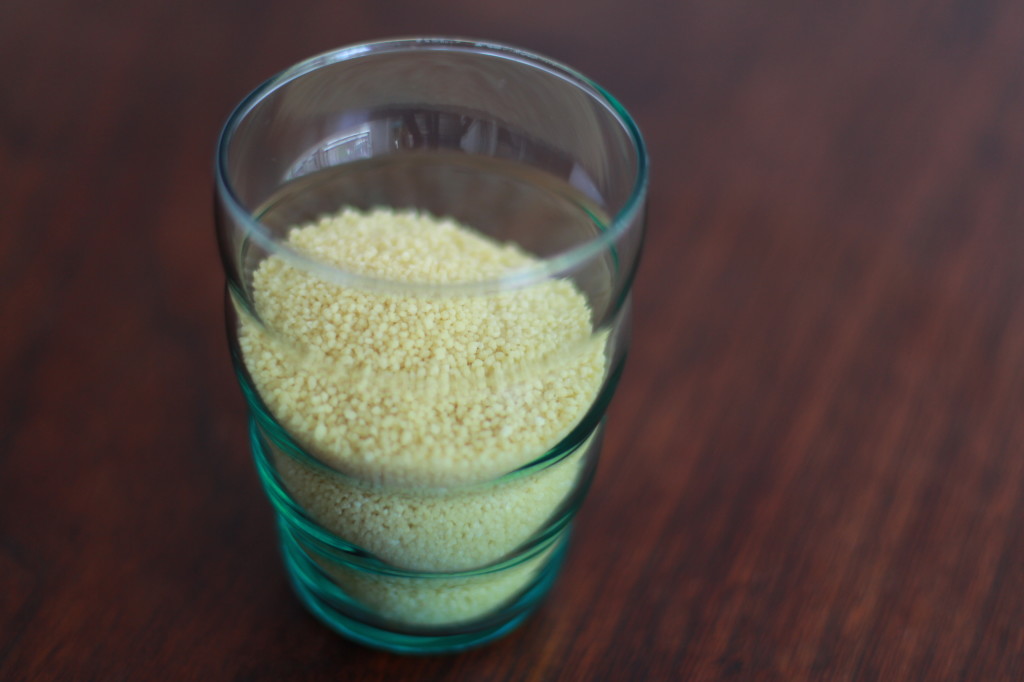 Well, I did.  I opened the fridge and I had cauliflower.  Hmmm.  And some roasted peppers and olives from my friends at Trader Joe's and some parsley that needed to be eaten today or it would forever have to hold it's peace.  And then I opened my pantry and had some couscous…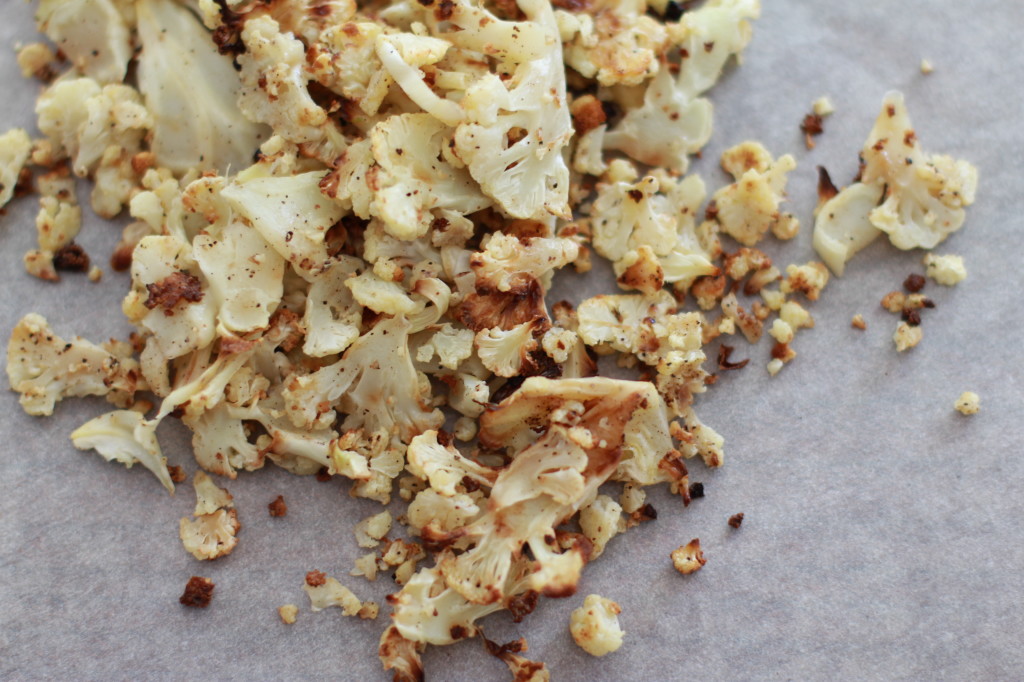 So here you have:
roasted cauliflower with lemon and couscous
Makes enough for 6 side dishes or 3 main dishes 
1 head of cauliflower, leaves and core removed,  and thinly sliced
1/2 cup roasted bell peppers, diced
1/2 cup kalamata olives, diced
1/4 cup parsley, chopped
1 cup dried couscous
1 cup water
the zest of one lemon
the juice of half of a lemon
4 tbsp olive oil, divided
salt and pepper
Preheat your oven to 400 degrees.  Toss the cauliflower with 2 tbsp of the olive oil and a pinch of salt and pepper.  Place on a baking sheet and roast for about 25 minutes or until it turns a nice golden brown, stirring occasionally to caramelize all pieces.
While the cauliflower is cooking, make the couscous.  Place the water, remaining 2 tbsp of olive oil, lemon zest and lemon juice in a pot and bring to a boil.  Once the water boils, add the couscous, stir quickly with a fork, cover with a lid and take the pot off of the heat.  Let the couscous stand for at least five minutes.  Once the couscous is cooked, fluff with a fork.
Combine cauliflower, couscous and all remaining ingredients in a bowl.  Taste and add more lemon or salt and pepper if you like.
notes:
This dish can be served warm or cold or even room temperature.
The addition of a can of white beans makes it a filling main dish with a green salad which is exactly how I ate it for one dinner and lunch the next day.