Hi friends!
In preparation for the upcoming St. Patrick's Day, I was playing around on the interwebs and reading all these fun facts about Irish food, and Ireland in general.  After reading about some history I got right onto the food scene and decided that I was in desperate need of a big bowl of potatoes colcannon to go with this Guinness beef stew I made the other day.
Did you know that colcannon potatoes are historically made on Halloween?
According to the website Irish Central … "the dish was baked with charms in it and the charms would tell you what you could expect in your future.  A button would mean that you would remain a bachelor and a thimble meant that you would remain a spinster for the coming year.  A ring meant you would get married and a coin meant you would come into wealth.  Others filled their socks with colcannon and hung them on the handle of the front door in the belief that the first man through the door would be their future husband."
I hope the socks were clean…
I didn't bake any charms into my colcannon this time but I'm sure that would be a fun treat one day when the kids are older.  I did add a bunch of butter to this recipe, I won't lie.  And I put some more on top because…. duh… BUTTER.
The potatoes are simply boiled (and buttered) and mashed (with butter) and combined with a bit of (butter) sautéed leeks, garlic, green cabbage and a sprinkling of parsley.  It's a very simple dish, but absolutely delicious.  I served it with my Guinness beef stew and it was a perfect combination – but you could totally eat a big bowl of potatoes all by themselves and I won't judge you.
Unless you put them in your socks… and then we might need to chat.
xo,
Jenn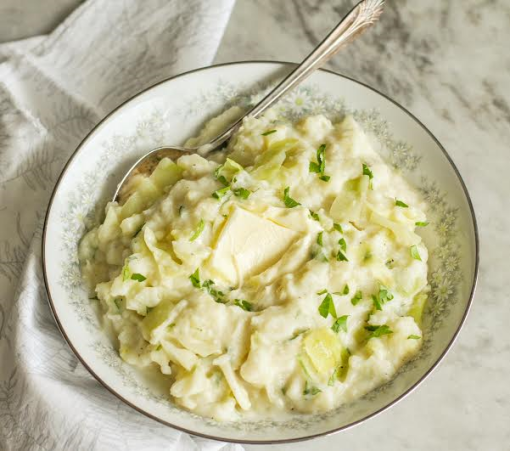 potatoes colcannon
makes about 6 -8 cups
extra virgin olive oil
1 cup chopped leek (white part only)
1 garlic clove, minced
2 cups chopped green cabbage
salt
black pepper
4 medium russet potatoes, peeled and cut into 1-inch pieces
4 tablespoons butter
1-2 cups milk
2 tablespoons chopped fresh parsley
Place a medium sized skillet over medium-high heat and add a good glug of olive oil to the pan  Add the leek and cook for about five minutes, or until the leek starts to soften.  Add the garlic, cabbage, and a pinch of salt and pepper to the pan.  Cook for another five minutes, or until the cabbage has cooked fully, stirring occasionally.  Set aside.
Place the potatoes in a large pot and cover them with water.  Bring them to a boil and cook until they are completely tender.  Drain the potatoes and put them back into the large pot.  Add the butter, a pinch of salt and pepper and 1 cup of milk.  Mash everything together, stirring to combine, and adding more milk as needed.
Stir the cabbage mixture into the potatoes, and sprinkle the parsley over the top.  Serve immediately.