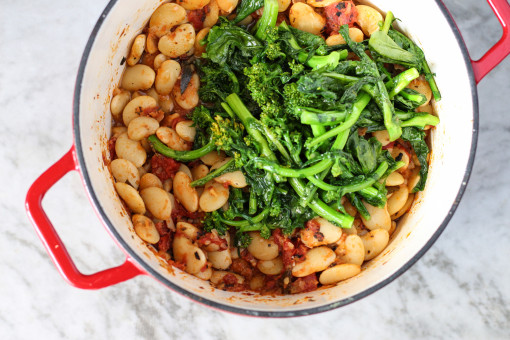 When I was a kid I remember two words that made me run screaming from the dinner table.  Those words were lima and beans.
Eeew.
Maybe if they were called butter beans instead of lima beans I would have run straight to the dinner table.
Did someone say butter?
These butter beans are amazing.  They are creamy and rich and buttery and fragrant.  Add a bit of garlic, charred tomatoes, some fresh herbs and bake them just so – I'm telling you, there's nothing lima about them.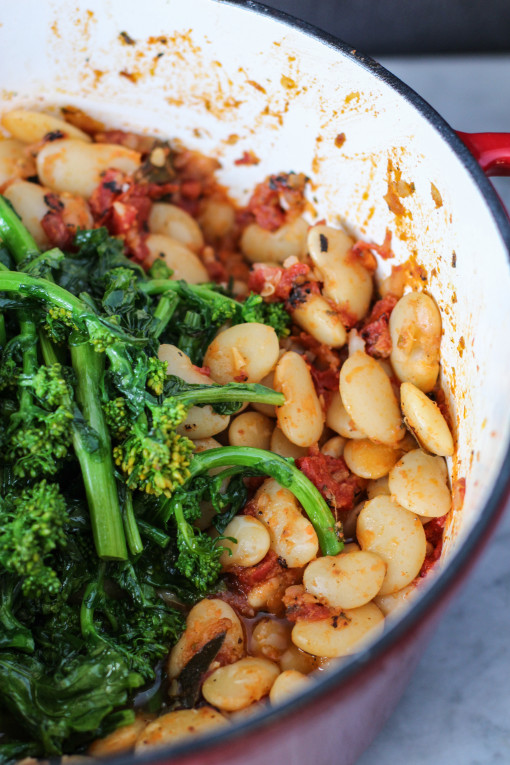 In fact, they are so tasty that I was eating them while I was taking their picture.  See those scrape-y bits on the side of the pot?  That was me running the toast into the pot and scooping up some bean and bits and shoving them in my mouth in between picture snaps.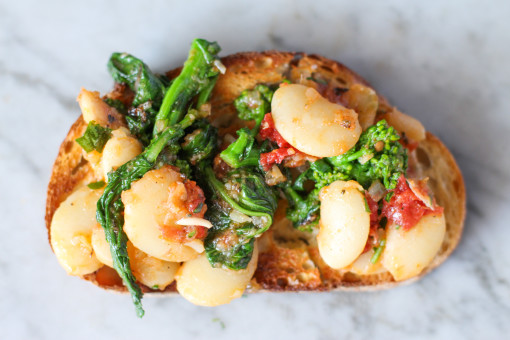 See the toast sitting here all calm while I take it's picture?  And then gulp!  So good!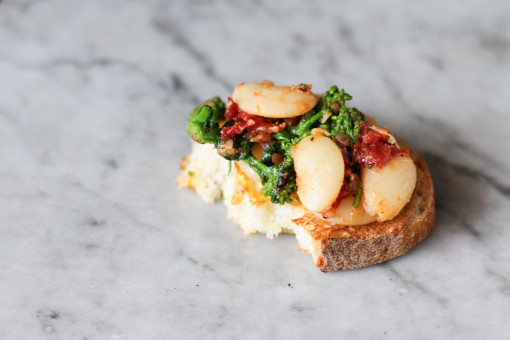 baked butter beans with broccoli rabe and garlic
from Charred & Scruffed by Adam Perry Lang via Seven Spoons
extra virgin olive oil
1/2 cup finely chopped shallots (about two medium-sized shallots)
4 garlic cloves, finely chopped
1 tbsp. grated garlic or mashed to a paste (use a microplane grater if you have one)
1 tbsp. chopped fresh sage
2 cups vegetable broth
4 cups cooked butter beans
1 cup fire-roasted tomatoes, drained
1 tsp dried oregano
salt and black pepper
1/4 cup chopped fresh parsley
white wine vinegar
1/2 bunch of broccoli rabe, trimmed, cut into thirds, and washed
grilled bread drizzled with olive oil, optional
Preheat the oven to 300 degrees F.
Heat 2 tablespoons of the olive oil in a large saucepan over medium heat.  Add the shallots, chopped garlic, and sage and cook, stirring, until the shallots are just translucent, 3 to 4 minutes.
Add the vegetable stock and bring to a boil. Add the beans, bring to a simmer, and simmer for 10 minutes.
Meanwhile, heat the remaining 1 tablespoon olive oil in a small skillet over high heat until very hot. Add the tomatoes and sauté for 2 minutes, then add the grated garlic and oregano and cook until most of the moisture has evaporated and the tomatoes are crackling.
Stir the tomatoes into the bean mixture.  Season with salt and pepper and pour into a 2-quart casserole or baking dish.
Transfer to the oven and bake for 20 minutes, until the beans are velvety and creamy. If the beans start to look dry, add a splash of water.
While the beans are cooking, place 2 tbsp. olive oil into a medium skillet over high heat until very hot.  Add the broccoli rabe, a pinch of salt and pepper, and stir to coat with the oil then turn the heat down to medium.  Let the broccoli cook until wilted – adding a bit of water to the pan if needed.
Remove the beans from the oven and stir in the broccoli rabe and the parsley.  Adjust the acidity with white wine vinegar as necessary, and drizzle generously with olive oil. Serve, or keep warm in a low oven until ready to serve.
my notes:  This recipe can be adjusted quite a bit.  Any cooked beans can be substituted for the butter beans, just make sure to adjust the cooking time for smaller beans.  I used broccoli rabe because I had it on hand, but kale or swiss chard would well here too.  And the original recipe uses bacon and prosciutto fat, so if you want to "meat it up" then check out Tara's post for the original recipe.  This recipe makes enough for eight servings but you can certainly cut everything in half to make a smaller portion.