We got a new (used) car yesterday.  It was a big event in our household and although the hubby and I are both excited about the new car, Avery absolutely went bananas over it.  He has told everyone he knows – and some people he doesn't know – that we got a new car.  Strangers, his teachers, our neighbors (who could actually SEE the car from where they were standing) – his reaction to the new car was just so absolutely hilarious.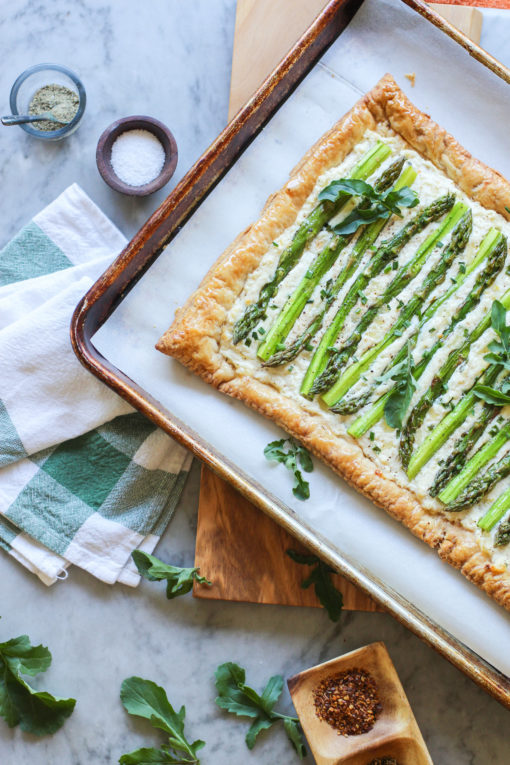 As this new car comes into our lives, the old one must leave and that has been making me a little sad.  I mean, it's a car, not a family member and my rational self totally understands that point.  We've had this old car for the past 10 years and it's time to say goodbye.  But for me, it's a difficult goodbye.  This old car holds all the memories of the last 10 years and the memories are what is making me a little sentimental.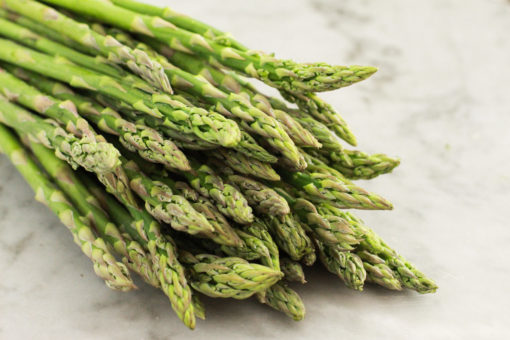 The old car was our first big purchase as a newly minted couple – talk about testing a relationship.  I argue that buying a car with your significant other is the TRUE test of whether you can survive as a couple.  Hours of shopping, looking, test driving, arguing (I mean, talking) about what you each want, need, care about, and will be driving for the next how many years.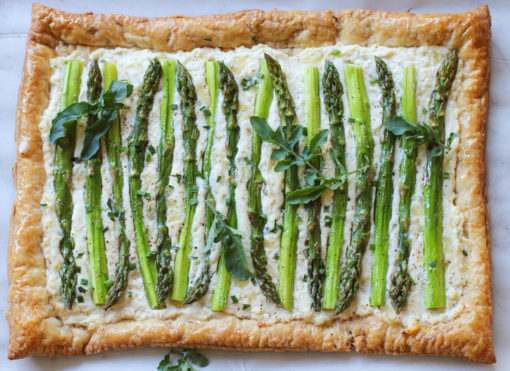 This car has carried us all over the west coast.  Up to Canada for our first road trip, back down to California so we could pack it all up and move to Seattle about six months later.  The car traveled all over Washington while we explored and toured and lived our lives together pre-kiddo.  It carried our precious belongings back and forth to California for visits with family and friends, and for one final trip back down when we found out we were expecting our very own precious belonging and came back home to stay.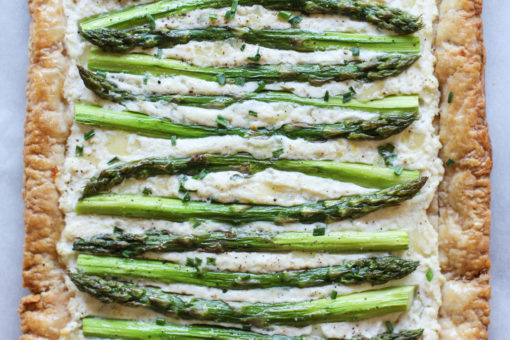 The car has carried us to beaches, valleys and mountains; hauled boats, kiddos and dogs; taken us to grocery stores, birthday parties, and soccer practice – and even back to the hospital to bring home precious belonging #2.  It's seen happy times and sad times – carried us to celebrations and home from heartache.  I know it's just a car…but to me, it's been part of the family and for some reason I'm having a really hard time saying goodbye to an inanimate object.
Silly, I know.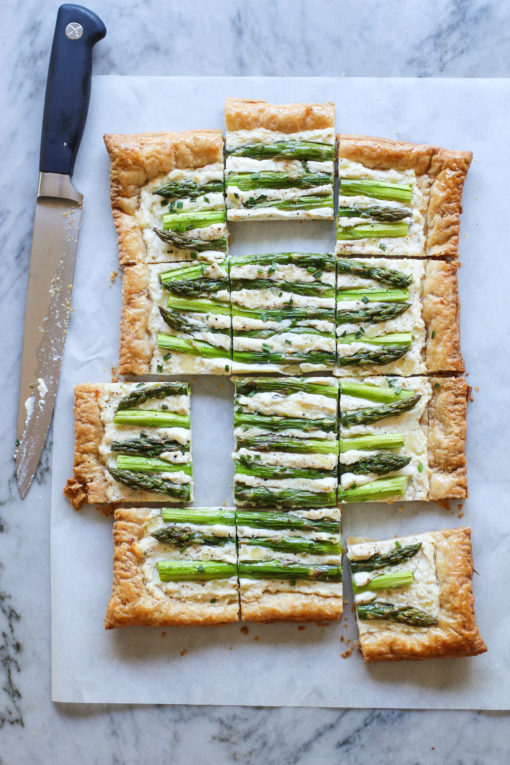 What isn't silly is that Easter is right around the corner and we've got some meal planning to do!  Are you guys ready??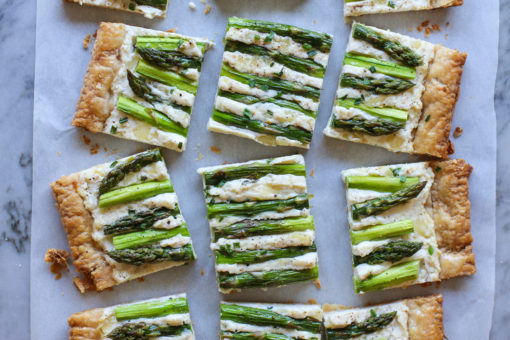 Here's a really quick and easy asparagus tart that can make a great side dish or vegetarian main dish for your Easter celebration.  Store bought puff pastry is baked until golden brown, then filled with a creamy ricotta and parmesan cheese mixture, topped with crispy green asparagus and baked until bubbly – the flakey tart shell and cheesy filling paired perfectly with the cooked asparagus – delicious perfection just waiting for you to dive in.
Happy Easter!!
XO,
Jenn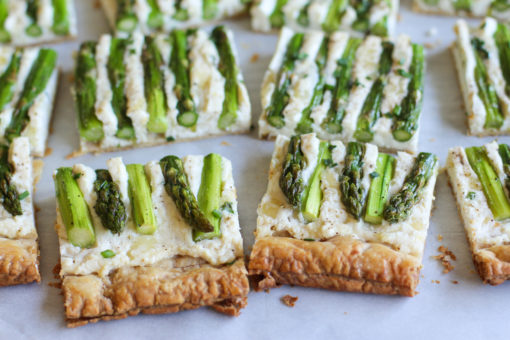 asparagus and ricotta tart
adapted from Martha Stewart
makes 12 servings
flour, for work surface
1 sheet frozen puff pastry
1 1/2 cups ricotta cheese
1/2 cup shredded parmesan cheese
1 teaspoon lemon zest
salt and pepper
1 1/2 pounds medium or thick asparagus
extra virgin olive oil
In a medium sized bowl, add the ricotta and parmesan cheese, the lemon zest, and a pinch of salt and black pepper.  Stir to combine.  Set aside.
Preheat oven to 400 degrees.  On a floured surface, roll the puff pastry into a 16-by-10-inch rectangle.  Trim uneven edges.  Place pastry on a baking sheet.
With a sharp knife, lightly score pastry dough 1 inch in from the edges to mark a rectangle.  Using a fork, pierce dough inside the markings at 1/2-inch intervals.  Bake until golden, about 15 minutes.
Remove pastry shell from oven, and spread the ricotta mixture over the tart shell.
Trim the bottoms of the asparagus spears to fit crosswise inside the tart shell; arrange in a single layer over the cheese mixture, alternating ends and tips.  Brush with entire tart (filling and shell) with the olive oil, and season everything with salt and pepper.  Bake until spears are tender, 20 to 25 minutes.
my notes: If your asparagus is a bit woody on the stems, you can make them easier to eat by shaving the ends with a vegetable peeler.  Just place each asparagus on a flat surface and holding it with one hand, use the other hand to peel the bottom ends off.  Rotate the asparagus until the entire stem end has been peeled.