You know you are a foodie when you rather have your hubby return from a work trip with a bagful of baby artichokes instead of a handful of flowers.  And that's just what happened a few days before my birthday.  Three days away from home resulted in a much missed daddy and hubby and one beautiful bag of freshly picked artichokes.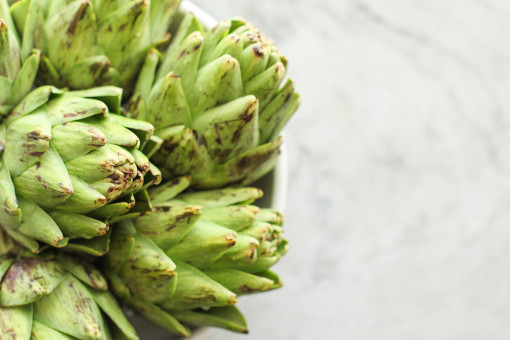 Artichokes are a bowl full of work – but they are definitely worth the effort.  Steamed, pickled, deep fried, stuffed, grilled, baked…yes please.  And I'm not sure who first picked up this spiky thistle flower and decided to try to eat it, but I am so glad they did.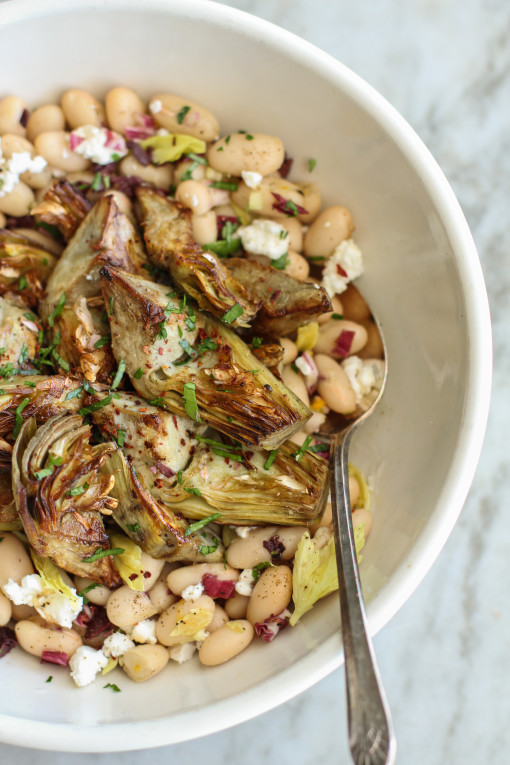 These crispy artichoke hearts are from the food blog 101 Cookbooks.  Heidi Swanson's blog is beautifully simplistic and every single recipe she puts together makes me want to run out and recreate it.  And the timing could not have been better as the day after I received these beauties, she posted a "how to cook artichokes recipe" and I went to town.
These artichokes are trimmed, cleaned, steamed, dried, cut and then lightly fried in extra virgin olive oil until crispy.  It sounds like a lot of work, but I'm telling you it goes quickly and it's completely worth the effort.  Heidi's step by step instructions made easy work of a big bag of baby artichokes and turn a simple pile of thistles into something absolutely delicious.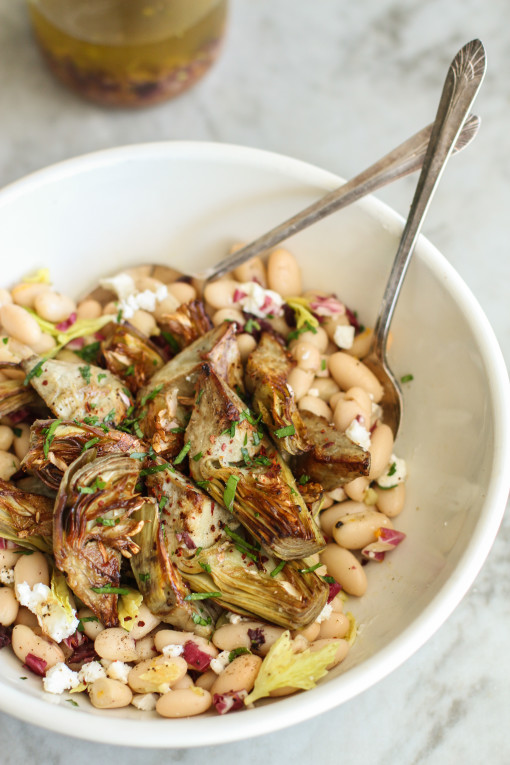 white bean and celery leaf salad with crispy artichokes and an orange-olive vinaigrette
for the salad:
2 cups cooked white beans
1 cup celery leaves
1/4 cup celery ribs, thinly sliced
1/2 cup radicchio leaves, shredded
2 tablespoons red onion, minced
3 tablespoons basil, thinly sliced
salt
black pepper
orange-olive vinaigrette, recipe follows
3 ounces feta cheese, crumbled (omit this if you want a vegan version of this recipe)
crispy artichokes – step by step instructions found here
In a medium sized bowl, stir the beans, celery leaves, celery ribs, radicchio leaves, red onion and basil together until combines.  Add a pinch of salt and pepper and a good glug of the orange-olive vinaigrette.  Toss everything together, taste and adjust the seasonings and adding more vinaigrette if needed.  Top the bean salad with the feta cheese and crispy artichokes and serve immediately.
for the vinaigrette:
the zest and juice of one orange
1 tablespoon Dijon mustard
1/4 cup kalamata olives, minced
1 tablespoon shallot, minced
1 tablespoon thyme leaves
2 tablespoons red wine vinegar
3 tablespoons extra virgin olive oil
salt
black pepper
In a medium bowl, add the orange zest and juice, mustard, olives, shallot, thyme and vinegar and whisk to combine.  Slowly drizzle the olive oil into the bowl, whisking to emulsify the oil into the vinaigrette.  Season with salt and pepper.  Vinaigrette can be covered tightly and stored in the refrigerator for up to five days.