The weather is changing, the garden is starting to slow it's production line, and the daylight seems to be disappearing sooner and sooner each day.  I know that summer is about to come to an end, but before we get there – well, I've got one more delicious tomato salad to share with you!!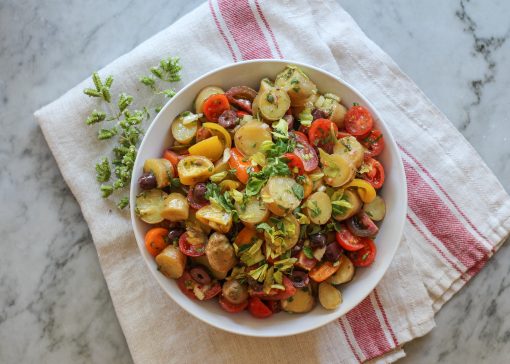 It's a weird time in our household – this whole half summer/half fall thing.  It's still warm enough in the evenings that the windows stay open, and we can still watch the sunsets from our front porch.  But it's so cold in the mornings that we wake up shivering and quickly reach for a sweater, maybe some slippersm and definitely fill up our coffee mug because it's also getting DARK in the mornings when we wake up – or should I say – when we are woken up early (so, so early) by our little darlings.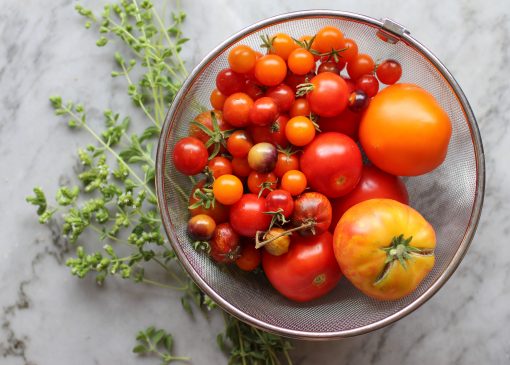 So I was inspired by the weather, and the changing seasons, when I made this amazing salad!  A hearty, yet delicious salad for the last of the summer days – tomato, potato and herb salad with a red wine vinaigrette.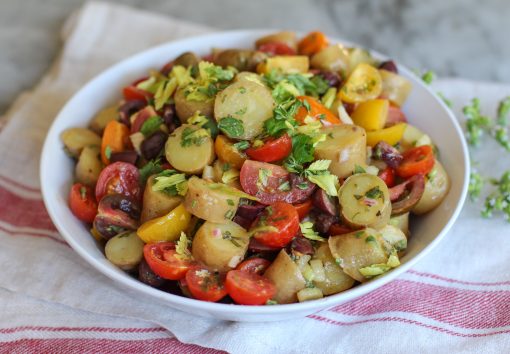 We had a stellar year growing tomatoes and although we are gathering less and less tomatoes every day, we are still enjoying them fully and tend to have a big basket of freshly picked tomatoes sitting on our counter, just waiting patiently for a kiddo to come a grab a handful or for a mom to slice them up and serve them in some new creation that works as a vessel to get those same kiddos to try something new.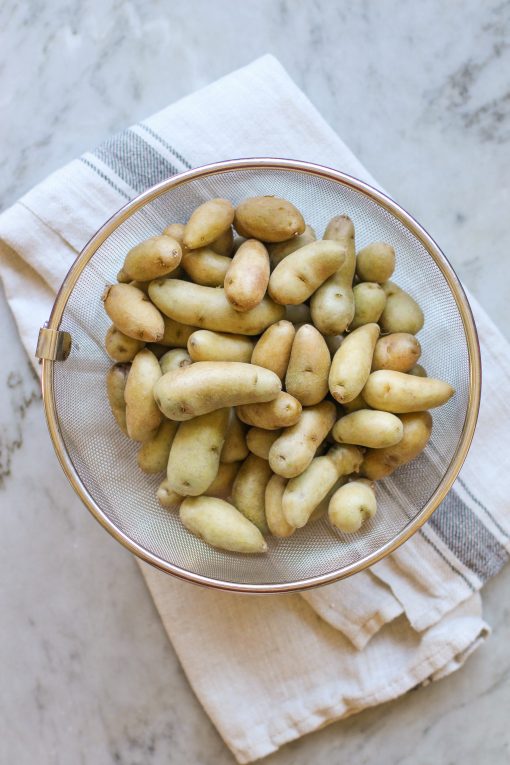 And this is what I came up with – a refreshing potato salad that's free of mayo, fat, guilt and extra calories, but instead – it's full of healthy vegetables, flavor, and tons and tons of tomatoes and herbs.  It's easy to make, great for traveling if you have plans to do so, refreshing for those still warm summer days, and filling for those cooler almost fall evenings.  It's a perfect way to celebrate the last days of summer!!
Hope you guys enjoy the recipe!!
XO,
Jenn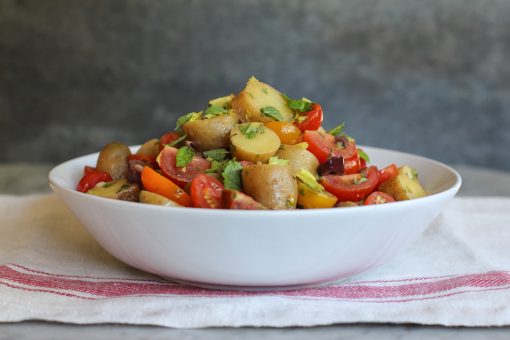 tomato, potato and herb salad
makes 4-6 servings
1 pound fingerling potatoes
1 tablespoon minced shallot
1 teaspoon Dijon mustard
2 tablespoons red wine vinegar
2 tablespoons olive oil
salt
black pepper
2 pints cherry tomatoes, washed, stemmed and sliced into half
1/2 cup pitted Kalamata olives, roughly chopped
2 stalks of celery, finely chopped
2 tablespoons roughly chopped fresh basil
2 tablespoons roughly chopped oregano
2 tablespoons roughly chopped parsley
2 tablespoons celery leaves
Wash the potatoes and cut into 1/2 inch rounds.  Place the potatoes into a large pot and cover with cold water.  Place the pot on the stove and bring the potatoes to a boil.  Turn the heat down and simmer the potatoes until fork tender – about 15-20 minutes.
While the potatoes are cooking, place the shallot, mustard, vinegar, olive oil and a pinch of salt and pepper into a bowl and whisk to combine.  Set aside.
Once the potatoes are cooked, drain them from the water and place them (still hot) into a large bowl.  Pour the olive oil dressing over the potatoes, give them a quick toss, and then place them into your fridge to cool.
Once the potatoes have cooled, add the tomatoes, olives, celery and herbs to the bowl with the potatoes and give everything a toss to combine.  Taste, add more salt and pepper if needed, and enjoy!
my notes: The dressing is added to the warm potatoes to add some extra flavor to the potatoes.  As the potatoes are still warm, they will soak up flavors much more than when they are cold.  But you can totally add the dressing at the end when you are combining all of your ingredients – make this recipe work for you!!