The ongoing house remodel is almost complete – the inside of the house anyway.  We laid the very last of the baseboards today, having already painted the nursery and are trying to tye up all the loose ends before the baby comes.
Trying I said.  At least thinking about it sometimes.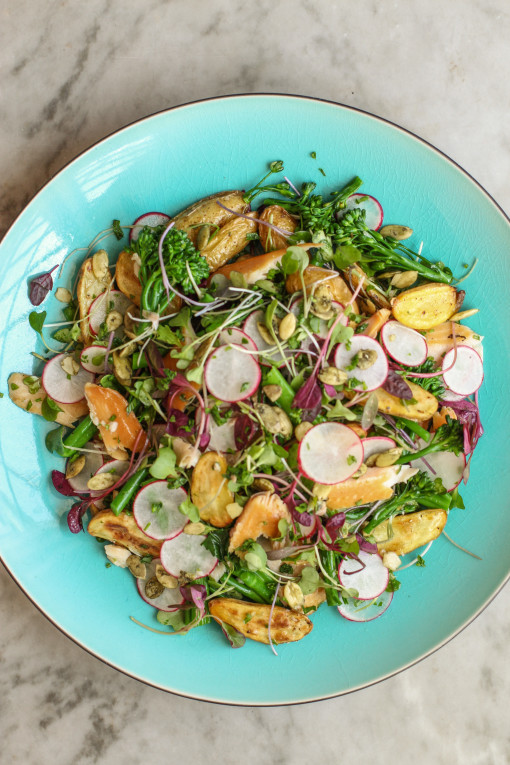 It seems as if I might be slightly in denial that there is indeed, a small human joining our very happy household.  I have been doing everything I can think of BUT plan for the baby's impending arrival.  No hospital bag has been packed, no diapers have been stocked, and the crib has just been (only today) put together in the room that she will be laying her sweet little baby head and going promptly to sleep for 12 hours a night.
See?  Totally in denial that this is really happening.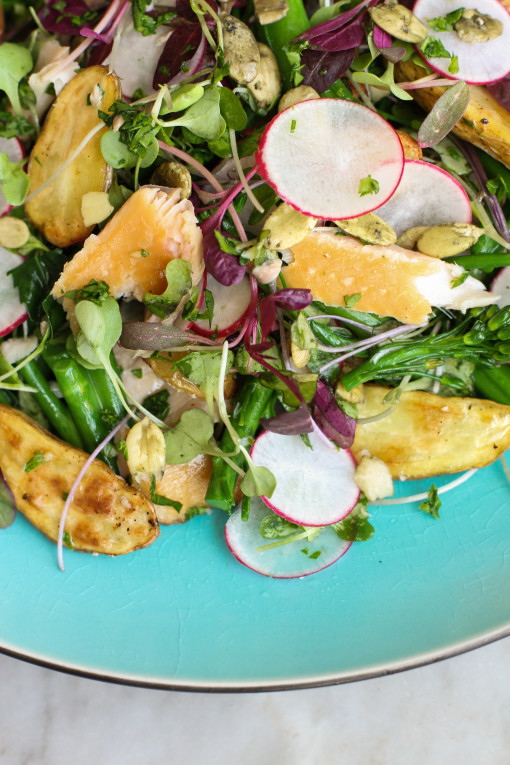 So like the very pregnant procrastinator that I am currently being, I made lunch instead of the baby blanket; sliced radishes instead of folding baby socks; and roasted potatoes instead of hanging curtains.
A girl's gotta eat.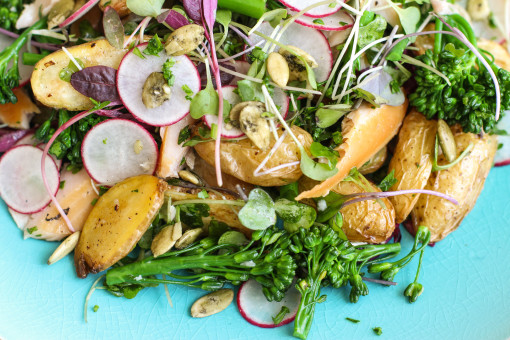 Here's what's for lunch – crunchy broccolini and shaved radish salad with smoked trout and roasted fingerling potatoes.  Everything is tossed together with a tangy lemon vinaigrette and topped with roasted pumpkin seeds and microgreens and comes together in a matter of minutes.
The salad is highly nutritious – vitamin A, calcium and protein from the trout; vitamin C, folate and iron from the broccolini; vitamin B, folic acid and potassium from the radishes – and provides everything you need to have the energy to complete the tasks that you may be procrastinating on.
Okay, back to the nursery I go.
XO,
Jenn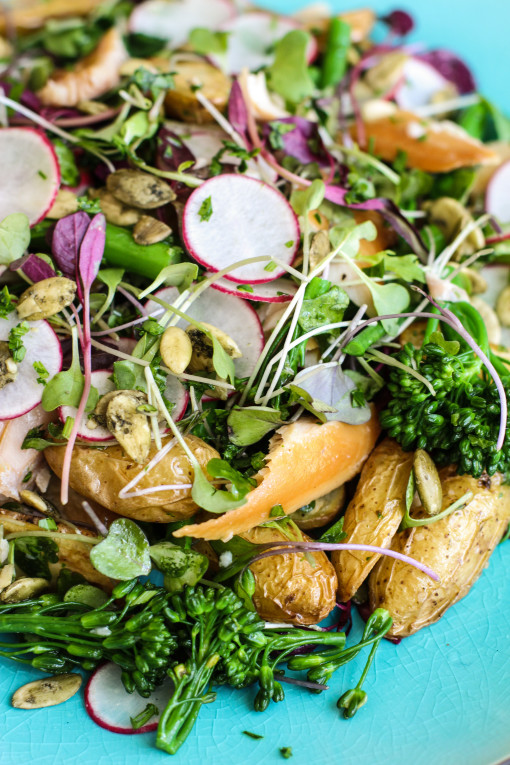 superfood salad
from delicious magazine
1 flaked smoke trout filet
4 thinly sliced radishes
2 ounces fingerling potatoes, roasted and cooled to room temperature
5 stalks of broccolini, cut into 1 inch pieces, then blanched and refreshed in an ice bath
2 tablespoons pumpkin seeds
handful of microgreens
3 tablespoons meyer lemon juice
2 tablespoons extra virgin olive oil
salt
black pepper
In a large bowl, mix together trout fillet, roasted potatoes, radishes, broccolini, pumpkin seeds and microgreens.
Mix the lemon juice, olive oil, and a pinch of salt and black pepper for a dressing and pour over the salad.