About this time of year my garden gives one more effort.  It must be that these plants know that the end of summer is near, or that they can feel the heat during the days but that the evening air is cooler and crisper, if only slightly.
But either way, every year at the end of the summer I'm left with a small handful of cherry tomatoes, a last bundle of green beans and just a few zucchini and squash.  And tons and tons of herbs.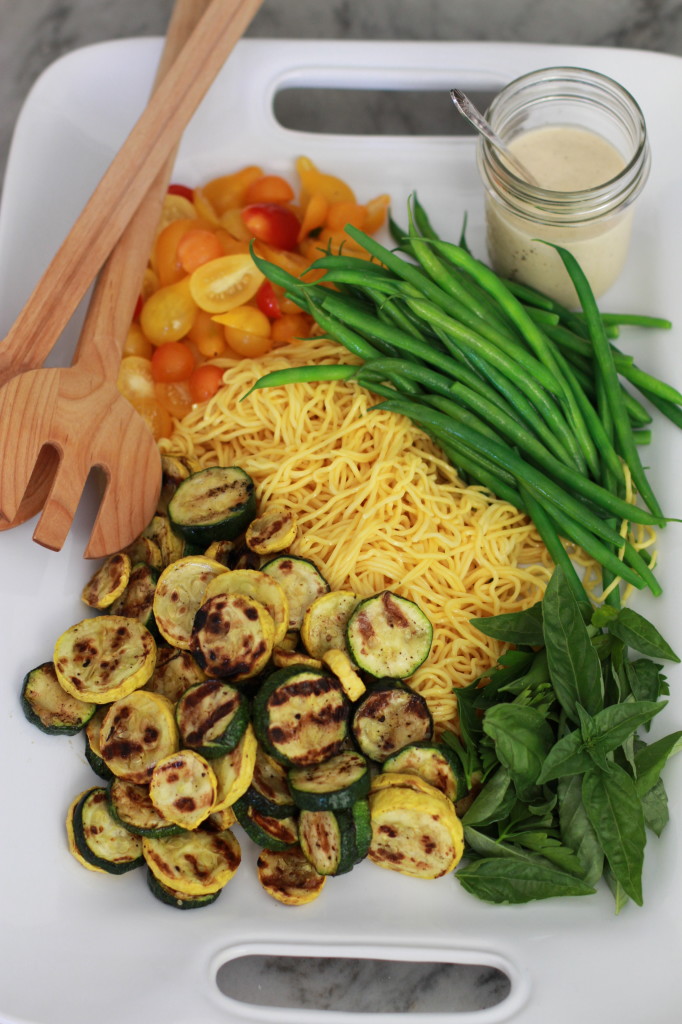 And then today we were on our way to a friends house to enjoy one more summer celebration and a potluck.  Usually I already have a plan of what dish to bring.  You know, thinking and dreaming about food all the time tends to make one not only dream of sugarplums, but also grilled lamb chops, sweet basil pesto, and the last of the red hot tomatoes.
I know, I'm weird.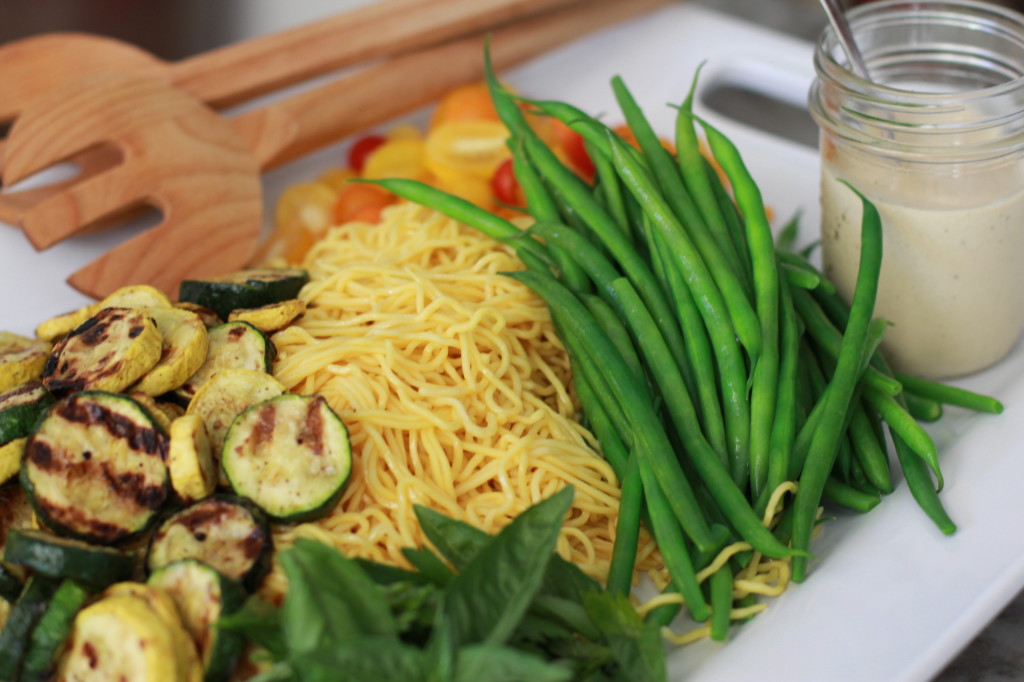 But this time, I had nothing.  I opened the cupboard for inspiration.  I stared longingly into the refrigerator hoping for some idea but instead heard by father say "close the door, you're letting all the cold out."  I even opened the freezer and let some more cold out while I dug around in there too.
Sorry dad.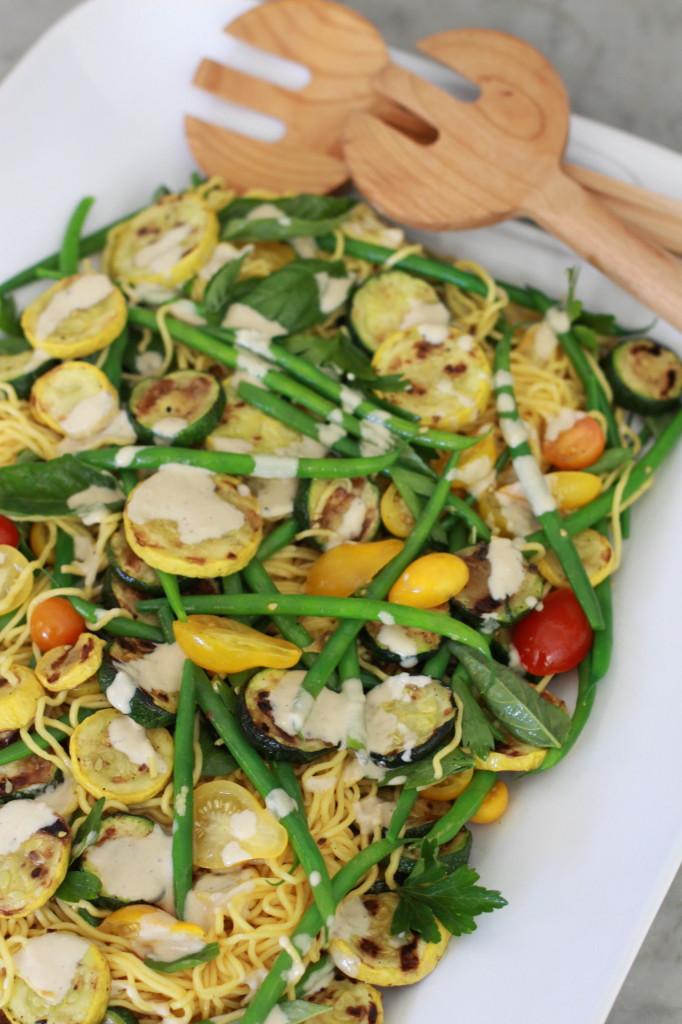 But nothing came to me.  Nothing.  Nada.  Zilch.  Zip.  Zero.
And then I looked out in the garden and there it was – the dish.  A bit of these green beans, a few of those cherry tomatoes, a bit of basil and parsley and those last zucchini and squash.  Tossed together with some noodles and drizzled with a tangy and garlic loaded tahini-lemon dressing.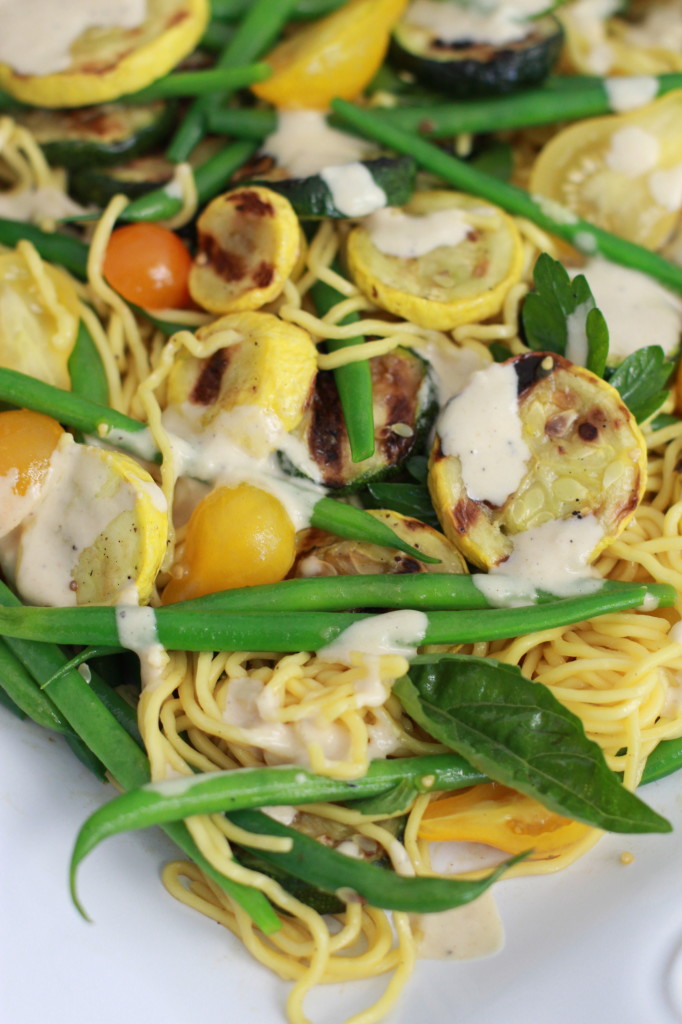 Happy last days of summer!!
summer vegetable and noodle salad
2 medium zucchini, sliced into 1/4 inch rings
2 yellow squash, sliced into 1/4 inch rings
1 pound of haricot verts or green beans, trimmed
2 cups cherry tomatoes, cut into half
1/4 cup parsley leaves
1/4 cup basil leaves
5 oz fresh Japanese ramen noodles
olive oil
salt and pepper
lemon-tahini dressing, recipe follows
In a medium bowl, toss the zucchini and squash slices with a drizzle of olive oil and salt and pepper.  Place the squashes on a hot grill over medium heat.  Cook them for 3-4 minutes on each side, or until cooked through.  Set the squash aside.
Fill a medium saucepan with salted water and bring to a boil.  Fill a medium bowl with ice cubes and cold water and set aside.  Once the water comes to a boil, add the green beans and leave them in the boiling water for two minutes.  Using tongs, carefully remove the beans and place them directly into the ice water to stop the cooking process.  After two minutes, remove the beans from the water and set aside.
Leave the pot of water over high heat and bring it back to a boil.  Once the water boils for a second time, place the noodles into the water, stir and turn off the heat.  After two minutes, carefully remove the noodles from the hot water and place them into the ice water.  Leave the noodles in the ice water for only one minute, drain and place into a bowl.  Drizzle the noodles with a bit of olive oil and toss them with your fingers so they will not stick together.
In a large bowl, combine the noodles, squashes, tomatoes, herbs, green beans and toss with a small amount of the dressing.  Place the mixture onto a serving platter and drizzle with more dressing as needed.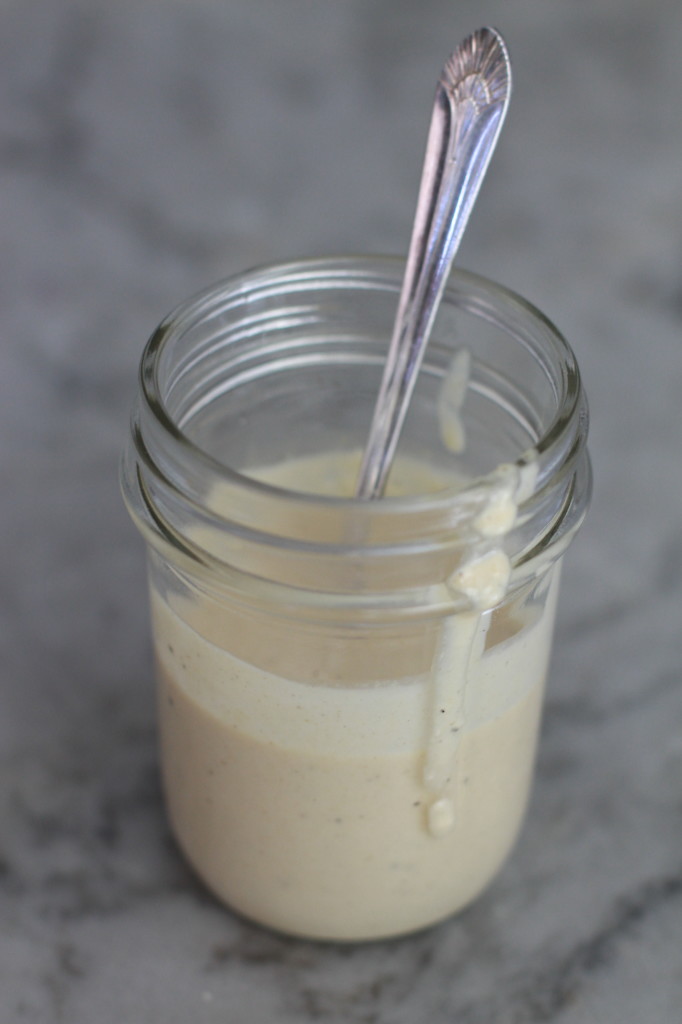 tahini-lemon dressing
1/4 cup tahini
1/2 lemon, juiced
1/4 cup water
1/4 cup olive oil
2 garlic cloves, minced
salt and pepper
In a bowl, combine the tahini, lemon juice, water and garlic, whisking to combine.  Continue to whisk the mixture while drizzling the olive oil into the mixture.  Add salt and pepper.  Taste and adjust as needed.
notes:  This dish is vegetarian as there are eggs in the noodles.  However, you can replace the noodles with baby greens and make this a vegan dish.  For the carnivores, baked chicken or tofu would be great in this recipe as well.  I found the ramen noodles at my local Asian market, but any pasta would work in place of the ramen noodles.