I don't know about you, but I wait all year long for the seasons to change and the binge eating of corn and tomatoes to begin.  This years garden has been growing wonderful amounts of cucumbers and eggplant but has put out a very disappointing amount of tomatoes.  These large amount of tomato plants have only produced a small handful of cherry tomatoes, and only two regular sized beefsteak tomatoes….sigh.
But less in the garden means more trips to the farmers market to pick up wonderful summer produce to go along with all of the tomatoes I purchase to make up the difference.  At least some farmers are having luck in their tomato patches, even if I'm not.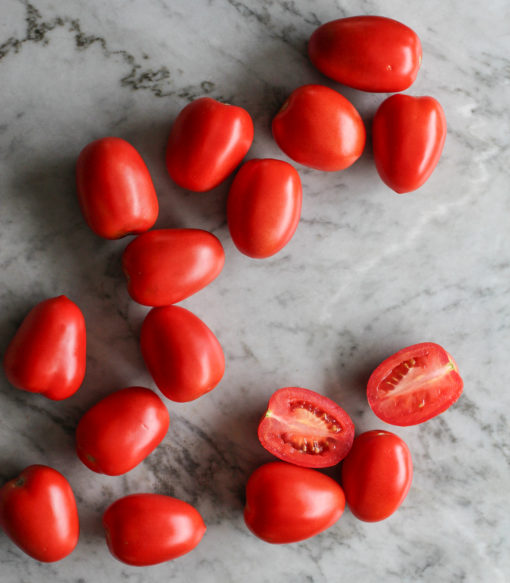 With the last run to the farmer's market I brought home almost too many ears of corn, if that is even a real-life problem, haha.  So I threw together a raw corn salad with some ruby red cherry tomatoes and a handful of quick pickled red onion.  A good pinch of fresh basil and a lemony vinaigrette topped everything off and it was the perfect side salad to a herb and garlic marinated pork loin that my husband grilled for dinner.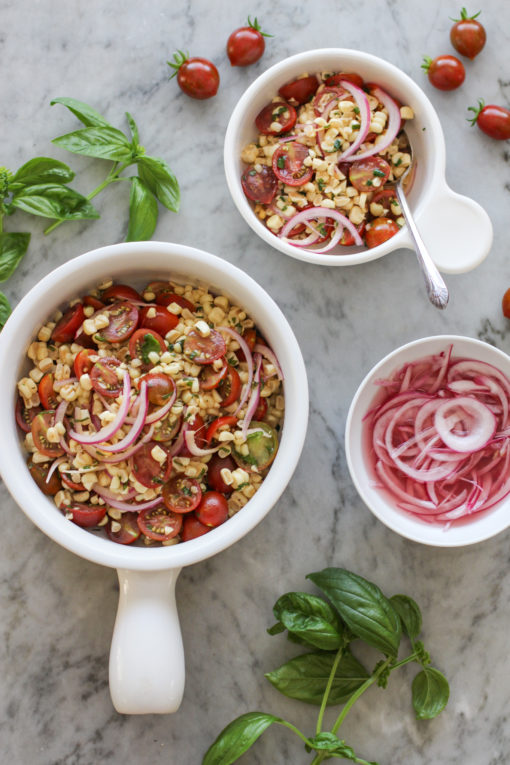 Now, this salad is a great base for making a whole bunch of different variations – add some avocado, or feta cheese…maybe some pulled rotisserie chicken and some baby greens….add a big scoop to some grilled bread rubbed with fresh garlic…or pile it on top of some fresh mozzarella cheese for an impromptu caprese salad.
You can do so much with this salad, or just enjoy it as is – but please do so before summer is over and all of those beautiful tomatoes at the market are replaced with fall and winter vegetables.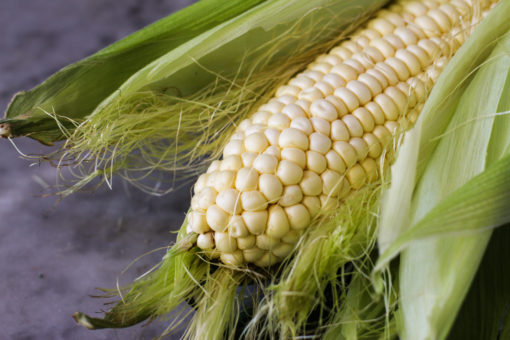 In other news – I'm ready to launch my online shop and I'm ready to celebrate with YOU!!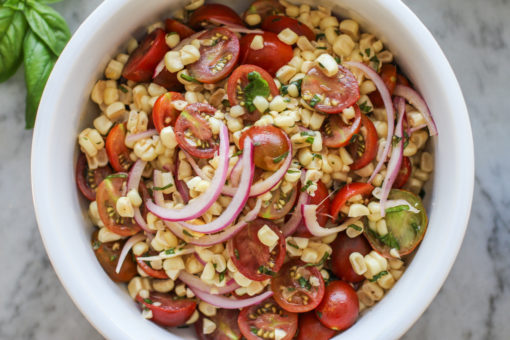 I'm doing a giveaway this weekend and three of you will win a handmade, limited edition, chef inspired shirt of your choice!
The rules are simple – when you see me post one of the shirts on my social media sites, you will need to: (1) follow me on my social media site (2) ike the post and (3) tag a friend that you think would like the shirt too.
That's it!  One entry per person, winners will be announced Monday, August 24th.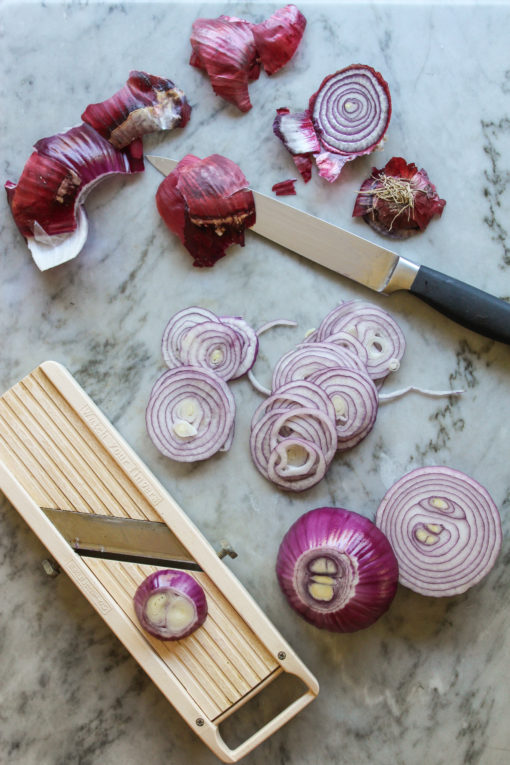 Check out my Facebook page (here), my Instagram feed (here), and my Twitter feed (here) for all the ways to enter – that's THREE entries for your chance to win.  Good luck!!
PS If you are like me and can't stand the suspense, you can check out the inventory on the shop link on my website (up at the tippy top of the page.)
XO,
Jenn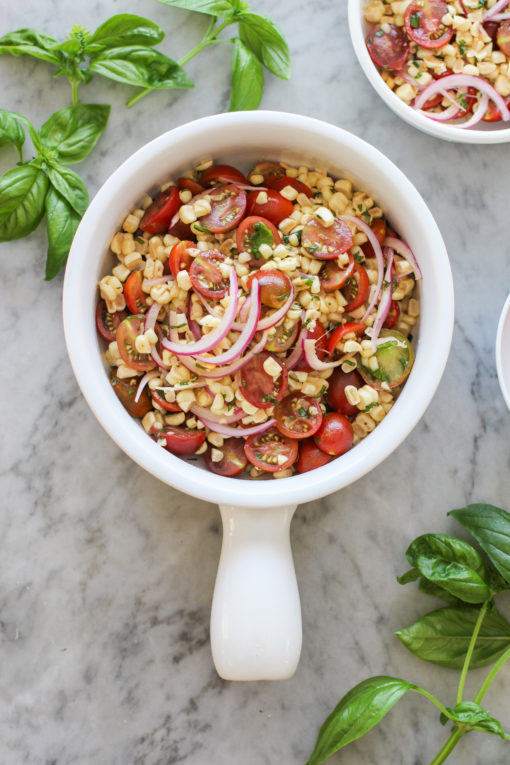 summer corn salad with cherry tomatoes and pickled red onion
3 ears of corn
1 small red onion, very thinly sliced
1/4 cup red wine vinegar
1/4 cup water
2 tablespoons sugar
1 pint of cherry tomatoes, washed and halved
2 tablespoons extra virgin olive oil
1 teaspoon Dijon mustard
3 teaspoons freshly squeezed lemon juice
salt
black pepper
2 tablespoons chopped fresh basil
Shuck the corn and discard the silk and the husks.  Using a sharp knife, carefully remove the corn kernels from the cob.  Place the kernels into a large bowl and discard the cobs.  Set aside.
In a medium sized bowl, whisk the water, red wine vinegar and sugar together.  Place the sliced onions into the vinegar mixture, stir and set aside to "pickle" for about 15 minutes, stirring occasionally.
Once the onions have pickled, drain the liquid off of the onions and place a good amount (a handful?) into the bowl with the corn.  Add the tomatoes and basil to the corn and stir everything to combine.
In a small bowl, whisk the olive oil, mustard, lemon juice, and a pinch of salt and pepper and whisk to combine.  Pour the dressing over the corn salad mixture and stir everything together again.  Taste and adjust seasonings if needed.  Salad can be served at room temperature or chilled.