I walked out to the garden yesterday to find these beautiful snap peas covering almost one entire gardening bed.  Thanks to the yo-yo spring weather system the combination of rain and sun, and then more rain followed by more sun, (and repeat) has the garden exploding all things spring.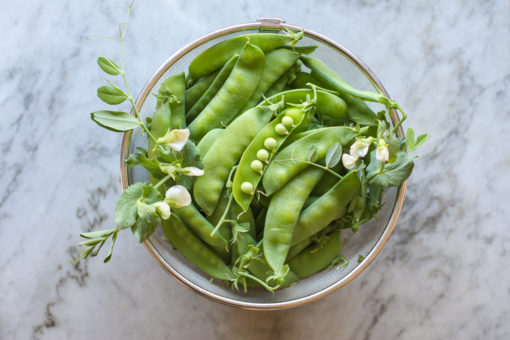 I've never grown snap peas before because I really don't like peas and that made perfect sense to me before kids.  But now that I have two little munchkins, well… I don't want to pass along my dislike of peas to them.  Instead, I rather they pick for themselves.  So we plant all kinds of seeds and plants in the garden each season to both expose the kids to gardening but also to get them excited to try new vegetables.  I'm telling you, nothing beats the excitement a kid gets when they can harvest a vegetable they grew themselves.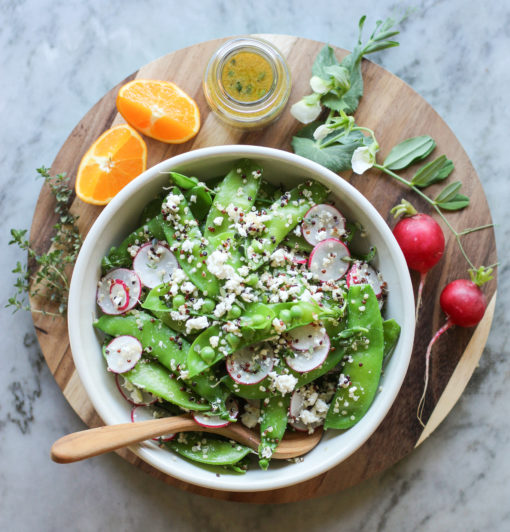 So after we planted the peas (and I made plans to give them all away as gifts because, ew, peas) and grew all the peas…we harvested the peas.  Avery pulled each pea off so carefully and then proceeded to eat them one by one like he had never been fed before.  I was laughing at him while I pulled the rest of the peas off when suddenly he shoved a pea in my face and sweetly said, "here mommy, I picked this one for you."
I paused for a moment and then kindly replied, "my, thank you so much Avery that's so sweet!" and placed it into the basket with the rest of the peas.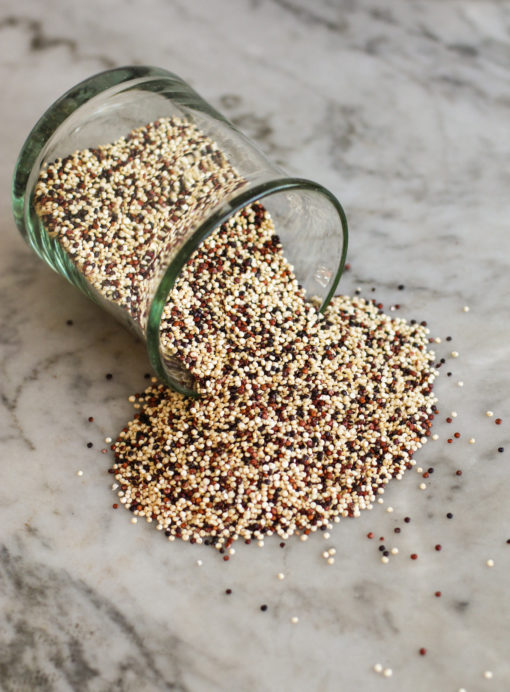 "No Mommy, I picked the pea for your mouth" he explained.
I smiled and slowly took a bite of the pea – talking myself into not making a face or spitting it out like the pea-hater that I am, but after a chew or two I was absolutely in LOVE with the snap pea!!!  Bright and green, floral, crunchy, and so sweet – unlike any pea I had ever eaten.
Funny what the universe teaches you when you are trying to teach another.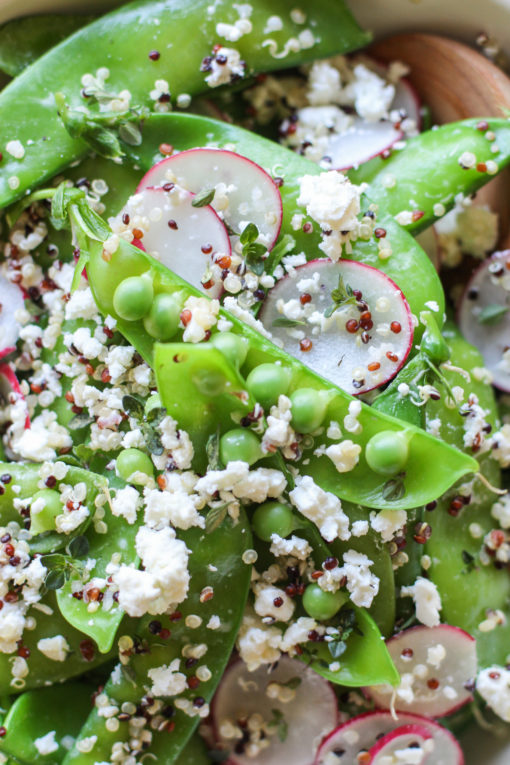 I've been eating these peas everyday since deciding that snap peas are delicious – raw, dipped in hummus, stir-fried with noodles and even thinly sliced into a slaw.  But my favorite way to eat these snap peas are this salad.   Simply blanched, these crunchy peas are mixed with thinly sliced radishes, heirloom quinoa, and creamy feta cheese and topped with an orange-thyme vinaigrette.
It's the perfect salad to celebrate the first of spring – hope you guys enjoy it!!
XO,
Jenn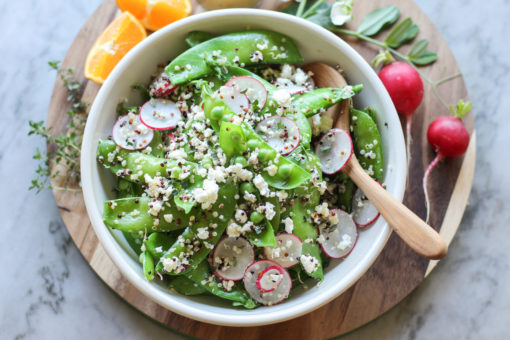 snap pea, radish and quinoa salad with orange-thyme vinaigrette
makes two large servings or four small servings
1/4 cup orange juice
2 tablespoons red wine vinegar
1 tablespoon minced thyme leaves
2 teaspoons Dijon mustard
salt
black pepper
1/4 cup extra virgin olive oil
1 pound snap peas
4 radishes
1 cup cooked quinoa
2 ounces feta cheese
make the vinaigrette: In a medium sized bowl, whisk together the orange juice, vinegar, thyme, mustard and a pinch of salt and pepper.  While whisking, slowly drizzle the olive oil into the vinegar mixture until completely combined.  Taste and adjust seasonings as needed.  Set aside.
make the salad: Fill a large bowl with ice and water.  Set aside.
Place a large pot of water on the stove over high heat and bring to a boil.  Add a pinch of salt to the water and then add the peas to the water.  Give them a stir and cook them for two minutes and then strain them.  Immediately place the peas into the ice water to stop the cooking process.  Once the peas have cooled, drain them and remove the stem and string.  Set aside.
Remove the stems from the radishes and thinly slice them.
In a large bowl, add the peas, the radishes, quinoa and cheese.  Toss to combine.  Add the vinaigrette to the pea salad and toss everything together and enjoy!
my notes: If you want a vegan option, use diced avocado in place of the feta cheese.  You can make this salad ahead of time and add the dressing right before serving.  This salad also travels and holds up really well – for weekday lunches or weekend brunches.