Let's talk broccoli today.  Actually, let's talk broccoli stem.  You know, that part you probably always throw away when you cook your broccoli?
Don't throw it away!  I'm telling you – it may not be much to look at, but it's delicious.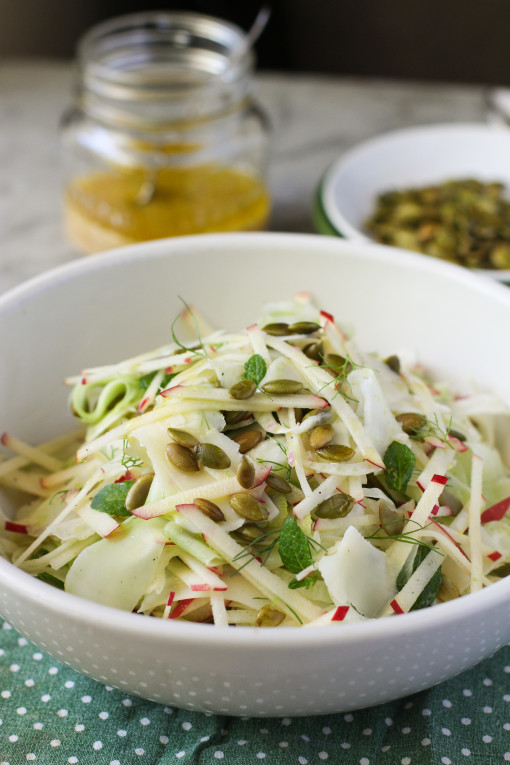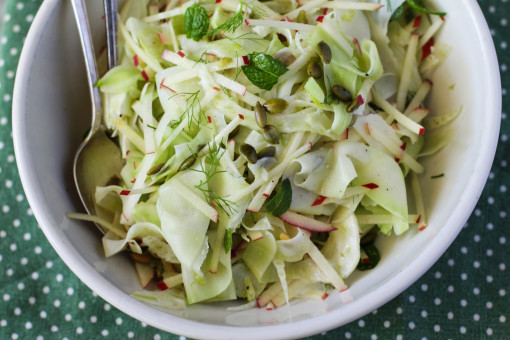 Light and sweet and super crunchy – broccoli stem can be used in so many different ways.  Dice the stem and add it to a bit of fennel and onions for a slow-simmered homemade tomato sauce.  Slice it on a bias and toss it with eggplant and mushrooms for a quick stir-fry.  Or shave it with a vegetable peeler and make it into a super crunchy salad.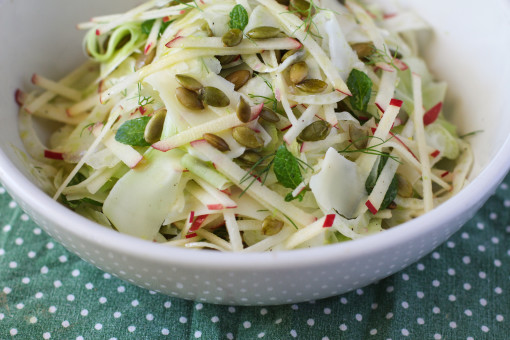 shaved broccoli stem, fennel and apple slaw
3 broccoli stems
1 small fennel bulb, with fronds
1 gala apple
2 oz shaved parmesan cheese
1/2 cup toasted pepitas
1/4 cup fresh mint leaves
1 cup extra virgin olive oil
1/4 cup red wine vinegar
1 tbsp. lemon juice
2 tbsp. Dijon mustard
salt and black pepper
Set the broccoli stems up on one end and with a sharp knife, slowly trim the thick sides of the stem, moving your knife from one end to the other.  Trim the stem on four sides so that you are left with the tender center that is in the shape of a rectangle.
Lay the trimmed stem on the table and with a vegetable peeler (or use a mandolin), slowly shave the stem from one end to the other.  Continue to shave the stems and place the shavings into a large bowl.
Trim the fronds from the fennel and place them into the bowl with the broccoli.  Remove the core from the fennel bulb, thinly slice it on a mandolin and place it into the bowl with the broccoli.
Thinly slice the apple on a mandolin.  Stack the apple slices and cut them into slices or matchsticks and add them to the bowl with the parmesan cheese, pepitas and mint.
In a medium bowl, whisk together the Dijon mustard, lemon juice, red wine vinegar and a pinch of salt and pepper.  Whisk everything together.  While whisking, slowly drizzle in the olive oil.  Taste and adjust seasonings as needed.
Add a bit of the vinaigrette to the broccoli slaw and toss everything to combine.