Is it too late to post just one more tomato recipe?
Please say no.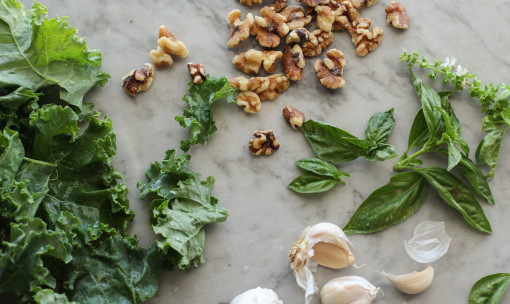 What if I tell you that it is 99 degrees outside today?
And that instead of pulling our tomato plants out of our garden two weeks ago like planned, I paused and this happened: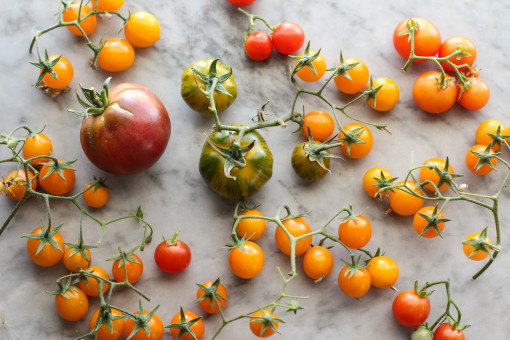 I mean, if Mother Nature says its still tomato time then we should probably respect Ms. Nature.
We should probably also make a big heirloom tomato salad to celebrate these lovely little tomato plants that won't give up the ghost just yet.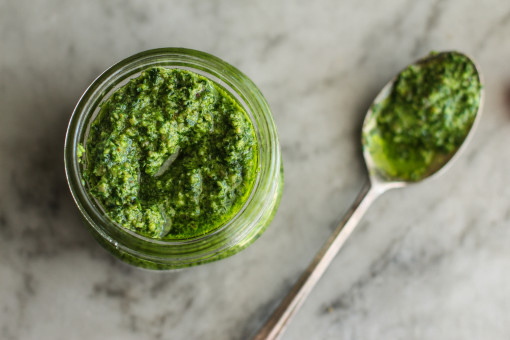 And, just in case we were kind of hoping for fall to actually arrive on that one day last week when there were lots of grey clouds and even some rain – we should probably include a little bit of the upcoming fall produce here and make a kale and basil pesto to top this salad.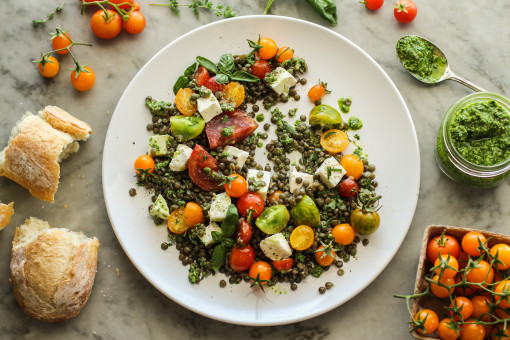 So here's my ode to the end of summer tomatoes that are still rocking out in my backyard garden – a super easy lentil caprese salad, topped with a garlic loaded kale and basil pesto.
Thank you Ms. Nature – can't wait to see what you grow in my garden when fall finally arrives.
XO,
Jenn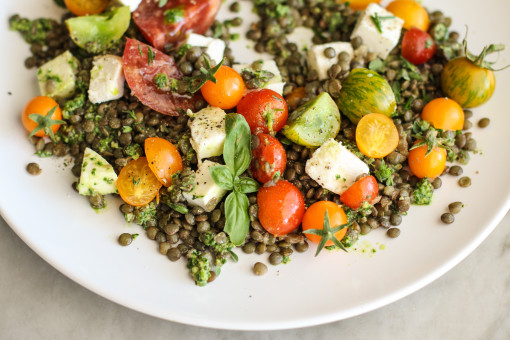 lentil caprese with fresh mozzarella and kale-basil pesto
makes about two meals or four sides
4 cups cooked lentils
3 cups heirloom tomatoes, cut into slightly bigger than bite-sized pieces
1/4 cup kale-basil pesto (recipe follows)
salt
black pepper
extra virgin olive oil
In a large bowl, stir the lentils and pesto together.  Add half of the tomatoes to the bowl, season with salt and pepper, and carefully stir everything together.  Divide the mixture into plates and top with the remaining tomatoes and drizzle with a bit of extra virgin olive oil.
kale-basil pesto
1/2 bunch of kale, washed, stems removed, and roughly chopped
1 cup loosely packed basil leaves
3 tablespoon roasted garlic (or 1 clove raw garlic)
1/4 cup toasted walnuts
extra virgin olive oil
salt
black pepper
In a food processor, add the garlic and walnuts and blend until combined but still slightly chunky.  Add the basil leaves, a pinch of salt and pepper, and process until combined.  Scrape down the sides of the food processor as needed.  With the processor running, drizzle the olive oil into the mixture until everything comes together.  Taste and adjust seasonings as needed.
my notes:  I love kale, but not everyone does.  You can make this recipe just as delicious by substituting spinach, arugula, watercress, swiss chard, beet greens, and even carrot or radish greens in place of the kale.  Also, traditional pesto is made with parmesan cheese, but I chose to omit it this time.  If you want to add some to your version, I would recommend adding about 1/4 cup of grated parmesan in the processor with the walnuts and garlic.