There are at least one million ways to fully enjoy citrus season, but here's one of my most favorite ways: this delicious grilled chicken and citrus salad!
This amazing salad is one of those recipes that works great as a weeknight meal when there's not a lot of time between walking in the door and putting dinner on the table;  it travels really well which means it makes a great work lunch or pot luck addition; and with just a handful of ingredients, you could assemble this salad at a friends afternoon bbq in just minutes!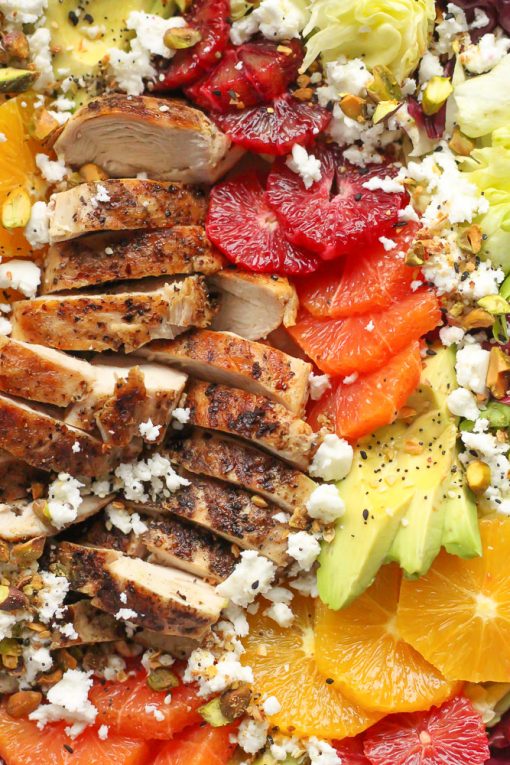 Let's talk ingredient list:
butter lettuce – a smooth, loosely bunched lettuce with very tender leaves
radicchio –  an Italian salad plant related to chicory with a bitter peppery flavor and crunchy texture
grilled chicken – it gets a little soak in a flavorful citrus marinade before hitting a hot grill
sliced citrus – the showstopper in this salad
ripe avocado – everything is better with avocado
feta cheese – little crumbly cheesy bits in every bite
roasted salted pistachios – giving the salad a nice salty crunch
everything but the bagel seasoning – a delicious blend of sesame seeds, dried garlic, dried onion, poppy seeds and salt
and the most scrumptious honey and lime dressing to drizzle over everything!!
You guys, can citrus season NEVER end??!?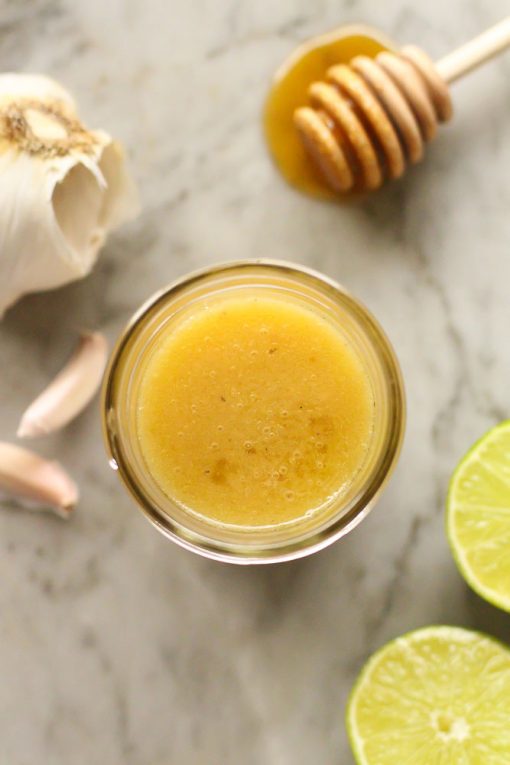 Now let me see if I can answer any questions you might have…
Yes, you can use a different kind of lettuce – arugula, spinach or even chopped romaine would work great!
Yes, you can omit the radicchio if it's not for you.
Yes, you can omit the chicken too – one cup of cooked quinoa would be just as delicious and still pack a ton of protein in this meal.  Yes, you can use just naval oranges, or just grapefruit or a combo of both.
Yes, you can omit the avocado.
Yes, you can use fresh crumbled goat cheese in place of the feta, or leave the cheese off to make this meal Whole30 compliant.
Yes, you can use walnuts, almonds, pine nuts or pumpkin seeds in place of the pistachios.
You can find everything but the bagel seasoning at Trader Joes, I've seen it a Walmart, and you can even buy it online here.
Annnnnnnnd, yes, you can bake your chicken instead of grill it. And yes, you can use your favorite dressing instead of mine.  I promise my feelings won't be hurt!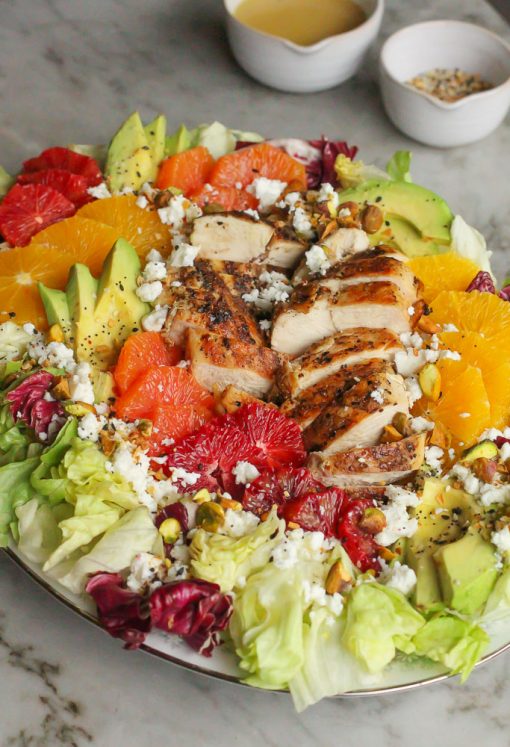 Any other questions?  Leave them in the comments below, or send me an email and I'll get right back to you!
XO,
Jenn
PS Here are some other salad recipes you might enjoy:
roasted squash and balsamic onion salad – a hearty winter vegetable salad!!
green goddess power salad – a crunchy and protein packed salad!!
broccoli, beet and carrot salad – vitamin packed and so delicious!!
shaved golden beet, fennel and barley salad – a super crunchy and delicious bowl of veggies!!
grilled chicken and citrus salad
Grilled chicken and citrus salad - healthy eating at it's best!!
Ingredients
for the salad:
1

garlic clove, minced

1

tbsp

balsamic vinegar

1

tbsp

orange zest

1

tbsp

fresh thyme leaves

1

tbsp

extra virgin olive oil

1

head

butter lettuce

2

boneless, skinless chicken breasts

1/4

head

radicchio

3

naval or cara cara or blood oranges or combination of all three

1

ripe avocado

2

oz

feta cheese

3

tbsp

toasted and salted pistachios

1

tbsp

everything but the bagel seasoning
for the honey-lime dressing:
1/4

cup

lime juice

1

tbsp

honey

1

tbsp

apple cider vinegar

1

tbsp

dijon mustard

1

garlic clove minced

1/2

tsp

kosher salt

1/4

tsp

black pepper

1/4

tsp

ground cumin

1/2

cup

extra virgin olive oil
Instructions
Preheat your grill on high for 10-15 minutes. In a large bowl, whisk the garlic, thyme, balsamic vinegar and olive oil together. Add the chicken breasts to the marinade and using a spoon, cover all sides of the chicken with the marinade. Cover with plastic wrap and refrigerate for 10 minutes.Turn your grill down to medium heat and place your chicken breasts directly over the heat source.Grill your chicken for about 10 minutes, flipping halfway to ensure even cooking. Once your chicken reaches an internal temperature of 165 degrees, remove the chicken from the heat and allow to rest for 10 minutes while you prepare the salad.Make the dressing:In a small bowl, whisk the lime juice, honey, apple cider vinegar, Dijon mustard, garlic, salt, pepper, and cumin together. While whisking, slowly drizzle the olive oil into the dressing and continue whisking until everything comes together. Set aside.Break the butter lettuce and radicchio into bite-sized pieces and wash and dry the leaves. Place the leaves evenly onto a platter.Using a sharp knife, remove the peel from the oranges. Slice the oranges into 1/4 inch slices and place them on top of the lettuce.Slice the avocado into bite-sized chunks and add them to the top of the lettuce. Sprinkle the feta, pistachios, and bagel seasoning over everything. Pour the dressing over everything and toss to combine. Serve immediately.