Hello!  Big news!!  Our little baby has finally arrived!!
Who knew that ten tiny fingers and ten tiny toes could bring so much joy and happiness to our little corner of the world.  So far she's the sweetest little baby – only requesting hugs and kisses and lots and lots of feedings.  We are up most nights and sleeping most days but it's totally worth the extra effort just to hold our little dream come true.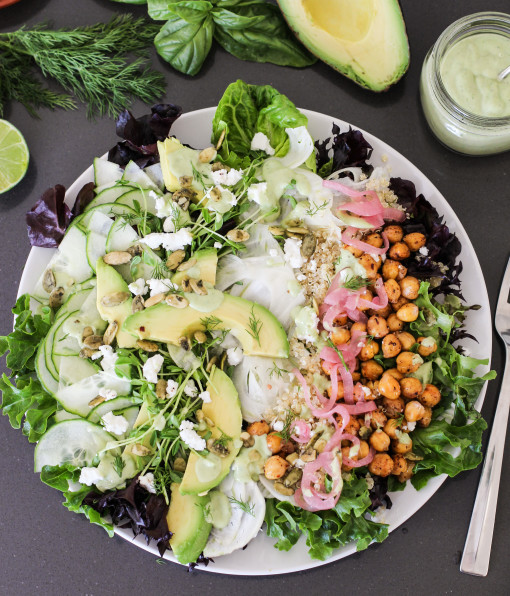 In other news, man do I feel great!!  After being so sick for so long during this pregnancy, I was SO looking forward to the day that I started feeling like myself again – to be able to enjoy food again, to actually look forward to eating for the enjoyment instead of just a means to grow the cutest baby ever.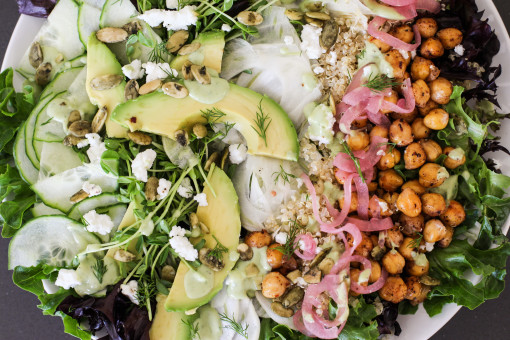 And here is what I wanted to eat first – a big pile of greens covered with crunchy cucumbers, creamy avocado, shaved baby fennel, pickled red onion and topped with protein-packed quinoa and chili roasted chickpeas.
The salad is amazing, but no joke, it's the dressing that makes the whole thing come together – a creamy, herby green goddess dressing which is made with all healthy ingredients – you will want to drizzle this on everything, dip every veggie you have in your fridge in it, and you might even eat it by the spoonful.
Yes, it's that good.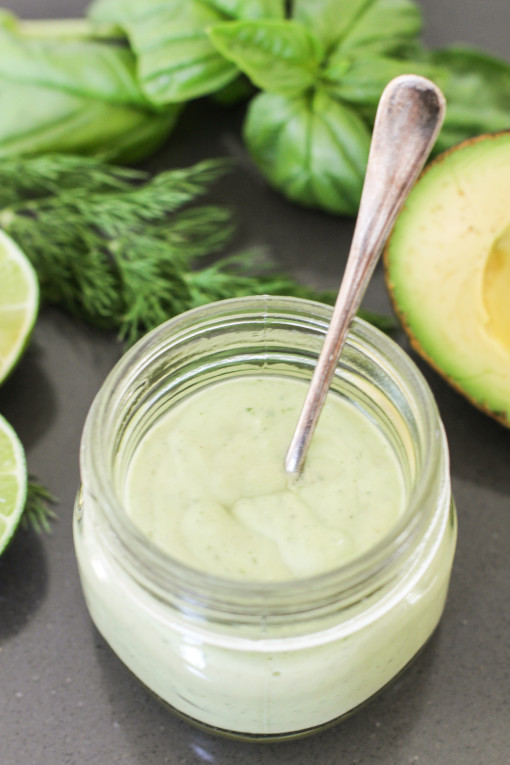 green goddess power salad
2 cups mixed baby greens
1/2 cup shaved cucumber
1 avocado, thinly sliced
small handful pea sprouts (or other sprouts)
1/2 cup shaved fennel
1/2 cup cooked quinoa
1/2 cup chili roasted chickpeas (recipe follows)
1/4 cup pickled red onion (recipe follows)
1/4 cup crumbled feta cheese (optional)
small sprinkle of toasted pumpkin seeds
green goddess dressing (recipe follows)
In a large bowl (or on a large platter,) place the baby greens and top with the cucumber, avocado, pea sprouts, fennel, quinoa, chickpeas, pickled red onion, and drizzle (or toss) the green goddess dressing over the salad.  Top the salad with the toasted pumpkin seeds and crumbled feta cheese.  Serve immediately.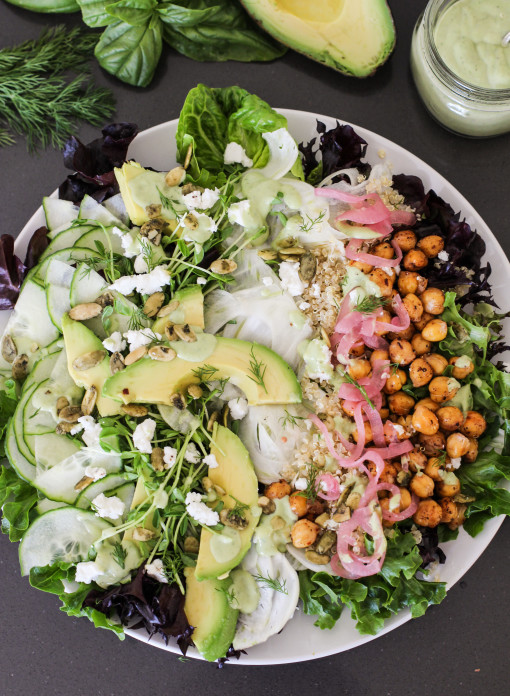 chili roasted chickpeas
Preheat your oven to 400 degrees and line a baking sheet with parchment paper.  In a small bowl, toss together cooked chickpeas with a pinch of salt and black pepper and chili powder.  Place the chickpeas on the parchment and cook for about 20 minutes or until crispy, stirring halfway through to roast evenly.
quick pickled red onions
In a medium sized saucepan, combine 2 cups water, 1 cup apple cider vinegar, 1 cup of sugar, and 3 tbsp. various spices (I used a combination of black peppercorn, cumin and mustard seeds.)  Bring to a boil and the turn off the heat.  In a medium bowl, shave 1 red onion into thin slices and pour the pickling mixture over the onions.  Place the bowl in the fridge until the onions are completely cooled.
green goddess dressing
**This is my take on a classic dressing – healthy fats replace the usual suspects – but feel free to adjust as you see fit**
1 clove of garlic, coarsely chopped
3 tablespoons fresh basil leaves, coarsely chopped
2 tablespoons fresh dill, coarsely chopped
3 tablespoons extra virgin olive oil
1 avocado, cut into smaller pieces
1 cup nonfat greek yogurt
2 teaspoons toasted and ground cumin seed
1 teaspoon kosher salt
1 teaspoon black pepper
the juice of one lime
In a blender or food processor, combine the garlic, herbs and extra virgin olive oil until roughly chopped.  Add the avocado, yogurt, cumin, 1/2 the lime juice, salt and pepper and blend together.  Taste the dressing and adjust with lime juice, salt and pepper as needed.  Dressing can be kept in the fridge for up to five days – if it lasts that long.