Hi guys!  It's ME!!  Did you miss me??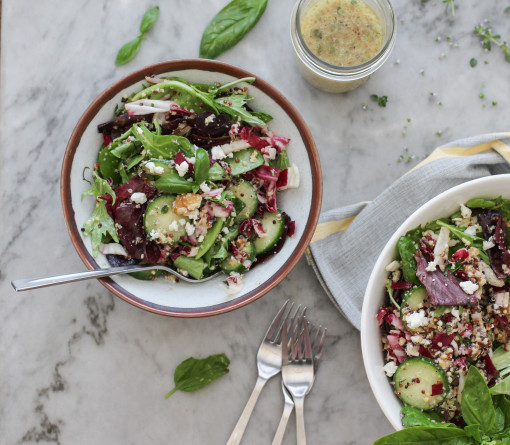 Well, if you follow me on my Instagram or Facebook pages you know I've still been eating lots (and lots!) of fun things and sharing them with you over there.  But this little house of food blog has been a little quiet.  I mean, over here we are elbows deep in summer fun and have been on an exciting adventure (or three!!) almost every single day.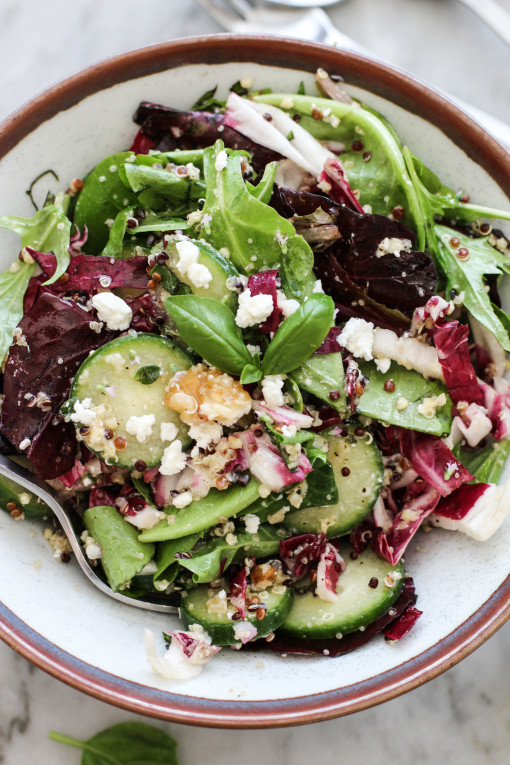 And as it should be, summer adventures don't lead to blog posting until after the kids are too tuckered out to make another peep.
Okay, let me just check……….yes, no more peeps.   Now it's time to make some dinner!!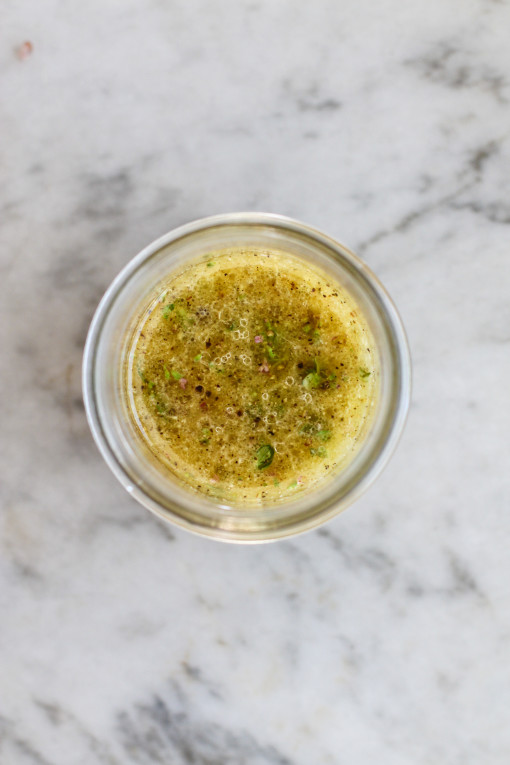 Here is an amazing salad that I just kind of put together one day when I had five minutes between adventure sessions – and only with the leftover what-nots I had in my fridge.  You guys, this is a definite –>must add<– to your summer pot-luck line up!  Super simple baby greens with some crunchy cucumber, toasted walnuts, fresh goat cheese, quinoa and radicchio and a drizzle of the most delicious honey-basil vinaigrette.
Make it.  Eat it.  Enjoy your summer.  See you soon!
XO,
Jenn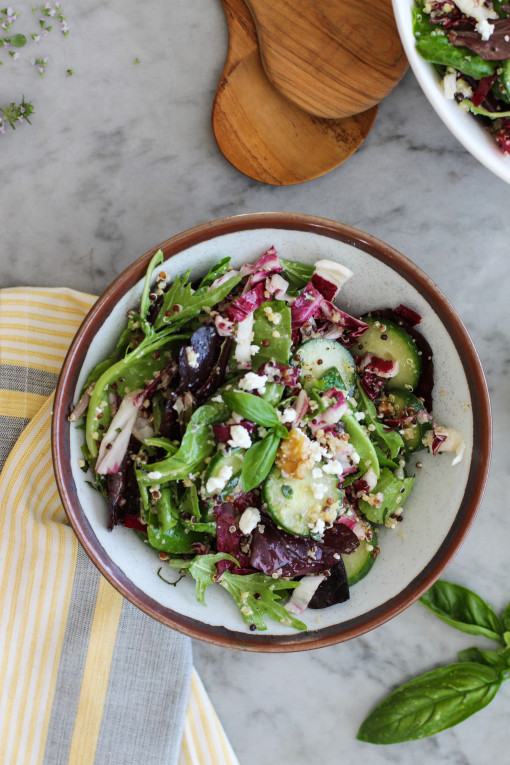 PS In other news, I've been working on some extras and additions to this here bloggy-blog.  This week I was able to find five minutes and place a Pinterest "pin it" button to each and every picture in the post itself.  So if you like a picture and want to keep/share it with yourself and your followers – just hover your mouse over the picture and click on the "pin it" button to post it to your own Pinterest site.
crispy green power salad with honey-basil vinaigrette
makes about 4 servings
1 tablespoon honey
2 tablespoons red wine vinegar
1 teaspoon Dijon mustard
1/4 cup extra virgin olive oil
2 tablespoons thinly sliced basil
salt
black pepper
3 cups mixed baby greens
1 cup chopped radicchio
1/2 cup thinly sliced cucumber
1/2 cup cooked quinoa
2 ounces fresh goat cheese
1/4 cup roughly chopped walnuts
In a small bowl, whisk the honey, red wine vinegar, mustard, olive oil and basil together.  Add a pinch of salt and black pepper, whisking to combine.  Taste and adjust as needed and set aside.
In a large bowl, place the baby greens, radicchio, cucumber, quinoa.  Add a bit of the vinaigrette and toss everything together and divide into four bowls.  Top each salad with a bit of goat cheese and walnuts and serve.