Hello from sunny San Diego!  Yes, I'm blogging from my beach chair while on vacation, but I'm tied to the house while the kiddo naps, so I can't go on any adventures just yet.  Yes, there's a frosty glass of something yummy sitting very close by.  And yes, there's a book that may or may not get cracked, but in the meantime, let me share this dish with you.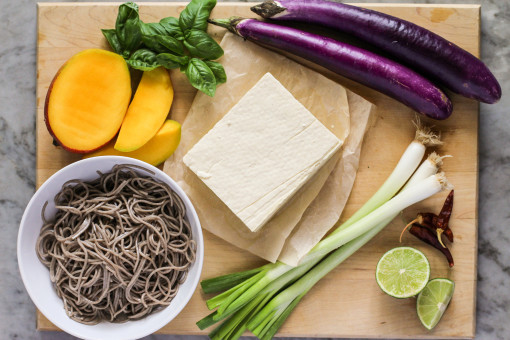 Traveling by plane is always tricky when it comes to the food department.  Depending on what time you have to catch your flight will determine if you can have a fulfilling breakfast to help you start your adventure.  Or if you miss breakfast and end up two hours early for your flight, you have to pick carefully at the airport food offerings. Or, if you have an adorable toddler in tow, you never know when hunger will strike and you must be prepared.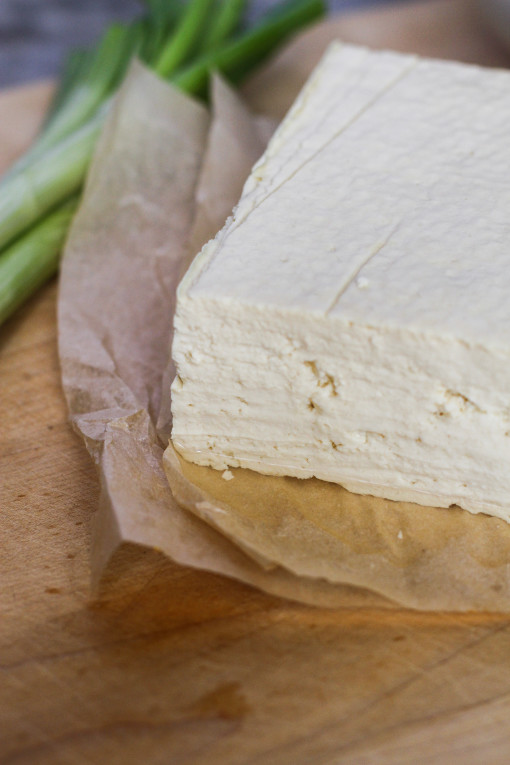 So I packed lots of snacks – nuts and seeds and carrots and fish crackers, but I knew we would need something really filling by the time we landed.  So, here's a great salad that can be eaten cold or room temperature, or even on an airplane without filling the whole cabin with delicious aromas but still making your seat-mates jealous.
"Sho-shu noo" is what my little man calls this dish (roughly translated to: tofu noodles) and he dives right in with his hands every time we make this dish.  So good, even a toddler will eat it.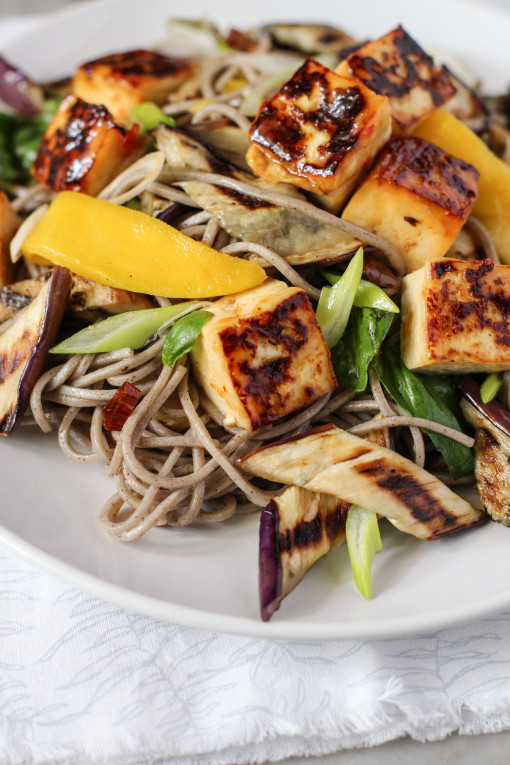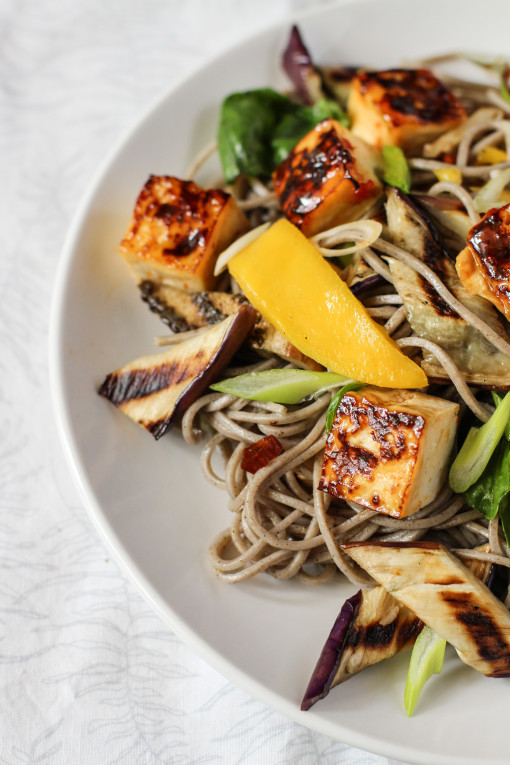 cold soba noodle salad with sweet chili tofu
inspired by Yotam Ottolenghi's Plenty Cookbook via Serious Eats
1/2 cup rice wine vinegar
3 tbsp. honey
1 tbsp. liquid aminos or soy sauce
2 garlic cloves, crushed
1dried red chili, seeds removed, sliced thinly
1 tsp toasted sesame oil
grated zest and juice of one lime
extra virgin olive oil
2 Japanese eggplant, cut lengthwise into four pieces
8 oz soba noodles
1 large ripe mango, cut into 1/4 inch think strips
1 cup basil leaves, washed and torn into pieces
1 green onion, very thinly sliced on a bias
8 oz very firm tofu, drained, diced into 1/2 inch squares and dried on a clean towel
1 cup sweet chili sauce
In a small bowl, combine the vinegar, honey, aminos, garlic cloves, chile, sesame oil, lime zest and lime juice.  Whisk to combine and set aside.
Heat up a grill.  Lay the eggplant out a plate or tray and drizzle a bit of olive oil over both sides.  Grill the eggplant until cooked through and slightly crispy – turning the eggplant halfway through the cooking process.  Once fully cooked, remove from the grill, allow to cool and slice on a bias, into 1/2 inch thick slices.
Cooke the noodles in plenty of boiling salted water, stirring occasionally.  They should take 5 to 8 minutes to become tender but still al dente.  Drain and rinse well under running cold water.  Shake off as much of the excess water as possible, then leave to dry on a clean dish towel.
In a small bowl, place the tofu and the sweet chili sauce and toss to combine – careful not to break up the tofu.  Heat a cast iron skillet or nonstick pan over high heat.  Add the tofu to the pan (with the sauce) and leave everything to cook for a good five minutes before turning it over.  (The longer you leave the tofu alone, the better the crust will be on the tofu.  If your tofu sticks to the skillet or the sauce gets too thick, add a bit of water to the pan before turning.)  Once the tofu has developed a crust, remove it from the pan and place it on a plate to cool.
In a mixing bowl toss the noodles with the dressing, mango, eggplant, half of the herbs and the onion. You can now leave this aside for 1 to 2 hours. When ready to serve add the rest of the herbs and mix well, then pile on a plate or in a bowl.  Top with the chilled sweet chili tofu.