Yep, it's me and I'm here with another salad!!  And not just ANY salad but one that is packed with all the delicious summer ingredients that are ripe and in season right now!!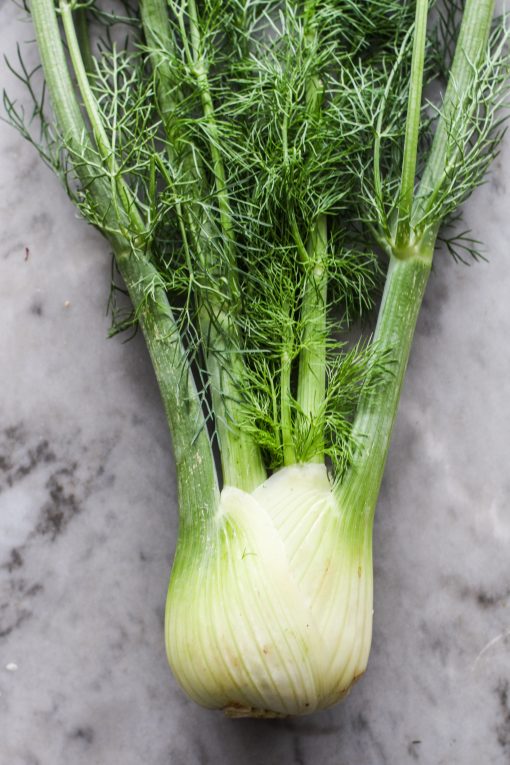 If you read my last post, I talked about how to make the perfect salad.  Believe it or not, there's a formula for making an amazing salad and it has everything to do with what ingredients you choose to put together in your salad bowl.  You need to pick ingredients with different textures, and tastes, as well as flavors and even colors!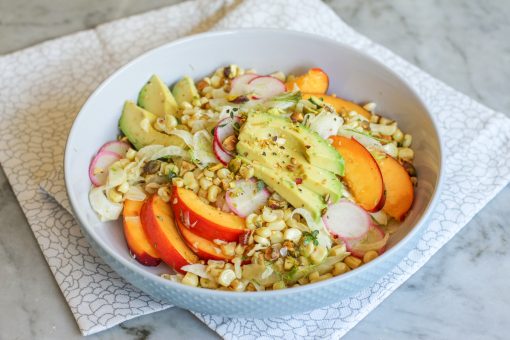 This amazing charred corn, fennel and nectarine salad was made with all of these things in mind, and it is SO delicious!!  I started with my salad base – no lettuce but fennel.  If you haven't had fennel before, it's a light and crunchy vegetable with a sweet anise flavor.  It's one of those yummy vegetables that can fill multiple roles in the kitchen – my favorite way being lightly shaved on a mandoline and tossed into a salad.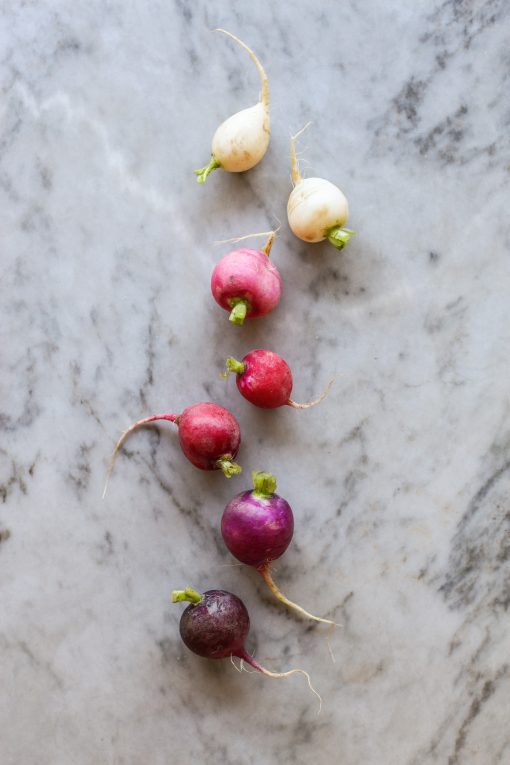 On top of that shaved fennel comes a whole batch of charred corn.  Now, what the heck is charred corn, you ask?  Well, you turn up the heat on a cast iron skillet, throw some corn kernels in the pan, and cook them until they get charred.  Easy enough!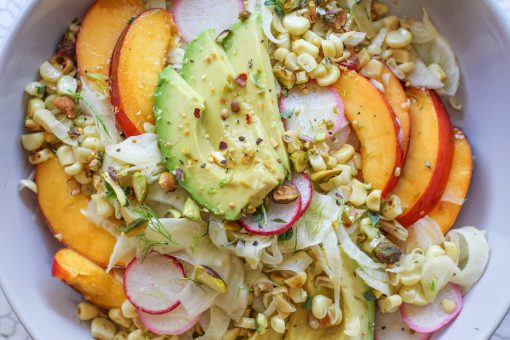 So into the bowl goes the shaved fennel, charred corn, some sliced ripe nectarine, thinly sliced radishes, creamy avocado and some chopped up salty pisctachios – then everything gets tossed with my very favorite tangy lemon vinaigrette.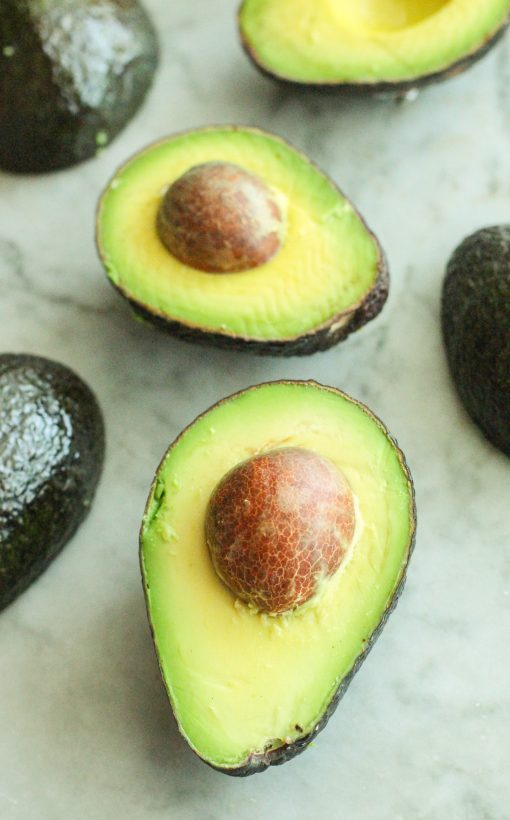 This salad is light, refreshing, and oh so delicious!   I hope you guys enjoy this combination of flavors and give the salad formula a try the next time you want to create a salad just for you!
XO,
Jenn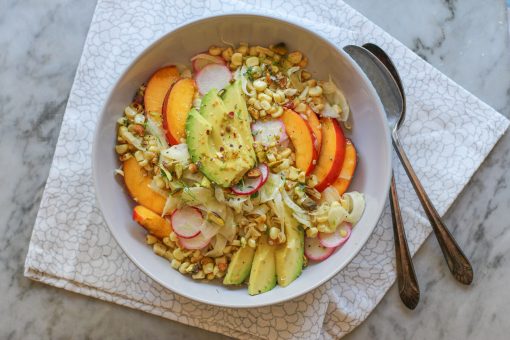 charred corn, fennel, and nectarine salad
makes 4-6 servings
1 fennel bulb
2 corn cobs or about 1 1/2-2 cups of corn kernels
2 ripe nectarines
3 radishes
1 medium avocado
1/4 cup roasted and lightly salted pistachios, roughly chopped
one batch tangy lemon vinaigrette (recipe found here)
salt
black pepper
Cut the fennel fronds from the fennel, creating a flat surface at the top of the fennel bulb.  Using a mandoline or a very sharp knife, shave the fennel thinly across the flat surface until all that is left is about 1/4 inch of the fennel core.  Discard the core and place the fennel into a large bowl.
Remove the kernels from the corn cobs if needed.  Place a cast iron skillet over high heat and heat until hot.  Add the corn kernels to the dry pan and cook, without stirring, for about three minutes to char the corn.  Stir and cook for another three minutes, until the corn is cooked through and parts of the kernels are brown (aka charred.)  Remove corn from the heat and let cool to room temperature.  Once the corn has cooled, add it to the bowl with the fennel.
Thinly slice the nectarines and radishes and add them to the bowl.  Toss everything together with some of the lemon vinaigrette, and season with salt and pepper.
Separate the salad into individual plates and top each salad with some slices of avocado and a bit of the chopped pistachios.  Serve immediately.