It's been awhile since I was in culinary school but I still remember the first time I tried this salad.  Our class had been working hard through two weeks of Asian cuisine which involved classroom discussions. research, reading, and of course cooking.  After this section of study was complete, the whole class descended on the kitchen and cooked all morning long.  Swarms of busy bees at the edge of the stove, stirring bubbling pots and sizzling pans – others chopping, slicing and dicing their mains, salads and garnishes.  And then – time was up!  We all plated our creations and presented them to the class – and the executive chef – for tasting and critique.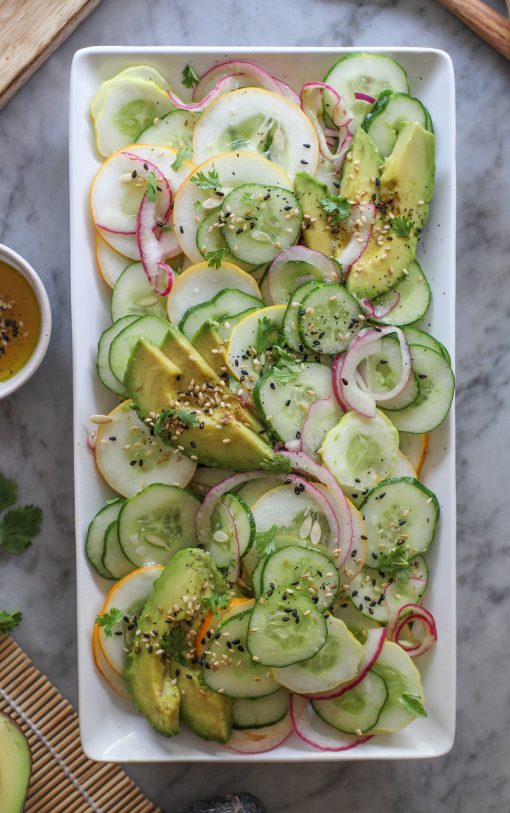 After a hearty discussion, we grabbed a plate and dug in.  Big piles of slurpy peanut noodles, slow roasted fish with ginger threads and a big scoop of spicy mapo doufu – the most delicious dish of tofu in a spicy Sichuan flavored sauce.  There were fried rolls, and spring rolls, and dumplings.  There was fried rice and rice cakes and steamed rice.  I'm telling you – there was so much food!!  And it was all so delicious!!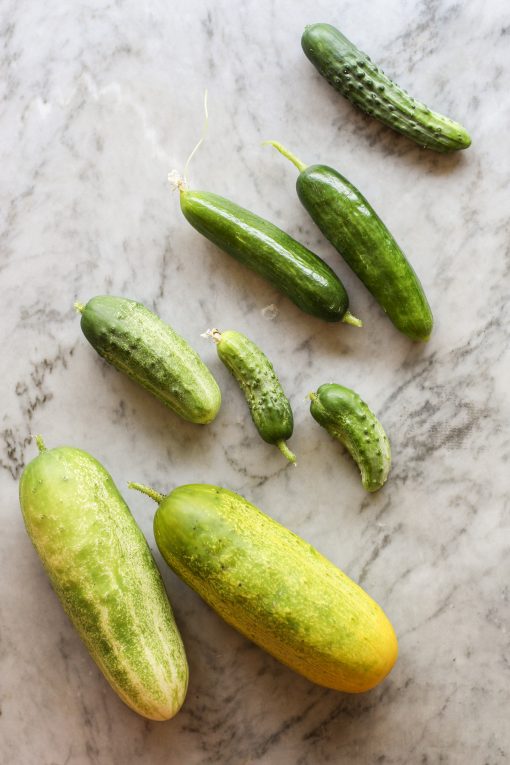 And sitting in the middle of the glorious buffet was this salad with only two ingredients – thinly sliced cucumbers with red onion slices.  Of course I scooped some on my plate as I went through the buffet because I wasn't one for missing anything delicious (talk about freshman 15!!) and proceeded to taste everything on my plate.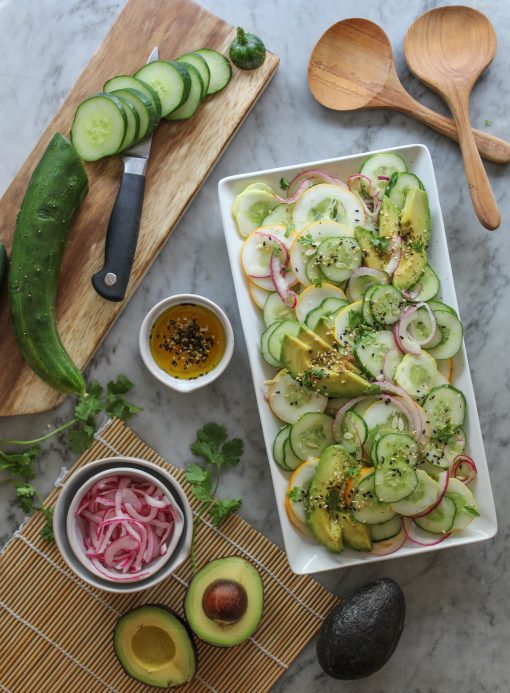 Slurpy noodles, yum.  Slow roasted fish, delicious.  Mapo doufu, so spicy!!  But what I remember the most is that simple cucumber and red onion salad.  I took one bite and stopped chewing.  The flavors were….like nothing I had ever tasted before.  Cool and crunchy cucumbers, red onions lightly pickled in rice wine vinegar, toasted sesame seeds, and the most delicious sesame vinaigrette that made the whole dish complete.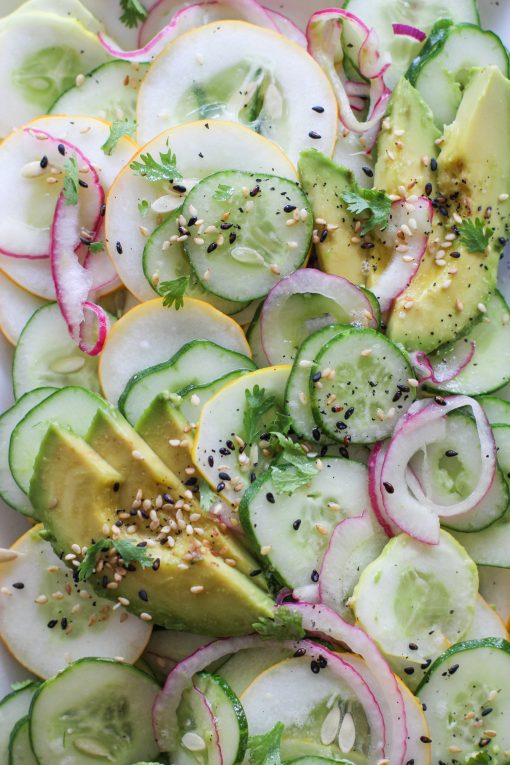 I'm going to be totally honest here.  Well, I'm always honest here, but what I mean to say is that I went back for seconds.  And then thirds.  And then probably thought about fourths, but by that time I had walked right up to the Assistant Executive Chef and begged him for the recipe.  Turns out, while we were all working so hard on all the recipes and assignments we had to complete, Chef C had quietly been working on a way to use up a whole batch of cucumbers that had come from our school garden.  While we were frying, sautéing and saucing – he was pickling, slicing and toasting.  And when we were all rushing around to put our plates on the table for grading, well, Chef C quietly placed his on the table too.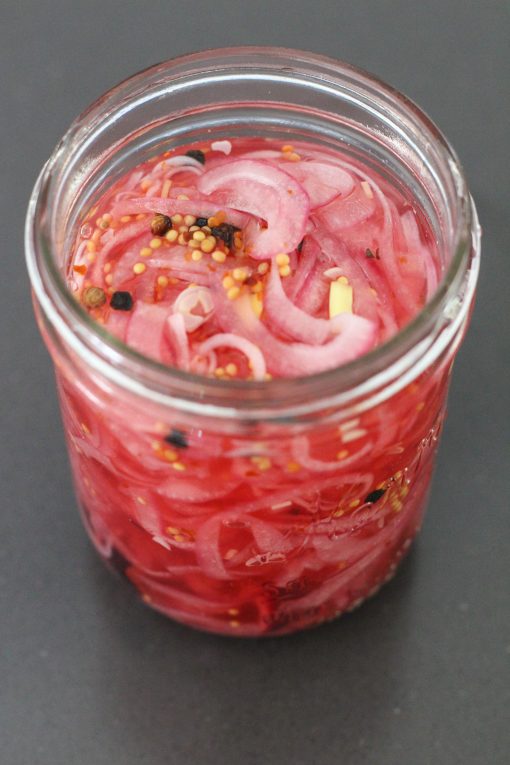 And this same salad from so far back is the one that I share with you today.  Asian cucumber and pickled red onion salad, with toasted sesame seeds, avocado (not in the original recipe but I had some that needed to be eaten and it was a perfect addition) and a sesame vinaigrette.  I hope you enjoy it as much as I do!!
XO,
Jenn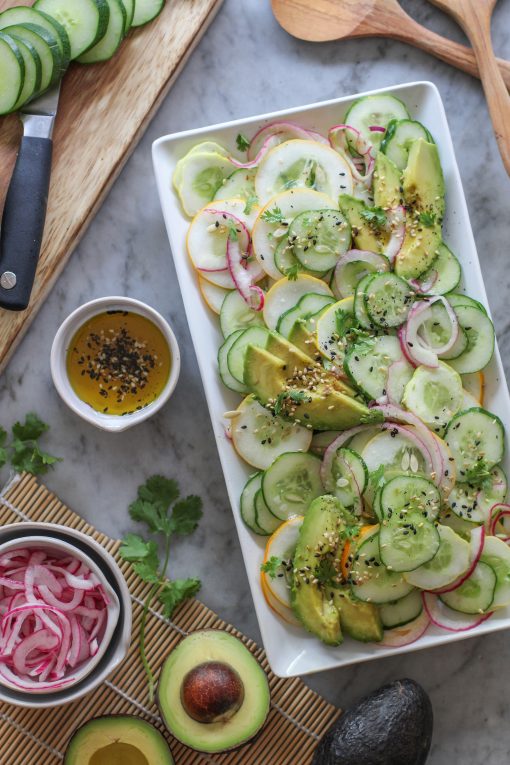 Asian cucumber and picked red onion salad
makes 3-4 servings
**specialty equipment needed – a mandolin (this one's my favorite) or a very sharp knife**
3 tablespoons rice wine vinegar
1 tablespoon soy sauce
2 tablespoons toasted sesame seeds (white or black or a mixture of both)
1 tablespoon toasted sesame oil
1 tablespoon vegetable oil
1/3 cup water
2 medium English cucumbers
1 recipe pickled red onions (find the recipe here)
1 medium sized avocado
2 tablespoons chopped cilantro
In a small bowl, whisk the vinegar, soy sauce, sesame seeds, sesame oil, vegetable oil and water together.  Set aside.
Using a mandolin or sharp knife, thinly slice the cucumbers and place them into a medium sized bowl.  Add about 1/4 cup of pickled red onions (drained of pickling liquid) to the bowl with the cucumber.  Whisk the vinaigrette once more and drizzle about 1/2 the dressing over the cucumbers, tossing to combine.  Taste a cucumber or two, adding more dressing if you desire, and divide the salad among four plates.  Slice the avocado and place on top of each salad, sprinkling the cilantro over the top.  Serve immediately.