Coming atcha with a super easy and delicious lunch or dinner idea for you – tacos!!!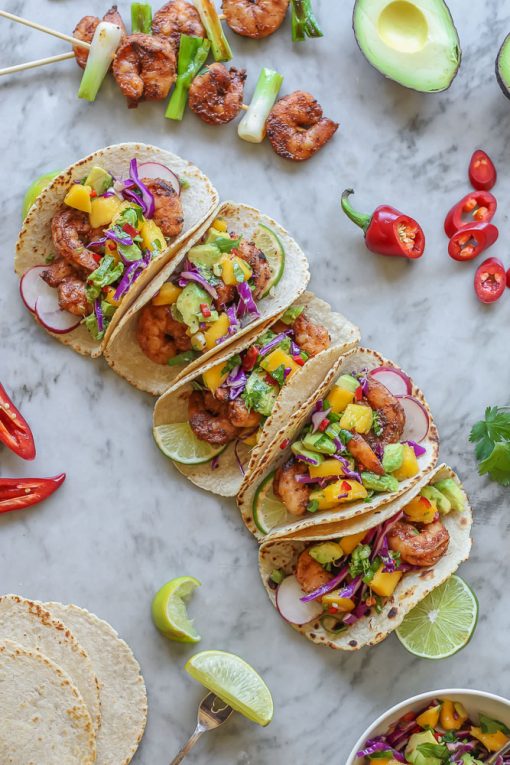 Have you ever met anyone that doesn't like tacos?? That's right, everyone loves tacos!! And if you DO happen to meet someone who doesn't like tacos, you should definitely reevaluate your friendship, just saying…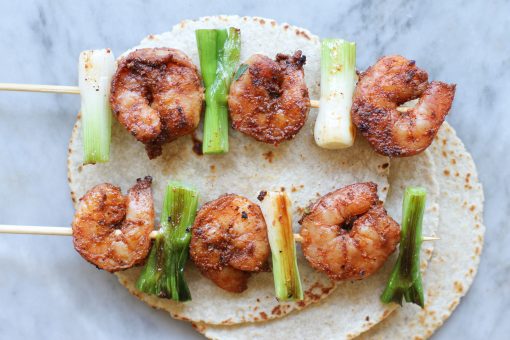 These soft corn tortillas (click here for a low-carb cauliflower taco shell recipe) are stuffed with spicy grilled shrimp and the most wonderful mango and avocado relish and the whole thing comes together in about 20 minutes. So if you are pressed for time (and who isn't) but still want a healthy dinner, this is it!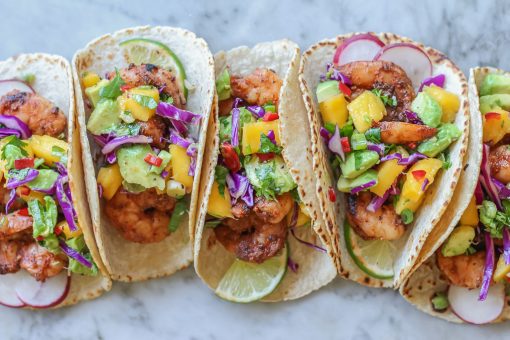 The relish is just a mixture of sweet mango, creamy avocado, crunchy red cabbage, cilantro and a little bit of red fresno chilies and lime juice. And the relish is one of those sides that can pretty much go on and in anything – top some grilled pork or fish with it, wrap it inside a breakfast burrito for a tropical twist, top your favorite green salad with it, and you can even use it as a chip dip!!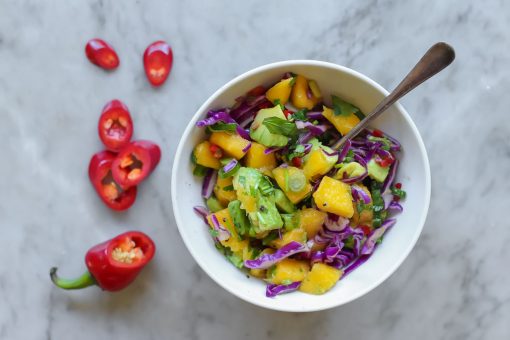 Hope you guys are enjoying your weekend!
XO,
Jenn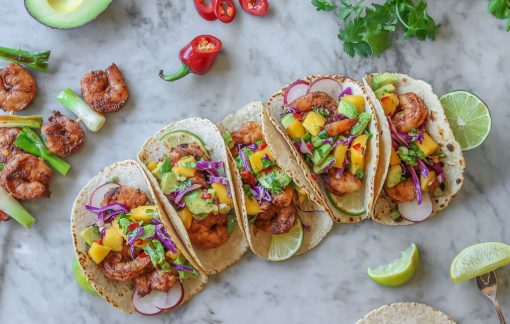 spicy shrimp tacos with mango and avocado relish
makes about 8 tacos
for the relish:
one ripe mango, peeled and cut into chunks
one ripe medium sized avocado, peeled and cut into chunks
2 cups shredded red cabbage
1 red fresno chili, minced
3 tablespoons minced cilantro
1 tablespoon lime juice
salt
black pepper
In a medium sized bowl, add the mango, avocado, cabbage, chili, cilantro and lime juice.  Gently toss to combine.  Season with salt and pepper to taste.  Set aside.
for the shrimp:
1 pound raw, deveined and peeled shrimp
1 teaspoon ground cumin
1 teaspoon ground paprika
1 tablespoon ground chili powder (use mild if you don't like spicy food and hot if you do)  (I use this brand)
1 teaspoon salt
1 teaspoon ground black pepper
extra virgin olive oil
Place all the spices into a medium sized bowl and mix to combine.  Place the shrimp into the spices and stir the shrimp around until they are all covered with the spice mixture.   Heat a cast iron skillet (or other heavy bottomed pan) over high heat and coat the bottom of the pan lightly with the oil.  Working in batches, place enough shrimp into your pan to make one even layer.  Turn the heat down to medium and let the shrimp cook on the first side for about three minutes, then flip each shrimp over and cook for another one to two minutes, or until they are cooked through.  Remove the cooked shrimp to a plate and repeat the process with the remaining shrimp until they are all cooked.
assembly:
Warm up your favorite taco shells.  Add the shrimp to the bottom of the shell, then top with the mango relish, and enjoy!!
my notes: These shrimp work great on the grill too!  You may not enjoy whole shrimp in your tacos like I do, so you can just give them a rough chop before placing them into your taco shell.  The mango relish is delicious but won't last too long.  If you want to save some, make sure to place it in a covered container in the refrigerator and eat it within two to three days.  Questions?  Leave a comment in the section below or send me an email!!