Coming back from vacation over here and I'm telling you, I'm having a really difficult time getting back into the swing of things.  Winter break was so busy – packed full of outings and tree lightings, dinners with family and friends, present exchanges and lots and lots of food.  After all the Christmas fun was over, we packed up the kids and headed north to play in the few flakes of snow that we could find and enjoy the company of some close friends who are more like family than friends really.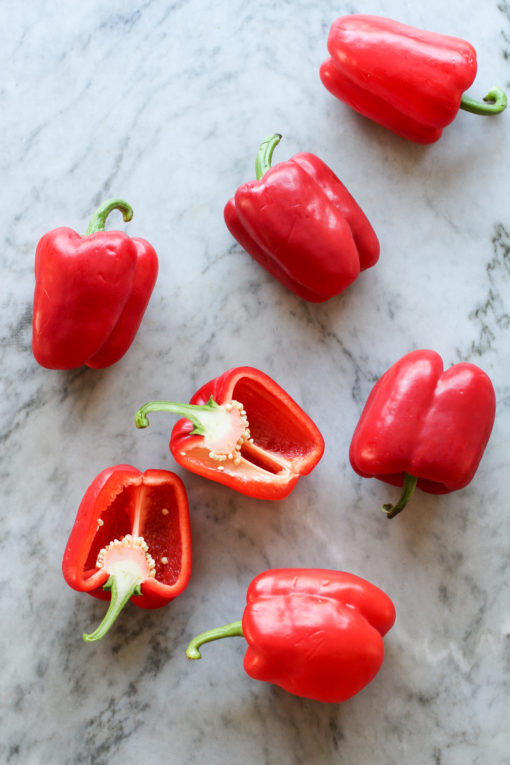 There were more days of fun outside – strapping skates on excited kiddos that would barely sit still long enough to fasten buckles before racing out onto the ice to do their best impression of an Olympic athlete before falling down and getting right back up to try it again. We played in the small amounts of snow, racing down hills on sleds, bums, and tums – laughing harder than necessary but enjoying every single second before getting up and doing it again.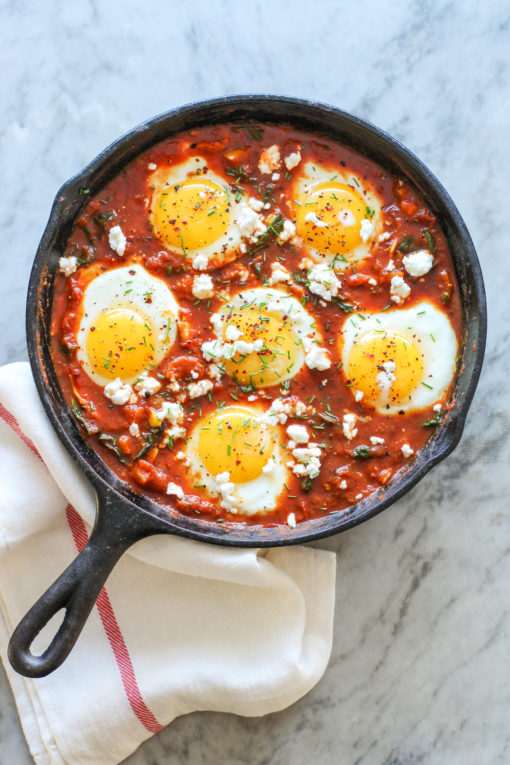 And there were meals. My goodness, were there meals. Slow roasted pork sliders, old school beef enchiladas, the best vegan chili I have ever tasted in my entire life, and loads and loads of laughter, stories, games and fun.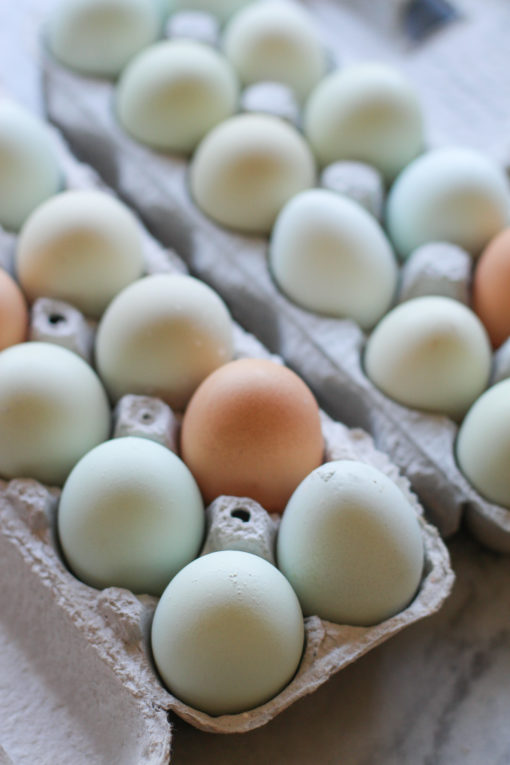 But like all good times, this one had to come to an end. Time to return to work and school and life's little routines. Before we left I was gifted the most gorgeous homegrown eggs – an entire dozen amazing little babes from my friends backyard and I knew exactly what I was going to make with them once we got home: shakshouka.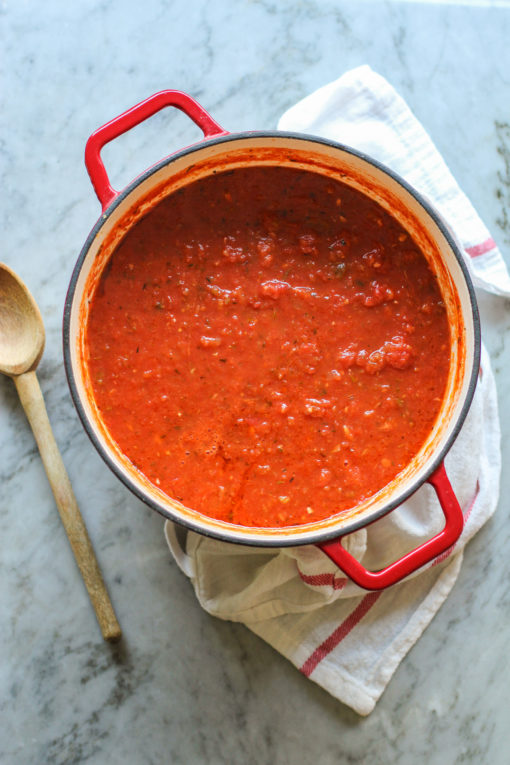 Shakshouka (pronounced shack-shoe-ka) is a really simple but delicious dish of eggs poached in tomato sauce with chili peppers, onions and cumin. It's originally from Tunisia and has quite a colorful history in Arab and Israeli cuisines where each cook added their own ingredients to the popular dish. I did the same – adding some shredded kale and garlic to the sautéed onions and a big pinch of Aleppo pepper to the tomato sauce before cracking the eggs into the pan and baking them in the rich and spicy sauce. Once baked, everything got a good sprinkling of feta cheese and chives and what's not pictured here are the copious amounts of toasted sourdough that I would highly recommend you use to sop all the tasty bits.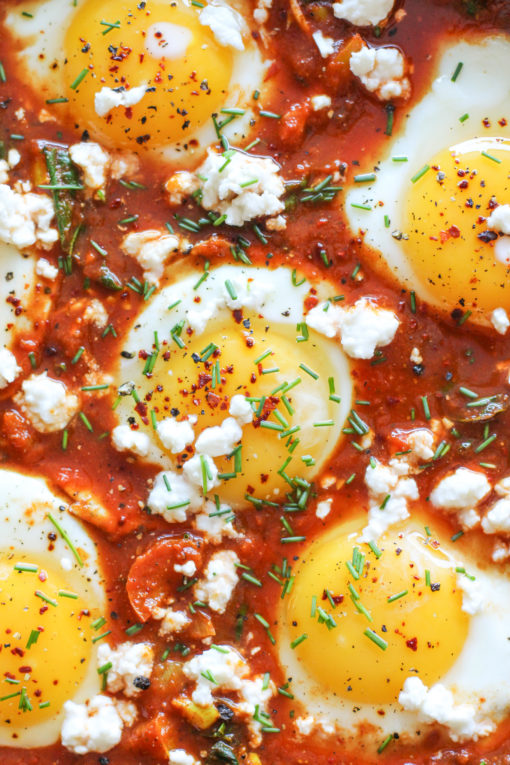 It's a quick and easy weekend breakfast, but just as wonderful for lunch or dinner – add a salad and some of that tasty toasted sourdough I mentioned above. Happy eating!!
XO,
Jenn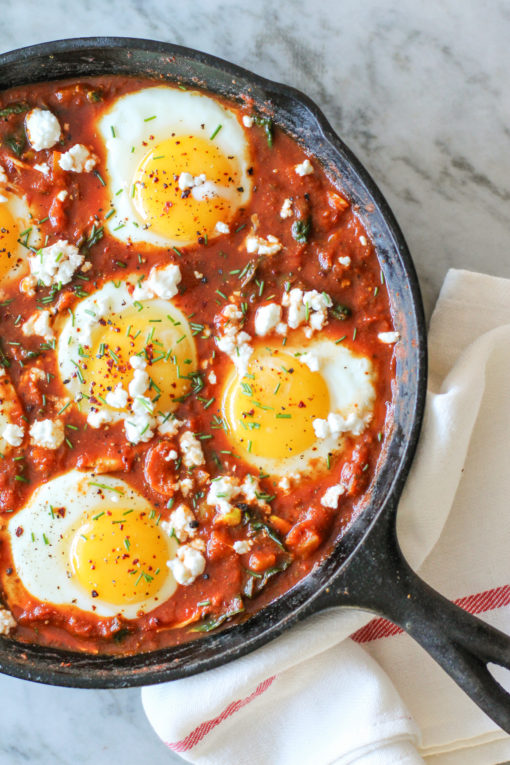 shakshuka with sautéed kale and feta cheese
makes 4-6 servings
3 tablespoons extra-virgin olive oil
1 cup chopped white onion
1/2 cup red bell pepper, seeded and chopped
2 cups shredded kale
3 garlic cloves, thinly sliced
1 teaspoon ground cumin
1 teaspoon Aleppo pepper (or cayenne pepper)
3 cups tomato sauce
salt
black pepper
3 ounces feta cheese, crumbled
6 large eggs
Chopped chives, for serving
Heat your oven to 375 degrees.
Place a heavy bottomed pot or cast iron skillet on a burner over medium heat.  Add the olive oil, onion and red pepper to the pan and cook, stirring occasionally, until the onion has become soft – about five minutes.  Add the kale to the pan and cook, stirring occasionally, until the kale has wilted.  Add the garlic, cumin, Aleppo pepper, tomato sauce and a pinch of salt and pepper to the pan.  Stir everything together and cook for five minutes, or until the tomato sauce begins to bubble and thicken.
Using the back of a spoon, carve out six little divots into the sauce and crack an egg into each divot.  Sprinkle the crumbled feta over everything and transfer the pan to the oven and bake until eggs are just set – 7 to 10 minutes.  Sprinkle with chopped chives and served warm with toasted sourdough bread.