Hi friends,
We had spring break last week and I used the entire week to do nothing blog related – I just wanted to enjoy the time with my adorable four year old who is growing up so fast.  I know one of these days really soon, I will just blink once more and he will be fourteen instead of four.  Sob!  So in an effort to live more in the present, we dedicated the whole week just to having fun.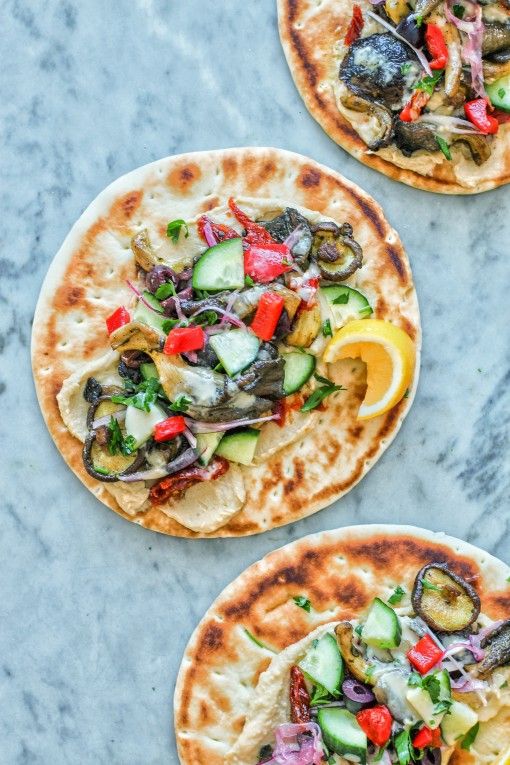 We visited five parks in five days – repeatedly sliding down the slides, swinging and chasing friends down trails.  We had playdates that turned into movie watching marathons and "picnics" on the living room floor.  We climbed trees and chased balls and went swimming and played in the sprinkler – so much fun that I felt like I needed a vacation at the end of the week but everyone was smiling through the exhaustion.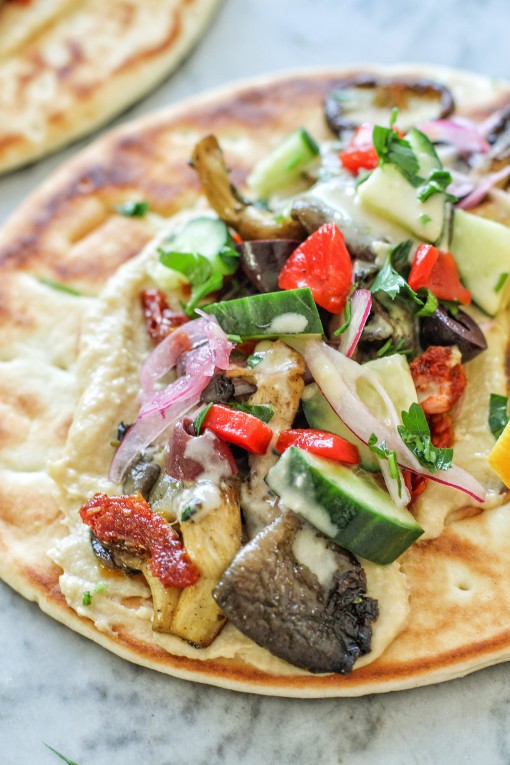 So this week, Avery's back in school and I'm back here in my little space, about to tell you about this amazing mushroom gyro number I made a few weeks ago, before the spring break festivities took over.
I love gyros and I could probably eat one every day.  Spicy meats, crunchy vegetables, amazing sauces – all stuffed into a warm and fluffy flatbread.
Yes.  Please.
Make mine a double.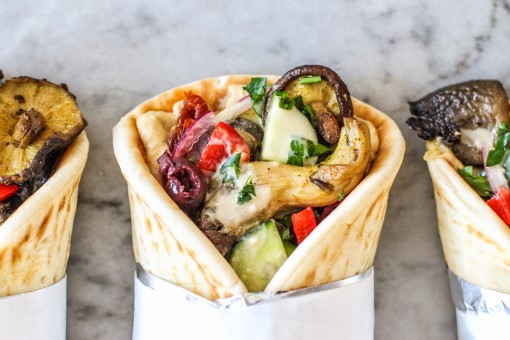 Meat?  Oh, where's the meat you ask?  There is no meat here.  But wait!  Don't go!!  It's still delicious and amazing and flavorful!  Gimme a chance!!
There was going to be meat in these gyros, I promise.  But the hubby left me unattended in the produce aisle of my favorite store and this happened: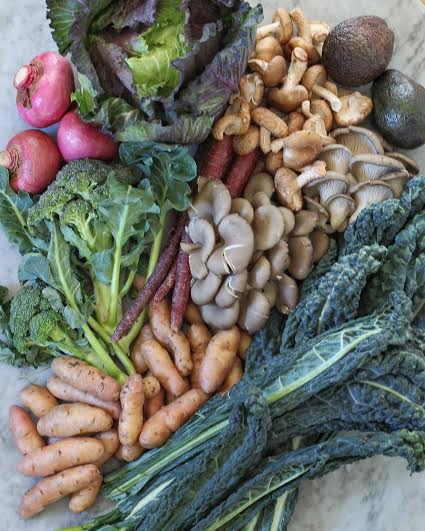 Yeah, right?  Obviously, I can't keep my hands to myself.
And see all those mushrooms?  They followed me home.  Not being one to send a stray mushroom (or mushrooms) away… enter the mushroom gyro.  Still spicy, still with crunchy vegetables, still with amazing sauces – and it's all stuffed into a warm and fluffy flatbread.
You guys, you will love it!
xo,
Jenn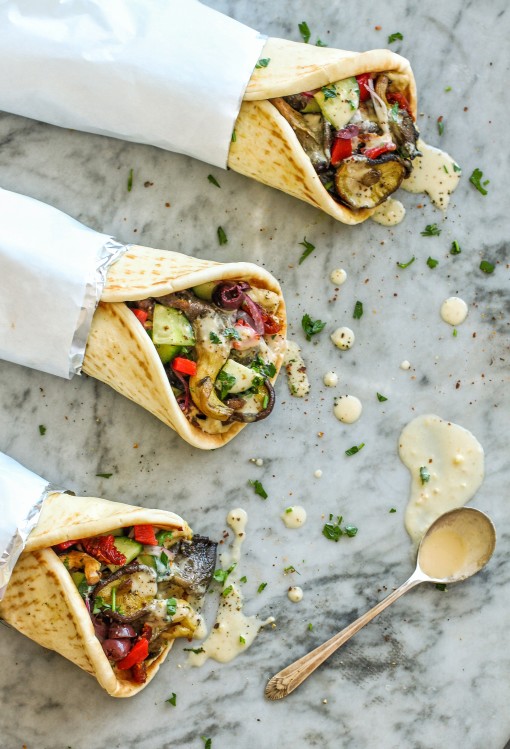 roasted mushroom gyros
8 ounces shiitake mushrooms, trimmed, cleaned, and sliced if larger than bite-sized
8 ounces oyster mushrooms, trimmed, cleaned, and sliced if larger than bite-sized
extra virgin olive oil
1 tablespoon minced garlic
1/2 teaspoon tumeric
1/2 teaspoon ground cumin
1/2 teaspoon curry powder
1/2 teaspoon paprika
1/2 teaspoon dried oregano
salt
black pepper
flatbread or pita bread
tahini sauce (recipe follows)
optional toppings:  hummus, cucumber, Kalamata olives, sundried tomatoes, roasted red peppers, red onion, fresh parsley, mint or cilantro, lemon wedges
Place a large cast-iron skillet or heavy bottomed saute pan over high heat.   Drizzle a bit of the olive oil in the pan and add the spices to the oil, stirring a bit to combine.  Toss the mushrooms into the hot oil (be careful if you are using wet mushrooms as the oil can splatter and burn your arm) and stir to coat.  Sprinkle the mushrooms with a pinch of salt and black pepper and turn the heat down to medium.
Continue to cook the mushrooms until they release their liquid and turn golden brown.  Once cooked, remove the mushrooms from the heat and set aside.
Warm the flatbread in the oven or toaster.  Place some hummus on the bread and mushroom mixture on the hummus.  Top those with sliced cucumber, chopped Kalamata olives, sun dried tomatoes, roasted red peppers, thinly sliced red onion and fresh herbs.  Drizzle everything with tahini sauce, roll it up and enjoy!
tahini sauce
1/4 cup tahini
1 tablespoon lemon juice
1 teaspoon minced garlic
1 cup water
pinch of salt
pinch of black pepper
Place all of the ingredients into a small bowl and whisk to combine.  Taste and adjust seasonings as needed.