Here I am, playing in the spice cabinet again!  Thanks to our never-ending love of food (and food shopping -eeeek!) we have acquired quite a collection of spices.  Some we use almost everyday – dried thyme and paprika, for example – and some we use very infrequently – like black cardamom and mace.  But in the cabinet I can guarantee there are always a few jars of dried chile peppers from around the world that we try to incorporate into our every day recipes.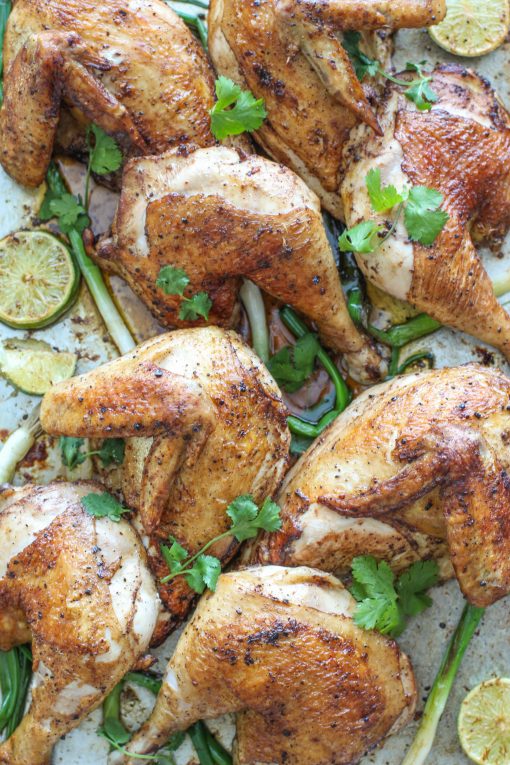 The fun thing about cooking with dried chile peppers is that every single one tastes different and they each lend a different taste and aroma to the food that is cooked with them.  The dried chilies from Mexico (like ancho and chile de arbol) are the ones that you are probably most familiar with but there are lots of dried chilies, and chile pepper flakes, from around the world.  Today we are cooking with piri piri pepper flakes – see below: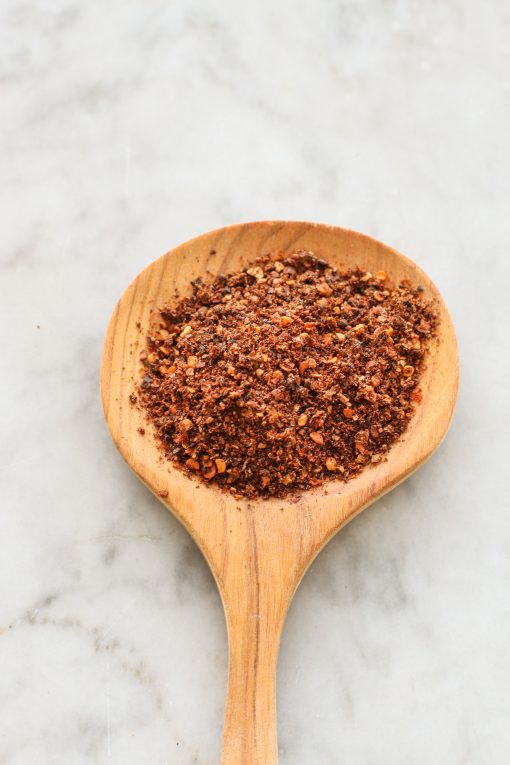 Piri piri chile pepper flakes come from drying and toasting the bird's eye chile pepper.  These peppers originated in Angola and Mozambique after Portuguese settlers arrived bringing hot chile peppers from their homeland during colonization. (In Swahili, these peppers are called piri piri.)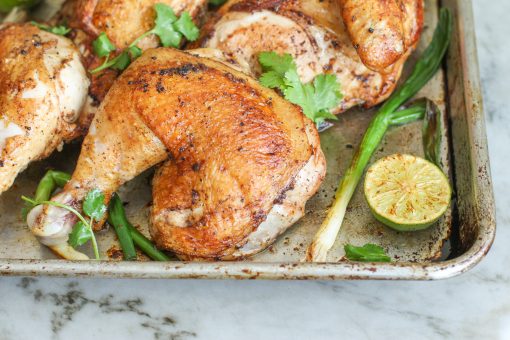 Today, this fiery, fragrant chile is common in Portugal, Angola, Namibia, Mozambique, and South Africa.  In the U.S., it's also becoming more common in restaurants that specialize in serving chicken.  Not only does it taste great with chicken, piri piri peppers pair wonderfully with grilled fish or shrimp.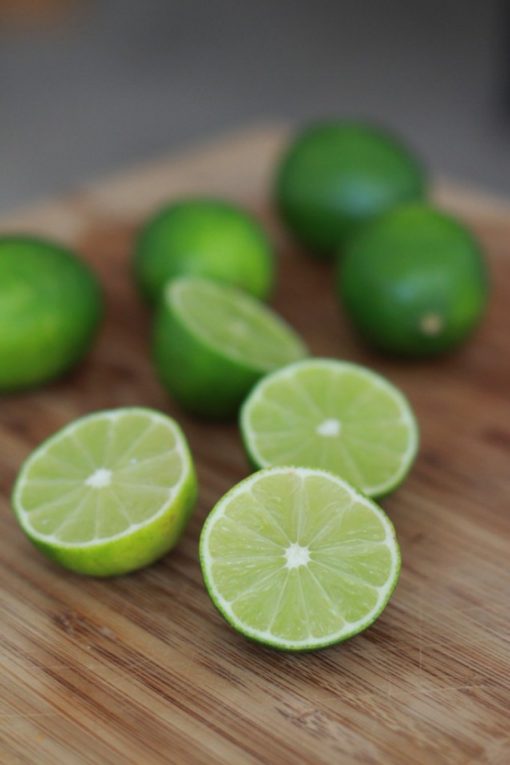 Piri piri chicken is a great weeknight meal that you can just pop into the oven or you can make it on the weekend when you have time to fire up the grill.  With a marinade of piri piri flakes, smoked paprika, garlic, thyme, red wine vinegar and olive oil – this recipe results in a delicious and spicy chicken dish that everyone can enjoy.  Pair with some crispy roasted potatoes or rice and a nice squeeze of charred lime over the top!
XO,
Jenn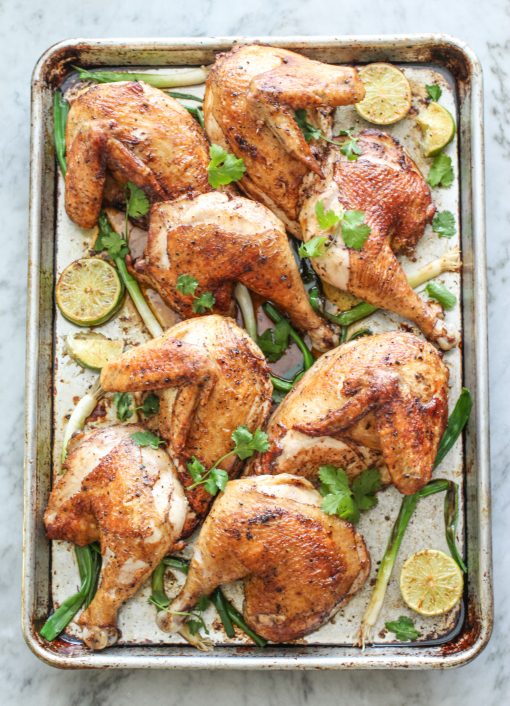 piri piri chicken with charred green onions and lime
1 free-range chicken, about 6 pounds
1 teaspoon fresh thyme leaves
1 clove of garlic
1 teaspoon sweet smoked paprika (I use this brand)
2 tablespoons dried piri piri pepper flakes (I use this brand)
extra virgin olive oil
red wine vinegar
1 bunch green onions, washed and trimmed
2 limes, sliced into rings about 1/4 inch thick
salt
black pepper
cilantro leaves for garnish
Using a sharp knife, carefully cut the chicken in half along the backbone.   Remove the backbone and discard – your chicken should be in two large pieces.
Pick the thyme leaves into a pestle and mortar, peel and add the garlic clove, then add the paprika, piri piri and a pinch of sea salt. Bash to a paste, then muddle in 2 tablespoons of olive oil and 1 tablespoon of red wine vinegar.  (Alternately you can combine these ingredients in a blender or food processor.)
Rub the marinade all over the chicken.  Cover and place in the fridge to marinate for at least 2 hours, preferably overnight.
When you're ready to cook, preheat the oven to 350 degrees.  Place a large griddle or skillet pan over a high heat.   Add two tablespoons of olive oil to the pan, then add the whole green onions.  Leave the onions to cook in the pan until blistered on one side, then flip and cook until charred on the other side.  Remove the onions from the pan and set aside.  Add the limes – cooking them until blistered on each side – then remove from the pan and set aside.
Add the marinated chicken and sear all over for 8 to 10 minutes, turning regularly.  Transfer to a baking sheet, then pop in the hot oven for 45 minutes, or until cooked through.
Remove the chicken from the baking sheet and place onto a serving platter.  Add the onions and limes to the platter and sprinkle cilantro leaves over the top of everything.  Serve immediately.