I started today with a trip to the gym.  But before I hit the treadmill, I dropped my three kiddos off at child watch – where they watch my kids at the gym while I work out.  And as I was giving instructions to each kid (play nice, your snack is here, I love you, have fun) one of the teachers said to me, "You just have the most soothing mom voice ever."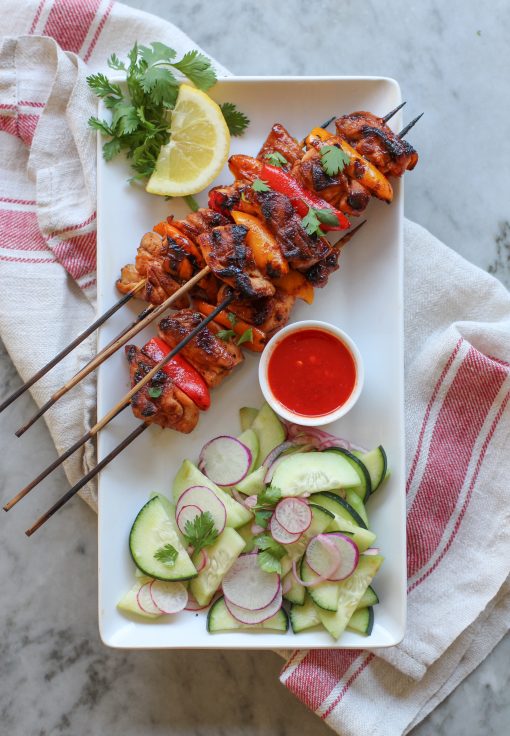 I stopped dead in my tracks and then I laughed and said, "Well, it's still early. Good thing you aren't around at 5pm when I'm screaming at the top of my lungs, "IF YOU CAN'T PLAY NICELY THEN STOP PLAYING TOGETHER!!"  And then we ALL laughed!!
All you moms and dads, you get me….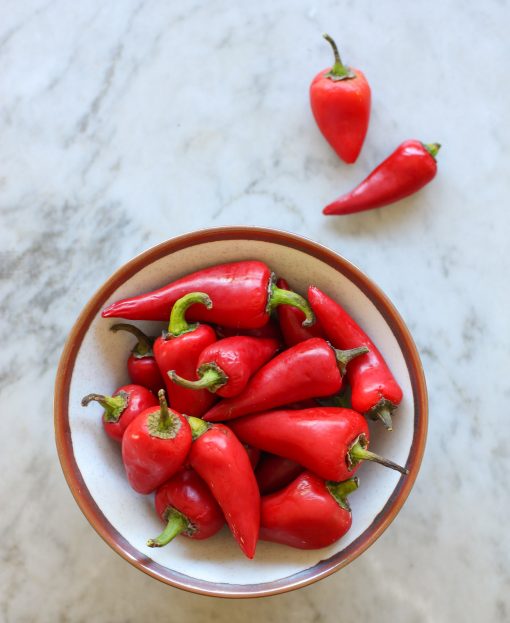 But in other news, I found the most beautiful bunch of Red Fresno chilies at the farmer's market last weekend!!  See them in that picture up there??  So vibrant, red, and so fresh!!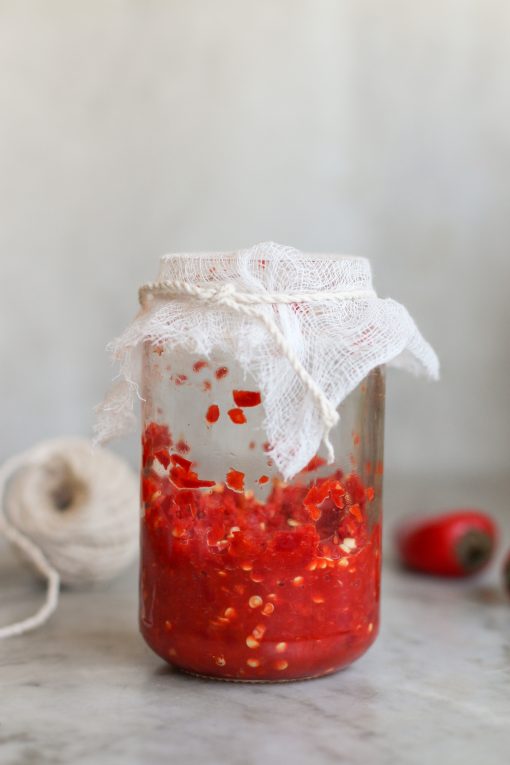 If you haven't had these chilies before, they are mildly spicy and very similar to a jalapeno. They are delicious thinly sliced and added to eggs, tacos, roasted veggies, and all kinds of stir fries.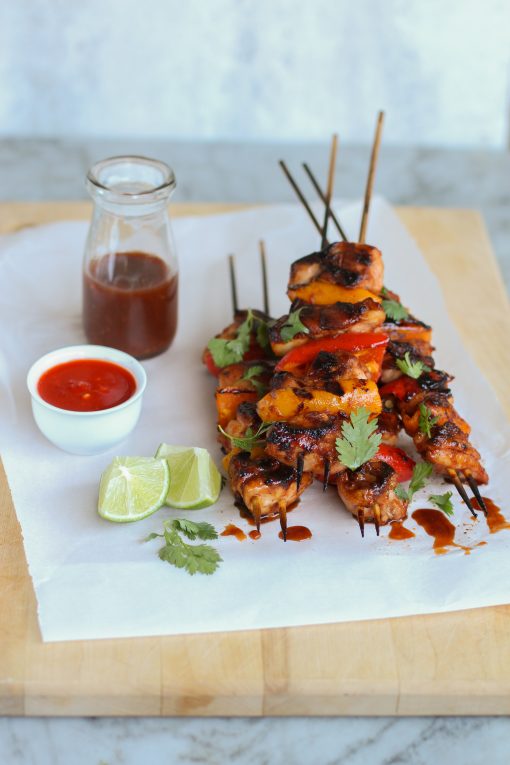 You can also make them into an amazing hot sauce called Sambal.  Sambal is a hot sauce typically made from a variety of chili peppers with secondary ingredients such as shrimp paste, fish sauce, garlic, ginger, shallot, scallion, palm sugar, lime juice, and rice vinegar or other vinegars.  Sambal is native to the cuisines of Indonesia, Malaysia, Sri Lanka, Brunei and Singapore.
Sambal is usually served as a condiment to vegetables, fish, chicken, ribs and various soups.  Because these chilies are on the milder side, they add a subtle heat to anything they are cooked with or added to – and they do the same when made into a homemade chili sauce.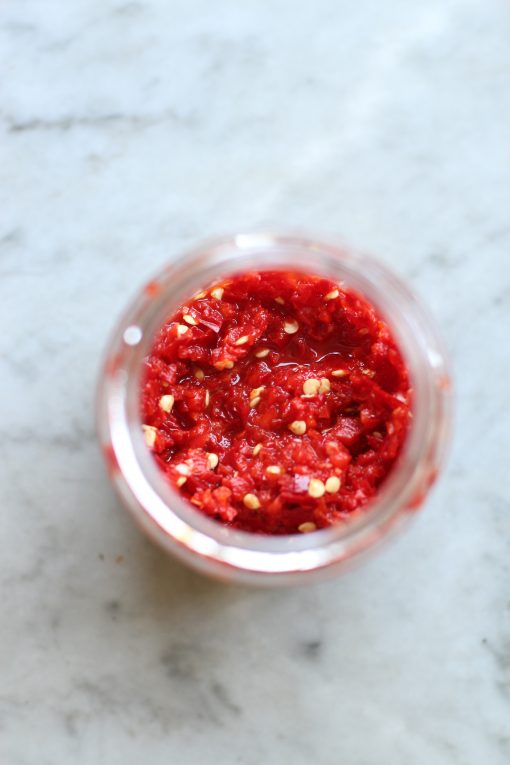 Making hot sauce is so very easy, and has only three steps: chop the chilies, add other ingredients, and enjoy!  Seriously, it's just that easy!!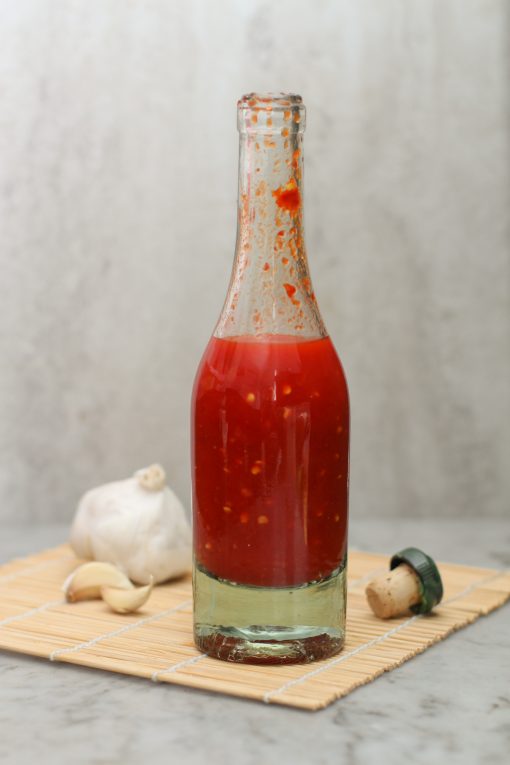 And then you can either eat the sauce directly out of the bottle (drizzling it on anything and everything!) or you can use some of it to make a delicious marinade and sauce for these grilled sambal chicken skewers that is spicy, sweet and sticky.  You are going to love adding this to your next cookout menu!
XO,
Jenn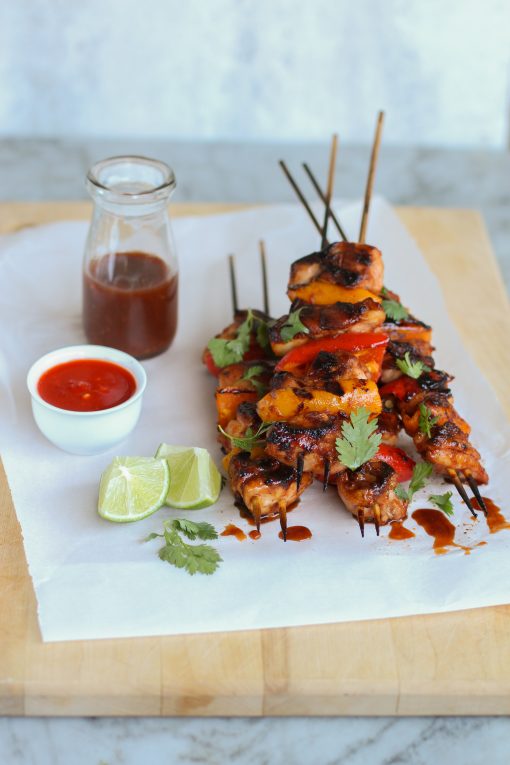 grilled sambal chicken skewers
recipe from bon appetit
makes about 2 cups of marinade 
1/2 cup packed light brown sugar
1/2 cup unseasoned rice vinegar
1/3 cup sambal hot sauce (recipe below)
1/4 cup fish sauce
1/4 cup Sriracha hot sauce
2 teaspoon finely grated peeled ginger
1 1/2 pounds skinless, boneless chicken thighs, cut into 1 1/2-inch–2-inch pieces
Prepare your grill for medium-high heat.  Whisk brown sugar, vinegar,sambal, fish sauce, Sriracha, and ginger in a large bowl.  Add chicken and toss to coat.  Remove chicken and thread 4 or 5 pieces onto each skewer.
Transfer leftover marinade to a small saucepan.  Bring to a boil, reduce heat, and simmer until reduced by half (about 1 cup), 7–10 minutes.
Grill chicken, turning and basting often with reduced marinade, until cooked through, 8–10 minutes.
sambal hot sauce
makes about 1 1/2 cups 
1/2 pound Red Fresno chilies
1 garlic clove
1 tablespoon kosher salt
1/4 cup white distilled vinegar
1/4 cup fresh lime juice
2 teaspoons sugar
Pulse chilies, garlic, and salt in a food processor until a fine paste develops.  Transfer to a glass jar; cover with cheesecloth and secure with a rubber band.  Let sit at room temperature at least 1 day and up to 2 days to ferment.  The longer it sits, the better and more developed flavor your sauce will have.
Transfer chile mixture to a blender; add lime juice, vinegar, and sugar and puree until smooth.  Transfer to a clean har, cover with cheesecloth, and let sit at room temperature at least 1 day and up to 2 days to ferment more.  Chill until cold.