Today was one of those up and down and up and down days.  You know the ones – where you start out heading in one direction, and then all of a sudden everyone veers off on a dangerous side road and just when you think you are driving right off the cliff – you catch the wheel and get right back on your way to the first place that you were headed.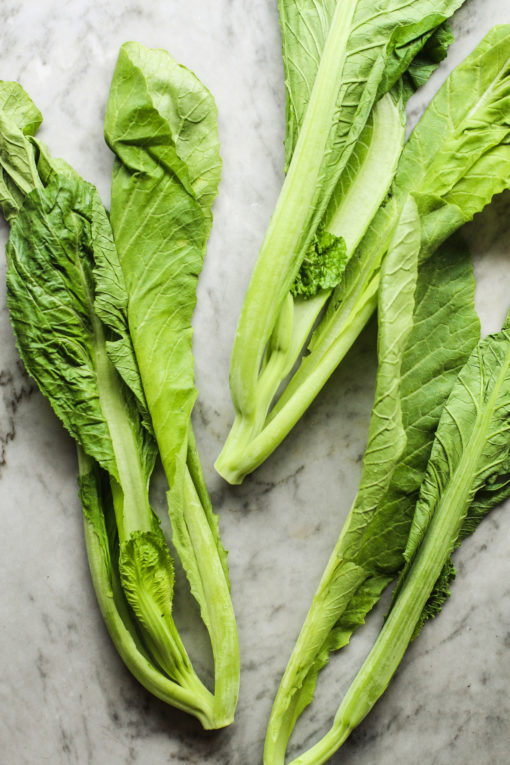 That was a long way of saying – what the heck kiddo!!?!!  And no, no cars were involved, haha.
Nothing serious or detrimental happened today – we all survived and live to laugh another day so I shouldn't complain.  Instead I will tell you about this most lovely and delicious noodle bowl that you see below…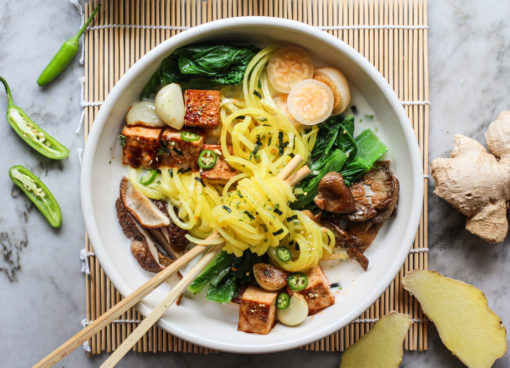 Let me start by telling you that I'm about 400 years behind everyone else as it comes to trends, but I finally broke down and bought a spirializer about a month ago.  Never being one to follow or keep up with Joneses (whomever they are), I was just living my life and using my mandolin to thinly shave and cut vegetables into noodle-like strips.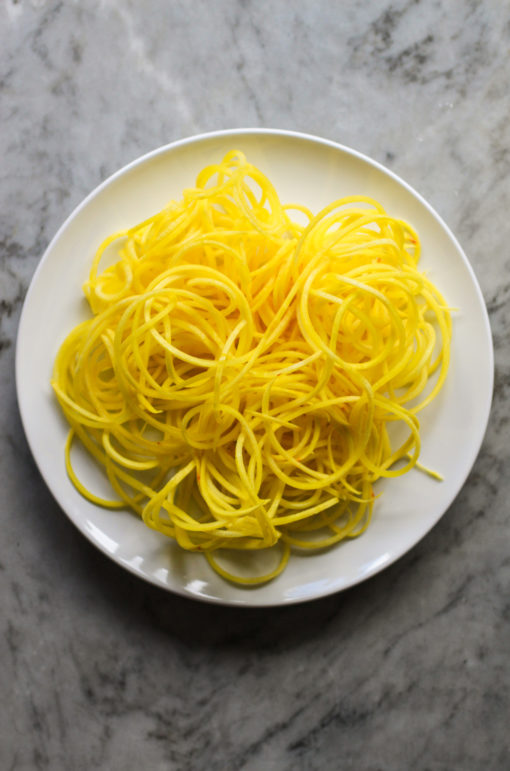 The reason for the conversion to the 20th century… (or are we in the 21st century? how does that work? reminder please!) was purely based on my adorable kiddo.  He wants to cook with me, and spend time with me in the kitchen.  Whenever I am anywhere near the room of food, he is hot on my heels and trying to help.  "Mama, I can do it!" he says with impatience.  "Mama, I can stir it!" as he grabs the spoon from my hand.  "Mama, I can cut it!" he pleads, and I pause for a moment, then I quickly switch the sharp chefs knife to a plastic kiddo knife although I know that he will be able to cut with a chef knife long before he gets out of grade school.  This kid has mad kitchen skills already.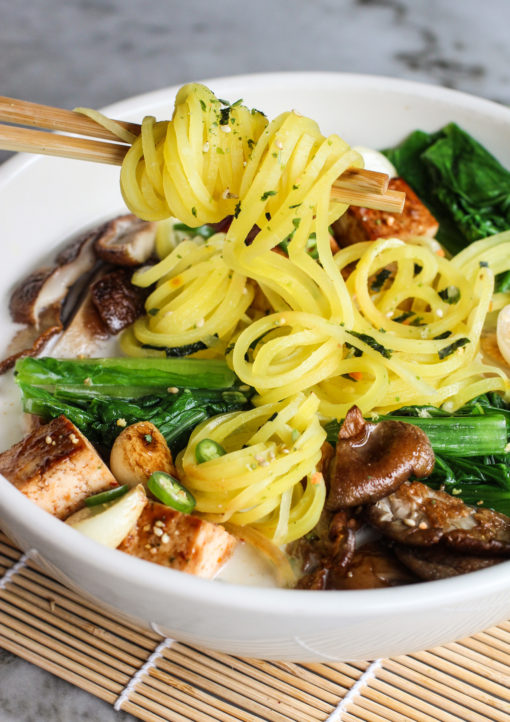 But what he doesn't have right now is any sort of patience.  Always grabbing, frustrated, trying to so hard, and barely slowing down enough to listen to the cooking instructions.
Honestly, I was just so scared he would cut his fingertip off on the mandolin (as someone else I know has previously done, ahem, yuck, still have a scar, ew) that I broke down and got a spiralizer.  Yes, the spiralizer is still sharp and can still cut your hand, but it was much safer for my little man as he could just spin the handle and stand so far from the blade that I could feel (mostly) calm while I let him take over the cutting of the vegetables.
I mean, noodles are his favorite food group – and not mac-and-cheese noodles, but long and stringy buckwheat and zucchini noodles.
He's a weirdo this one.  A very healthy and future chef worthy weirdo, mind you.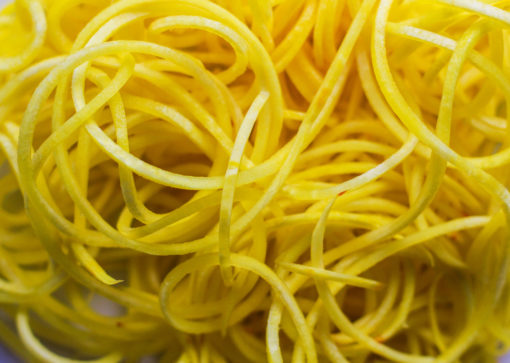 Fast forward a couple of weeks and as I was browsing through the vegetable aisle looking for items that my little man would like to turn into noodles, well, I spotted these gigantic (!!) golden beets.  I mean, seriously, they were bigger than my fist – I've never seen beets so large before – but I immediately thought about making some noodles out of them and brought them home.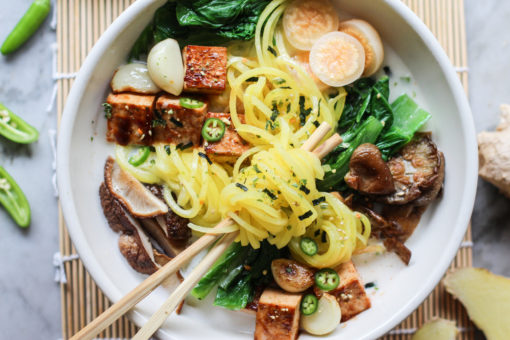 My son happily took over the job of turning the beets into noodles and even tried a few bites before they were cooked.  He wasn't a fan until I steamed them and put them into a bowl with some seared tofu and hoisin sauce (his favorites) – and that was that.  I even made an adult version – crunchy vegetable noodles in a spicy ginger and coconut broth, and topped with daikon radish greens, roasted garlic mushrooms, and seared tofu with hoisin sauce – delicious, healthy and fun to make.  Trust me on that last one!
XO,
Jenn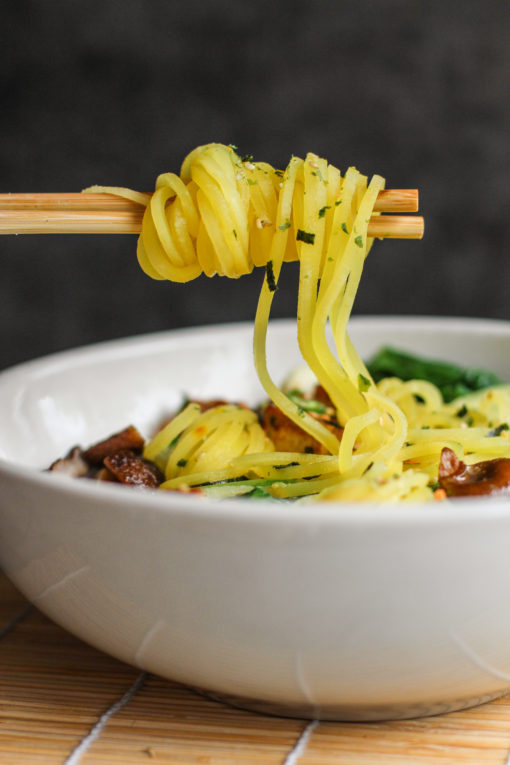 golden beet noodles with seared tofu and spicy coconut broth
makes two servings
special equipment – spiralizer (get one here) or mandolin (this one is my favorite)
1 extra large beet
1 inch ginger root, peeled and finely grated
1/4 teaspoon minced red thai chili (seeds removed)
1 cup coconut milk
1 cup vegetable broth or water
1 teaspoon soy sauce or tamari
1 teaspoon lime juice
1 bunch daikon radish greens or 3 cups uncooked greens on your choice
1 teaspoon minced garlic
4 ounces mushrooms – shitake, oyster, button, etc, or a combination of your favorites – trimmed and sliced into 1/4 inch pieces
1 tablespoon olive oil
2 tablespoons hoisin sauce
6 ounces extra firm tofu
make the noodles:
Using a vegetable peeler, remove the skin from the beet.  Trim both ends from the beet with a sharp knife, careful to make the ends as flat as possible.  Attach the "angel hair" blade to your spiralizer and spin the beet until the whole thing has been turned into noodles.  Set the noodles aside.
Add a combination of ice and water to a medium sized bowl and set aside.  Fill up a small stock pot with water and bring it to a boil.  Add the beet noodles to the water, stir, and allow the noodles to cook for about two minutes.  Check your noodles by taking a bite – you want the noodles to be slightly crunchy so they won't fall apart when you twirl them, but still cooked enough so that you will enjoy them.  Once the noodles are cooked, drain them from the hot water and immediately place them into the ice water to stop the cooking.  Once the noodles are completely cooled, drain them and set aside.
make the broth:
Place the coconut milk, water, ginger, and chili into a medium sized stock pot and bring to a boil.  Turn the heat down to low, and add the soy sauce and lime juice.  Stir, and simmer everything together for five minutes, then turn off the heat and cover.
make the greens:
Trim any end pieces off of the daikon greens and cut them into 2 inch pieces.  Place the greens into a steamer basket set over a pan of water and cook until tender.  Set aside.
make the mushrooms:
Add the garlic and olive oil to a skillet or heavy bottomed pan set over medium-high heat.  Cook for one minute, stirring consistently, then add the mushrooms and cook for five minutes, stirring occasionally.  Add the tofu and the hoisin to the pan and stir everything together.  Cook for another five minutes then remove the mushroom mixture from the heat.
assemble the bowls:
Separate the noodles into two large bowls.  Ladle the broth over the noodles and add some greens, mushrooms and tofu to the top of each noodle bowl.  Sprinkle some shredded seaweed and toasted sesame seeds over the top and enjoy!