Wow, I just learned a whole lot about corned beef today, thanks to the internet!!  I picked up an awesome cut of brisket just last week and was super excited to make corned beef.  I know, I know, but besides it making up one of my favorite sandwiches ever, I wanted to make corned beef to have a fun St. Patrick's dish to share with you guys!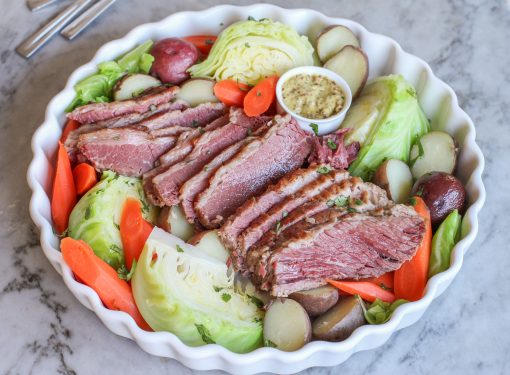 Every year when St. Patrick's Day rolls around I try to make something fun like this Guinness beef stew or this chocolate stout cake and this year it was something that I hadn't made before – a super easy homemade corned beef.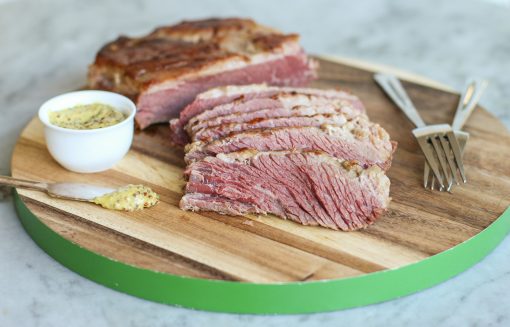 So I researched all over the internet to find the most authentic recipe – one that would really impart the Irish flavors into my brisket only to find that corned beef isn't even eaten in Ireland!  Did you know that??  Well, I didn't.  Turns out that during British Industrial Revolution, Ireland produced corned beef and sent it over to Britain but that the cost was so prohibitive that the Irish who made it couldn't afford to actually eat any of the corned beef that they produced.  Boo.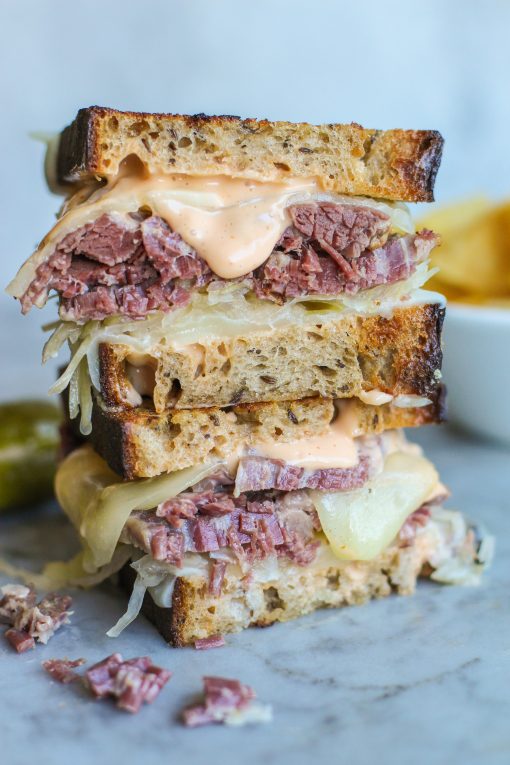 In the United States, consumption of corned beef is often associated with Saint Patrick's Day event though corned beef is not considered an Irish national dish.  The connection with St. Patrick's Day specifically originates as part of Irish-American culture, and is just a part of their (and our) celebrations in North America.
And where did the corned beef and cabbage dish come from?  Well, turns out that corned beef was used as a substitute for bacon by Irish-American immigrants in the late 19th century in America. Corned beef and cabbage is the Irish-American variant of the Irish dish of bacon and cabbage. A similar dish is the New England boiled dinner, consisting of corned beef, cabbage, and root vegetables such as carrots, turnips, and potatoes, which is popular in New England. So corned beef and cabbage that we think so fondly of (and enjoy even more) comes from a hodge-podge of what ingredients were available at the time that this dish was created.
And that recipe that I finally decided to use?  An Alton Brown recipe that seemed the most straight-forward and came with an ingredient list that was filled with easy to find – and understand – ingredients.  Corned beef starts with a brine made of lots of different spices, water and saltpeter (another term for potassium nitrate that gives corned beef it's pinkish color).  The brisket sits in the brine for 10 days before it is removed, rinsed in water and then placed into a pot and boiled until tender.  So straight-forward, so easy, I seriously don't know why I hadn't made this before now!!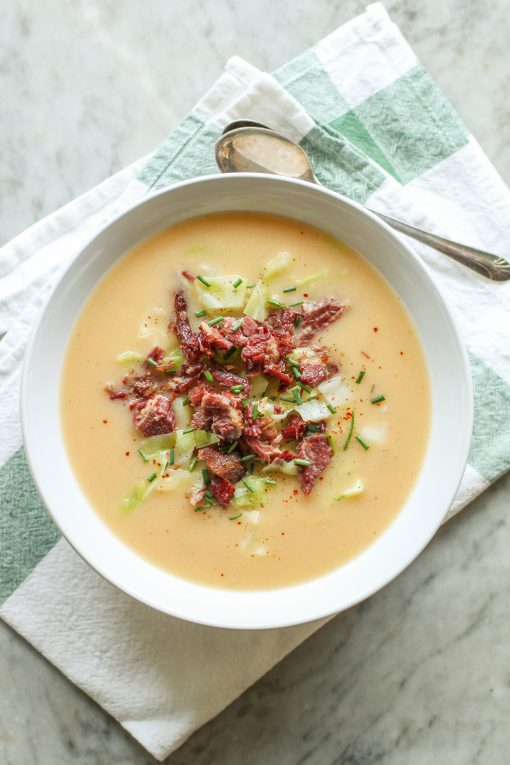 Of course we gobbled it up, eating it straight from the pot at first, and then dipping it in mustard before I had to bring the consumption to a screeching halt and take some pictures so you guys could see how fantastic this recipe turned out!   We enjoyed it a few different ways – first served as the Irish-American dish with boiled cabbage and root veggies, then stuffed into a sandwich on sourdough rye with sauerkraut, melty swiss cheese, and thousand island dressing (heaven!!!), and then quick fried until crispy and served over a silky smooth potato soup with some of that boiled cabbage and fresh chives.  All the recipes for these options are below – but you have to make the corned beef first and don't forget that it takes 10 days to fully cure, so plan ahead!!
XO,
Jenn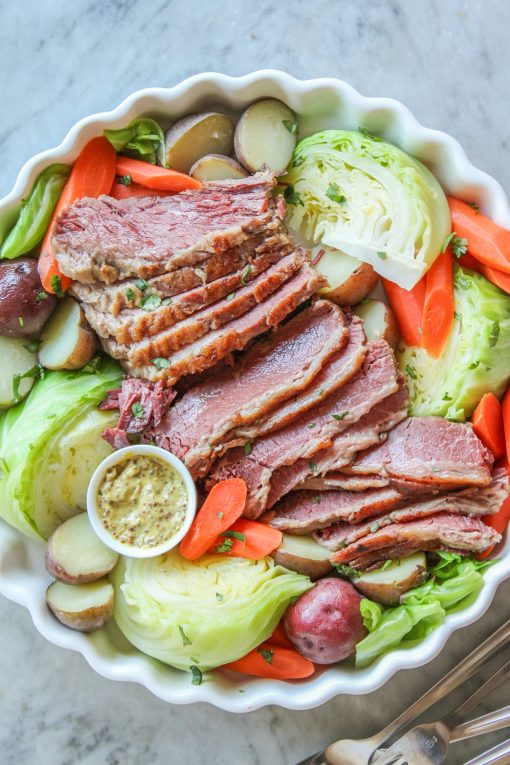 corned beef 
recipe from Alton Brown
makes 6 to 8 servings
2 quarts water
1 cup kosher salt
1/2 cup brown sugar
2 tablespoons saltpeter (I used this meat cure)
1 cinnamon stick, broken into several pieces
1 teaspoon mustard seeds
1 teaspoon black peppercorns
8 whole cloves
8 whole allspice berries
12 whole juniper berries
2 bay leaves, crumbled
1/2 teaspoon ground ginger
2 pounds ice
1 (4 to 5 pound) beef brisket, trimmed
1 small onion, quartered
1 large carrot, coarsely chopped
1 stalk celery, coarsely chopped
Place the water into a large 6 to 8 quart stockpot along with salt, sugar, saltpeter, cinnamon stick, mustard seeds, peppercorns, cloves, allspice, juniper berries, bay leaves and ginger.  Cook over high heat until the salt and sugar have dissolved.  Remove from the heat and add the ice.  Stir until the ice has melted.  If necessary, place the brine into the refrigerator until it reaches a temperature of 45 degrees F.  Once it has cooled, place the brisket in a 2-gallon zip top bag and add the brine.  Seal and lay flat inside a container, cover and place in the refrigerator for 10 days.  Check daily to make sure the beef is completely submerged and stir the brine.
After 10 days, remove from the brine and rinse well under cool water.  Place the brisket into a pot just large enough to hold the meat, add the onion, carrot and celery and cover with water by 1-inch.  Set over high heat and bring to a boil.  Reduce the heat to low, cover and gently simmer for 2 1/2 to 3 hours or until the meat is fork tender.  Remove from the pot and thinly slice across the grain.
my notes:  This recipe worked perfectly and I wouldn't change anything except….my gallon zip top sprung a leak halfway through the curing process and I got the added bonus of cleaning up my fridge of meat brine.  So, if you have a container that has a tight fitting lid or a large container that you can wrap with a couple of layers of plastic wrap, then I would recommend that.  You will need to gain access to the meat while it's curing to either flip or stir the brine, so don't go too crazy on the plastic wrap.  
with boiled cabbage and root vegetables
1 head of green cabbage, cut into 1/8ths
1 pound small red potatoes, cut into half
6 carrots, peeled and cut into 1-2 inch pieces
Fill a large pot with heavily salted water and bring to a boil.  Add the potatoes and carrots and turn the heat to medium-high.  Simmer until the vegetables are almost tender and a fork inserted into a potato still gives some resistance.  Add the cabbage to the water and boil until tender, about seven minutes.  Remove the vegetables from the water and serve warm with the sliced corned beef.
in a sandwich on rye
2 slices of rye, marbled rye, or sourdough rye bread
3 tablespoons thousand island dressing
2 slices of swiss cheese
1/4 cup sauerkraut
Spread the dressing over the slices of bread and add one slice of swiss cheese to top the dressing.  Place the bread (cheese side up) under the broiler until the cheese melts.  Remove from the broiler and add the sauerkraut and slices of corned beef to one side of the bread, top with the other side and ENJOY!!
on top of silky smooth potato soup
2 tablespoons extra virgin olive oil
1 garlic clove, minced
1/4 cup chopped white onion
2 medium russet potatoes, peeled and chopped into 1/4 inch pieces
3 cups vegetable broth or water
salt
pepper
In a large pot over medium-high heat, add the olive oil, garlic and onion, and sauté until soft, about five minutes.  Add the potatoes and broth, turn up the heat and bring to a boil.  Once the broth has boiled, turn the heat down and simmer the potatoes until fork tender – about 10 minutes.  Once the potatoes are tender, carefully pour everything into a blender (or use a hand blender) to fully puree the soup until smooth.  Add salt and pepper to taste.  Ladle into bowls and top with crispy fried corned beef (olive oil in a hot saute pan with chopped beef, stir and fry until crispy), maybe some chopped boiled cabbage and some fresh chives.
and one other way – over potatoes colcannon
click here for potato colcannon recipe