What a crazy weekend of crazy weather!!  One day it's so hot that we are jumping in the sprinkler and wearing sunscreen, and the next day it's so cold that we are turning on the heater, wearing our fuzzy pajamas and doing our best to keep warm.
I mean, seriously.  Let's get a move on with the warmer weather already!!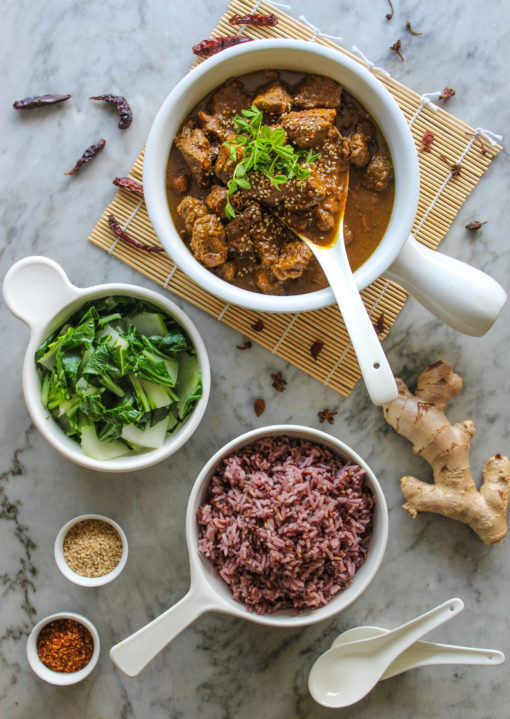 We were on spring break this week so we played outside every single day – rain or shine.  Rainy days were full of boots and slickers, puddles and hot chocolate snuggles – and lots of tummy warming meals – like this Asian braised beef stew.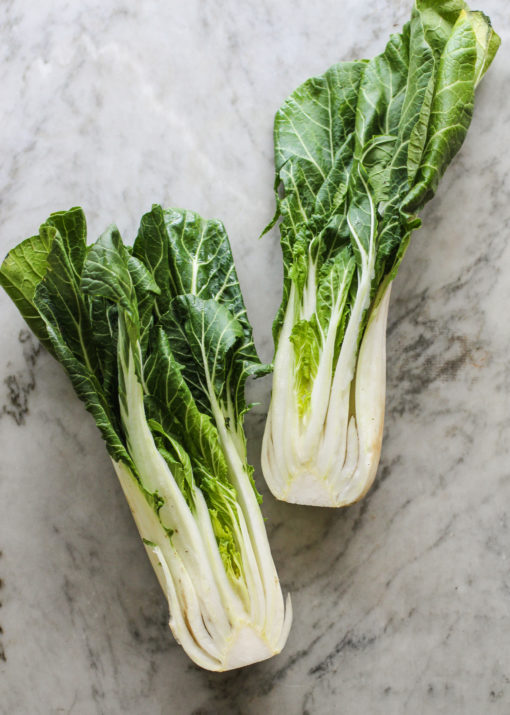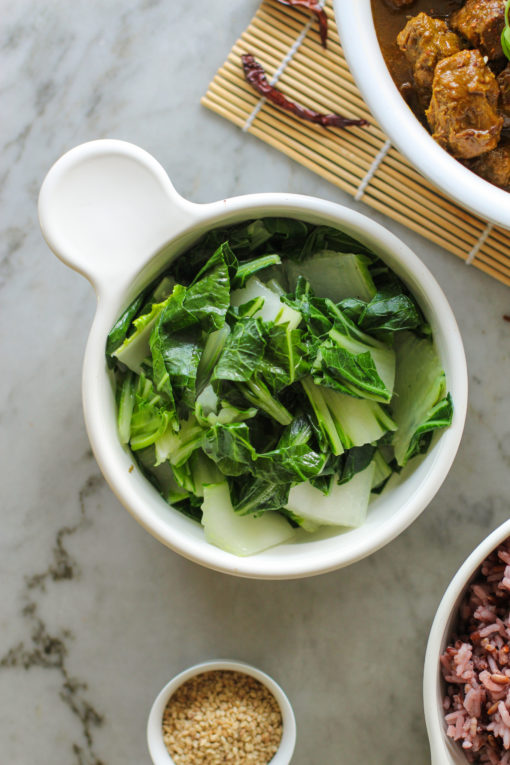 Toasted cumin, chilies and ginger are mixed with honey, hoisin and orange juice and simmered with the beef until everything is tender and oh, so unbelievably delicious.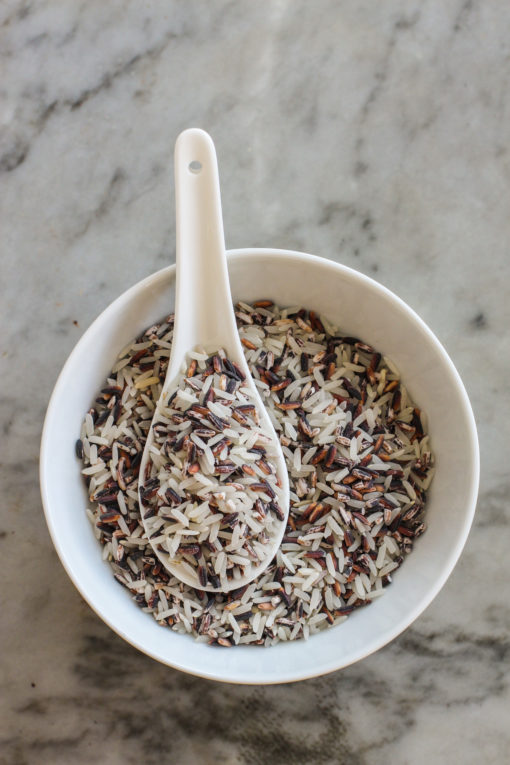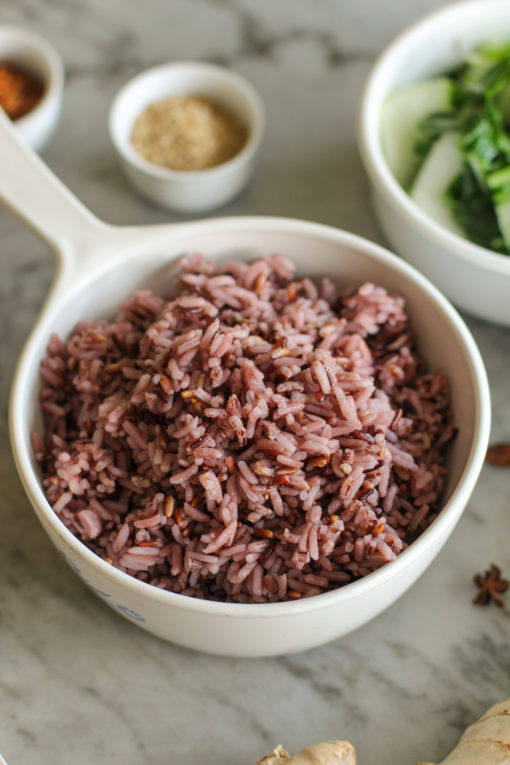 You can totally eat the beef stew alone – but the best part of a stew is putting something else in the bowl to catch all of those saucy bits.  This is where the Thai purple sticky rice and some crunchy green Asian greens come into the picture.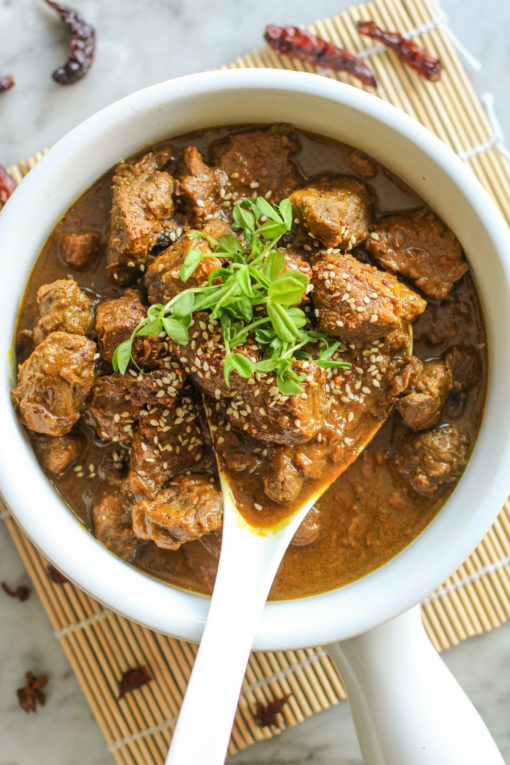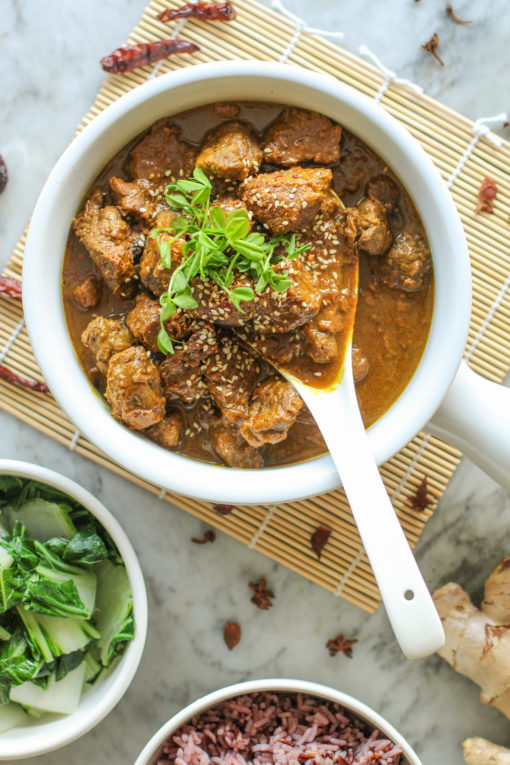 If you haven't used purple rice before, don't be afraid.  It cooks up just like regular rice, but is so much more delicious, fragrant and sweet. Combine the rice with some freshly steamed Asian greens and the braised beef stew and you will be ready to attack those cold weather snaps as we slowly make our way to the warm summer weather.
Enjoy those puddles while you can!
XO,
Jenn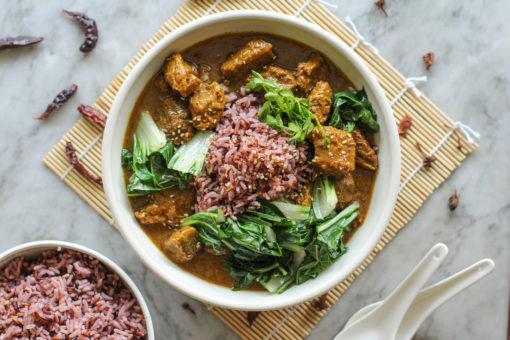 asian braised beef with pak choi and thai sticky rice
from delicious magazine
makes four servings
1 cup thai purple sticky rice
2 cups water
2 teaspoons olive oil
2 pounds beef stew meat, cut into chunks
1 garlic clove, crushed
1 large shallot, sliced
2 inches ginger root, peeled and grated
8 cups beef stock
1/4 cup shaoxing (Chinese rice wine)
1/4 cup hoisin sauce
1/2 teaspoon ground cumin
3 star anise
1 tablespoon dried chili pepper flakes
the juice of one orange
1 teaspoon honey
4-6 pak choi or about 6 cups of cleaned and chopped asian braising greens of your choice
In a medium sized pot, add the rice and the water and turn up the heat to high.  Once the rice comes to a boil, cover the pot with a tight lid and turn the heat down to low.  Slowly simmer the rice for 20-25 minutes, or until the rice is cooked.  Remove the rice from the heat and set aside.
Heat the oil in a large pan over medium-high heat.   Add the beef and cook, turning each piece over, until brown all over.  Transfer the beef to a plate, and set aside.
Add the garlic, shallot and ginger to the pan and cook, stirring, for 1 minute.  Add the stock, shaoxing, hoisin sauce, cumin, star anise, chili, orange juice and honey.  Stir to combine, then turn up the heat and bring everything to a boil.  Return the beef to the pan, reduce the heat and simmer very gently, partly covered, for 1-1½ hours until the meat is tender.
Separate the pak choi leaves.  Cut the white parts into 2 inch slices; keep the green parts large or cut in half.  Heat a large saute pan over medium-high heat and add the white parts to the pan, and cook for 3-4 minutes until just tender.  Add the greens and cook for 2-3 minutes more until just wilted.  Serve immediately with the cooked rice and a big scoop of the asian braised beef.