We were at a party the other night and one of my friends told me how much they loved the recipes here.  I said, "thank you so much!" and they continued with "but what do YOU eat?"
I paused for a second and blurted out "food."  And everyone giggled and then the conversation moved on.  But I was still thinking about that question for a few days after the party.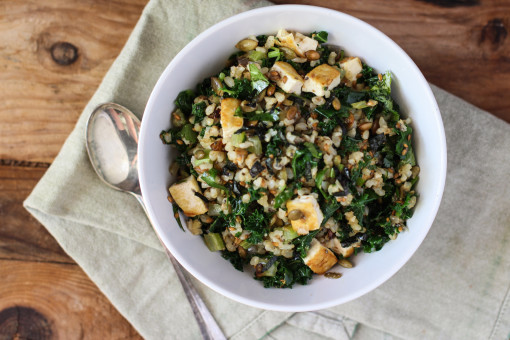 I mean, obviously I eat food, but I think she was asking me, "do you really eat what you put on your blog?"  And yes, yes I do.  Everything you see here was tried and tasted and probably eaten for lunch (and maybe dinner too) by yours truly.
And yes, even the cookies.  Sometimes I have cookies for lunch.  It's a tough job but someone has to do it.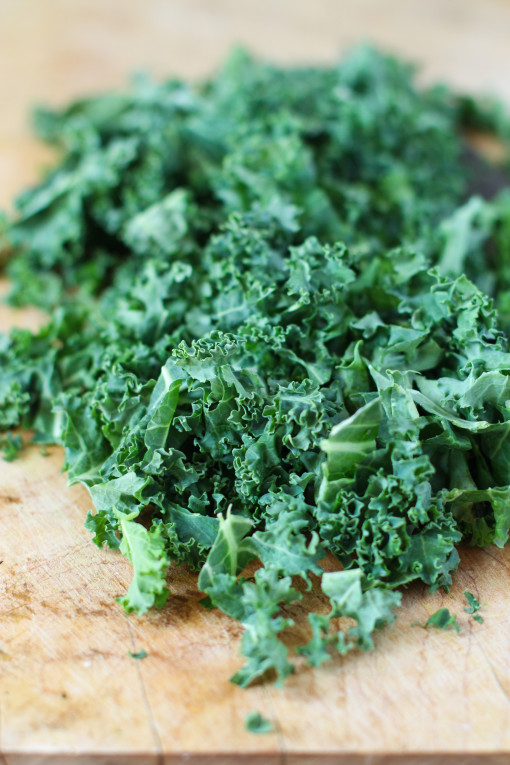 Usually my schedule is something like: prep the recipe, feed the kiddo, play with the kiddo, put the kiddo down for a nap, set up the nibbly-bits for photo-ops, take some pics and nibble the edges, shoot a picture, eat some more, try to incorporate the bite into the shoot as seen here and here and again here, and then get the final shot and mow-down on whatever is sitting directly in front of me because now it's 3pm and I'm starving.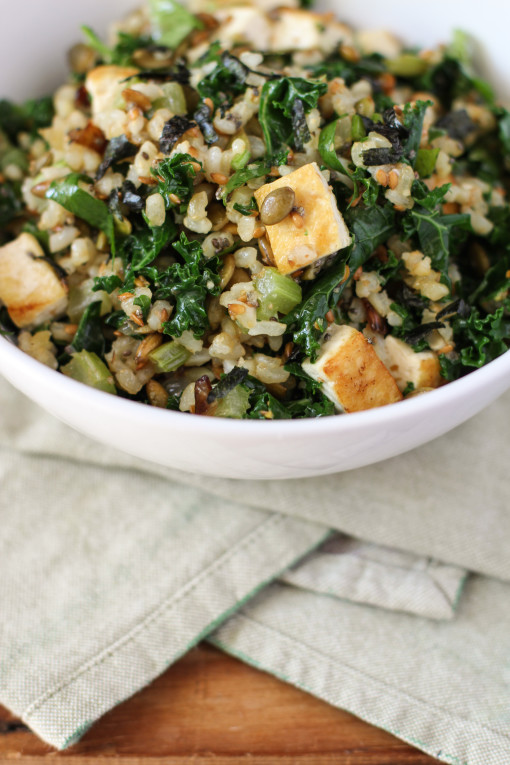 In order to stave off my hunger, and not eat all the cookies while taking their cute chocolatey pictures, I made this little number.  A brown rice power bowl.  Power to fill up with energy and goodness to sustain me until 2 or 3pm when I can actually sit down and eat something; power to eat something delicious; power to eat something healthy and good for me.  Power to feel good.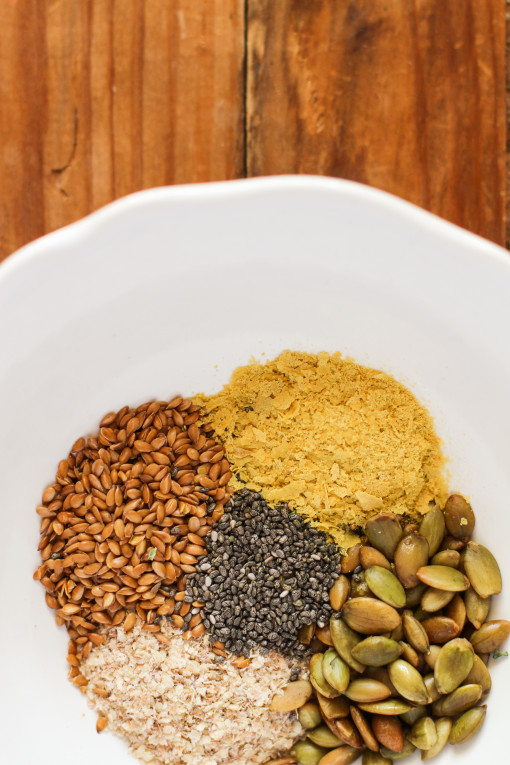 It's a simple combination really.  Some brown rice to get those energy sustaining vitamin B's, crunchy green kale to get bone strengthening calcium, sautéed tofu for the protein hit, roasted pumpkin seeds to add some iron and magnesium, omega 3's in the flax and chia seeds, and the antioxidant seaweed which works to reverse all those bad things that we've been doing to ourselves for years.
I'm telling you, it's the perfect lunch.  Or dinner.  Or snack.  Switch it up if you want.  If brown rice sounds too boring, use some quinoa or cous cous.  If you get the heebie-jeebies when you think of tofu, then put some chickpeas in there instead.  If kale makes you want to yak, then put some spinach in there.  See what I'm saying?  Make the bowl that will power you.
brown rice power bowl
2 tbsp. wheat germ (folic acid)
2 tbsp. roasted flax seeds (omega 3's)
1 tbsp. chia seeds (omega 3's and protein)
3 tbsp. roasted pumpkin seeds (iron and magnesium)
1 tbsp. nutritional yeast (complete protein)
1/2 cup shredded roasted seaweed (antioxidant)
1/4 cup finely chopped shallot (vitamin a)
1/4 cup finely chopped celery (vitamin k)
3 tbsp. extra virgin olive oil (omega 6 and omega 3)
1 cup cooked brown rice (vitamin b)
2 oz firm tofu, diced (protein)
3 cups kale, washed and finely chopped (calcium)
1/2 cup vegetable stock or water
2 tbsp. liquid amino acids (vegetable protein)
1 tbsp. sesame oil (vitamin e)
1 tbsp. lemon or lime juice (vitamin c)
3 tbsp. fresh herbs, chopped – cilantro/basil/thai basil/chives  (antioxidants)
In a medium sized bowl, combine the wheat germ, flax seeds, chia seeds, pumpkin seeds, nutritional yeast and roasted seaweed.  Stir to combine.
In a large nonstick sauté pan over medium-high heat, place the olive oil, shallots and celery into the pan and cook for about three minutes.  Add the tofu and the brown rice and stir once – then leave to cook for about five minutes until it gets crispy.  Once the rice gets crispy, pour the mixture into the bowl with the seeds and stir to combine.
In the empty pan over medium-high heat, add the kale and the vegetable stock and cook until the kale wilts, about five minutes.  Add the kale to the seeds/brown rice mixture and stir to combine.
In a small bowl, whisk together the aminos, sesame oil, lemon juice and fresh herbs, pour over the kale mixture and stir to combine.  Serve immediately or chill for later.