We are having a wet winter this year and I couldn't be happier.  The kiddos have been playing in puddles and jumping and splashing pretty much non-stop the last couple of days now.  As soon as I start to mention "going outside" they both squeal and laugh and get so excited that it's practically impossible to get them in the slickers and rain boots because they are wriggling so much.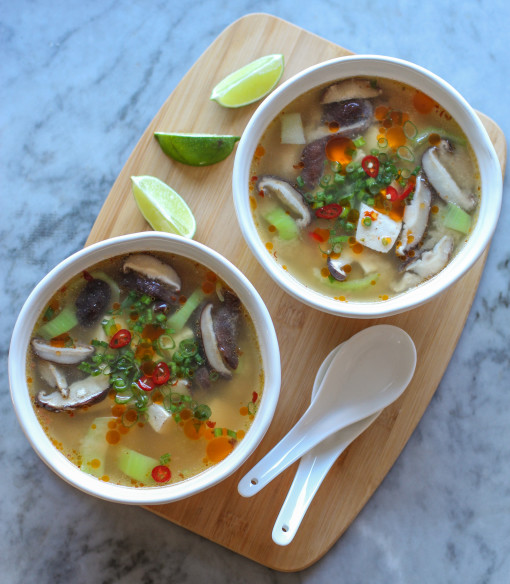 But somehow we make it and off we go to get all kinds of muddy, wet, and covered in happiness.  This week alone we have made rivers and dams and floated all kinds of leaves, sticks and make-shift boats down the road.  We have spent hours (HOURS!!) in the water and by the time we trudge back to the house, dragging ourselves and our wet clothes, we are so unbelievably cold that the kids have replaced their wriggles with shivers and chattering teeth.
Wet puddle jumping is followed by mugs of hot cocoa (with marshmallows, because duh, kids) and a snuggle on the sofa – legs and arms sticking out from under blankets and pillows.  One time I looked over and the kids were actually laying next to and snuggling each other….??!?  That lasted about half a second but it was a nice trade off for standing watch over them while they played and for doing 400 loads of wet and muddy laundry this week.
Seriously, I do not exaggerate on the amount of laundry.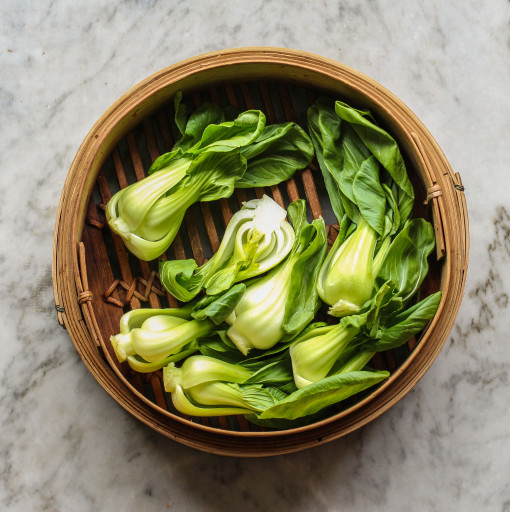 But for the mommy, my favorite type of warm up on a cold day is soup.  And this hot and sour soup is hitting the spot during the rainy days of the past week.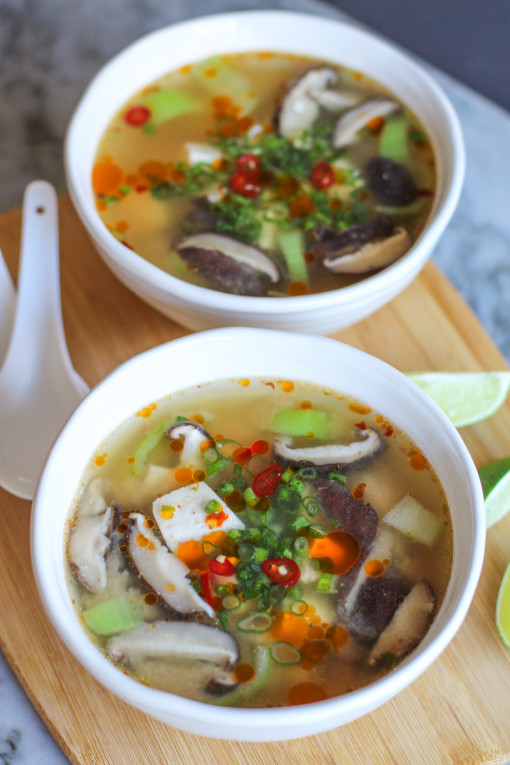 A bit of garlic and ginger in the broth, some fiery red chiles to bring up the heat and a nice squeeze of lime juice to add a little zing.  This soup is both comforting and warming, as well as light and filling.  It's delicious.  And I'm making another batch today because it's just so good.
I hope you are enjoying your wintery weather, wherever you are in the world.
XO,
Jenn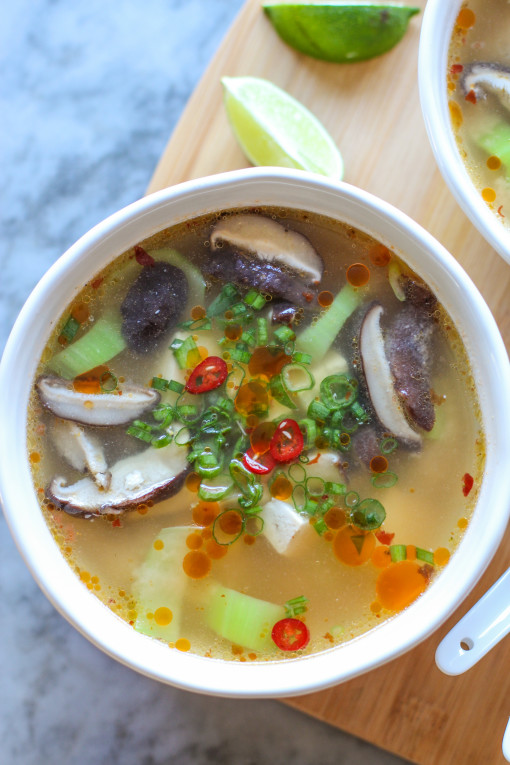 hot and sour soup
recipe from Jamie Oliver
makes six servings
2 cloves of garlic
1-2 fresh red thai chiles
1 inch piece of ginger
4 ounces shitake mushrooms, cleaned
6 each baby bok choy
olive oil
3 tablespoons soy sauce (use tamari or coconut aminos if you want a gluten-free recipe)
the juice of one lime (about 3 tablespoons)
8 cups vegetable stock or water
1 package firm tofu, cut into 1 inch cubes
2 green onions, finely sliced
1/2 bunch chives, finely sliced
Peel the garlic and deseed the chiles, then chop until minced finely.  Peel the ginger and grate it on the finest side of the grater, saving the juice.  Combine with the garlic and chiles.
Finely slice the mushrooms.  Cut the bok choy into half and then thinly slice each piece.  Add a bit of olive oil to a large wok or heavy bottomed saucepan over a medium-high heat.  Add the mushrooms and cook for 4 minutes, or until lightly golden brown.  Stir in the chile paste and bok choy and cook together for another minute.
Add the soy sauce and lime juice to the pan and cook for a minute, then pour in the stock and bring everything to a boil. Reduce the heat to low and simmer for 10 minutes, or until slightly reduced.
Once reduced, remove the soup from the heat.  Add the tofu and green onions to the soup, stirring to combine.  Carefully ladle the soup into individual bowls, topping with chives and extra chiles if desired.
my notes: If you don't have baby bok choy, any cabbage will do – just finely slice the stems and leaves and use in place of the bok choy.  In Jamie's recipe he uses a whisked egg in the broth but I wanted to make this a vegan soup so I left it out.  If you want to try it with the egg, you will need one egg, whisked.  Before you add the tofu to the soup, stir the soup to make a whirlpool.  Slowly drizzle the egg into the soup as it spins, making egg strands.