My goodness, what a crazy week.  School finally started and although we had been talking about it and planning for it, and I thought very excited about it…well…it wasn't as smooth as I hoped it would be.
A couple of days before school started we meet Avery's new teacher, took a tour of his classroom, and even saw a handful of friends and classmates from last year that would be in his class again this year.  He was blasé about the whole thing, even barely saying hi to his best friend and not caring too much when we met his teacher – instead choosing to make a block tower and pretty much ignore the whole pile of excitement that was surrounding him all over the room.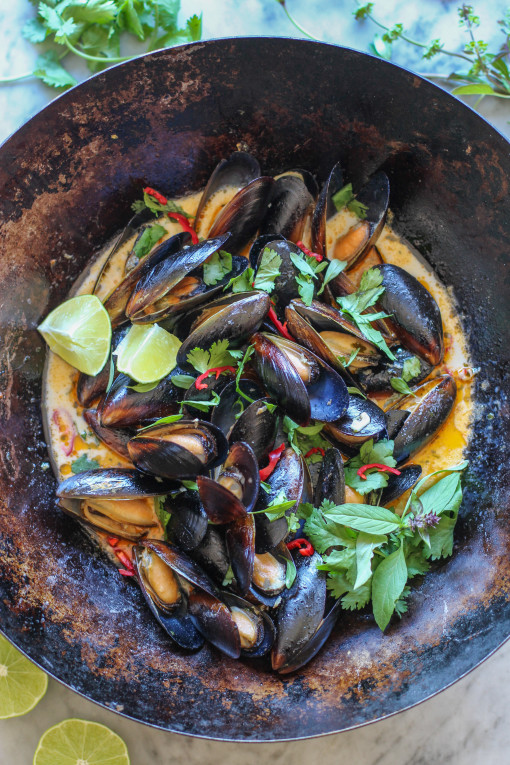 The night before the first day of school found Avery snoring in his bed and me standing in front of a little kid lunchbox all teary-eyed, sentimental and thinking all kinds of thoughts.  How did we get here?  How can he be four and a half years old already?  Is he going to miss me while he's at school?  Am I going to cry at drop off?  Is he going to?  Just random thoughts and feeling swirling around while I made sure his snacks were packed with care and hopefully he could feel my love for him when he unwrapped his grapes at snack time – all grown up and not caring about anything – too cool for school it seemed.
I headed to bed and had a hard time falling asleep.  I'm one of those people that can spend aaaaaaaaaalllllllll night thinking about the same thought/idea/feeling/dream forever and over again – and that's what I was doing.  Just thinking about how/what/when did we get to this point where this little kid doesn't need his mama anymore and blah, blah, blah.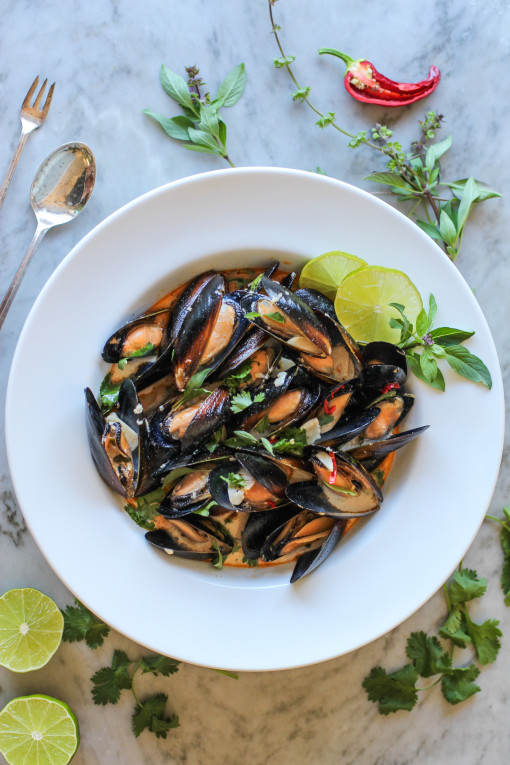 Apparently at some point I fell asleep because I was awoken around 2AM by the quietest little, "mama……? mama…..?" and pretty much jumped out of my skin when I saw the cutest little kid standing next to my bedside.
"What is it bud?" I asked quietly, "Are you okay?"
"I wanna sleep with you" he said even more quietly and before he could say anything else I had scooped him up, put his head on my pillow and wrapped my arms around him so tightly – half in love and half in gratitude that he still needed me – and off to sleep we went.
Of course, sleeping with Avery isn't all rainbows and unicorns.  It tends to resemble more of a wrestling match than a beautiful painting of mama and baby, as Avery likes to sleep sideways and mostly with his feet lodged in my kidneys so the only one (or ones) sleeping was Avery and his daddy – but that was fine with me.  I was needed after all and couldn't be more excited about it.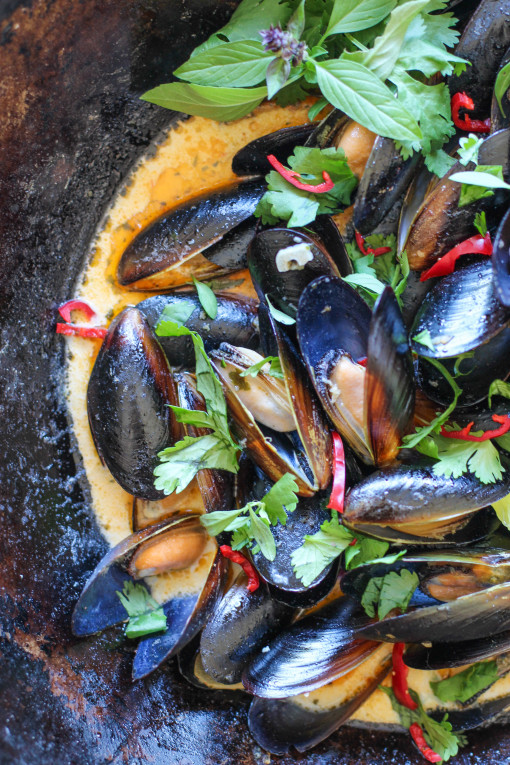 The next two nights found Avery in our bed again but on night three we talked about his sleeping in his own bed.
"Avery," I said very softly, "I know that you like to sleep in mama's bed and I know that you need some extra love because things are new at school, but now you know what to expect everyday and I want you to try to sleep in your own bed tonight please." 
Avery was quiet for a few minutes – soaking in the request it seemed – when he answered, "Mama, you need to stop 'honk-shoo, honk-shoo, honk-shoo' because I can't sleep."
It took me a minute to figure out what he was talking about and then I laughed and said, "Well, if you don't like my snoring you should probably sleep in your own bed you silly goose!" And we both laughed and made snoring noises and laughed some more and that was that.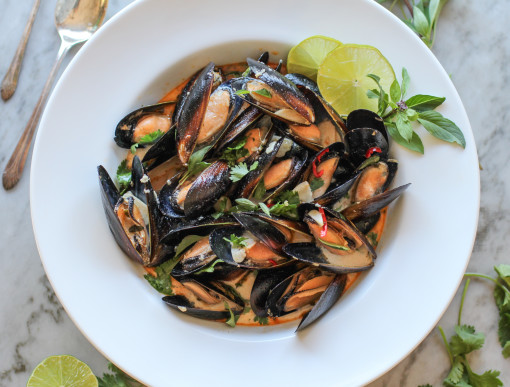 I guess he loves me enough to still need me when he's scared but doesn't like my snoring enough to make it a regular thing, which is totally fine by me.  Instead, he's the first one in our room in the morning, jumping into my side of the bed, laughing and snuggling and tickling and starting the day in the best way possible.
He's growing up – but for now he's still mama's little boy.  And I'm so grateful for the time we have together.
XO,
Jenn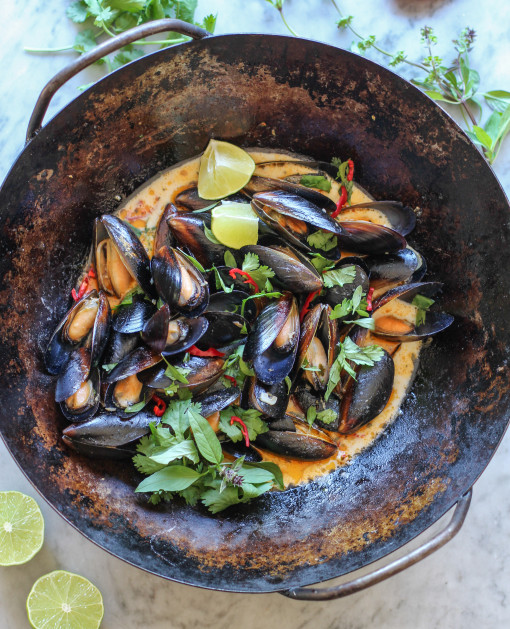 ginger garlic mussels with coconut curry sauce
makes two servings
2 tablespoons olive oil
3 garlic cloves, thinly sliced
3 tablespoons finely grated ginger
1 tablespoon thai red curry paste
two pounds mussels, scrubbed and beard removed
1 cup fish stock, chicken stock or water
1 cup coconut milk
2 teaspoons fish sauce
2 teaspoons soy sauce or liquid aminos
2 teaspoons lime juice
1/4 cup chopped fresh herbs – cilantro, thai basil, mint and/or basil
thinly sliced fresh chili
In a wok or large heavy bottomed pot, warm the olive oil over medium heat and add the garlic.  Cook for about three minutes, stirring frequently.  Add the ginger and the curry sauce and stir to combine.  Place the mussels in the pot and add the fish stock.  Stir everything together and then add either a lid or a piece of foil over the pot/wok and allow the mussels to steam open.  Once the mussels have all opened (discard any that are still closed) add the coconut milk, fish sauce, soy sauce and lime juice to the pot.  Stir to combine and taste the sauce – you may need to add more fish/soy sauce or lime juice to your taste.  Add half the amount of herbs to the mussels, stir, and divide into two large bowls.  Garnish the bowls with more of the fresh herbs and thinly sliced fresh chili, if using.
my notes: If you would like a more hearty dish, serve with cooked rice noodles or with a side of rice or toasted bread.  If you prefer clams to mussels, you can just replace them in the recipe.  And if you like green curry instead of red, just substitute green curry paste in place of the red.