It's day two after Thanksgiving and I'm so tired that I really can't even see straight.  It could have been the fact that we had not one, but TWO Thanksgiving celebrations (egad!) or that the kiddo was out of school this entire week and we were going here and there and here again and oh yes, to the grocery store too.  My mind needs a rest, and I'm so looking forward to next week when – although everything will be covered in Christmas glitter – things get somewhat back to normal with school and our routine and not two Thanksgivings and blaaaaahhhh….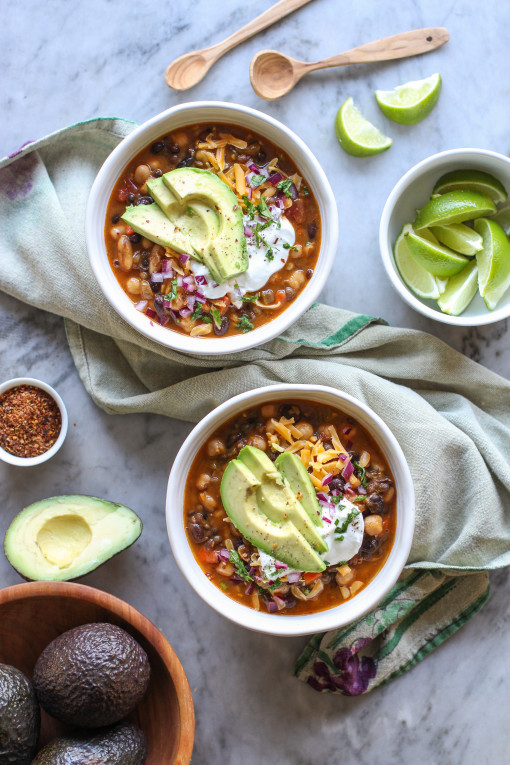 In other news, while we were all being busy with our busy-ness last week, I was leaning hard on easy meals – one pot, less than 30 minutes, let's-do-this-I-have-other-things-I-need-to-be-doing kind of meals.  Anyone with me in that department during the crazy holiday season??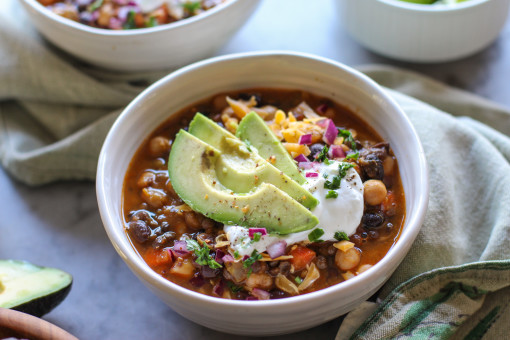 And this was one of those meals – four bean and pumpkin chili with all the yummy toppings I could possibly pile on top.  You can make this chili with only one bean, or make it with all four, or whatever type you have on hand. The pumpkin is completely optional – during the crazy week I found random things in my fridge and 1 cup of unused pumpkin puree was begging for a home so in the pot it went.  It lends a creamy richness to the dish without the use of any fat so that in itself makes it a delicious addition – but the chili would be just as delicious without it too.
Hope you are able to stop and enjoy the chili this week!
XO,
Jenn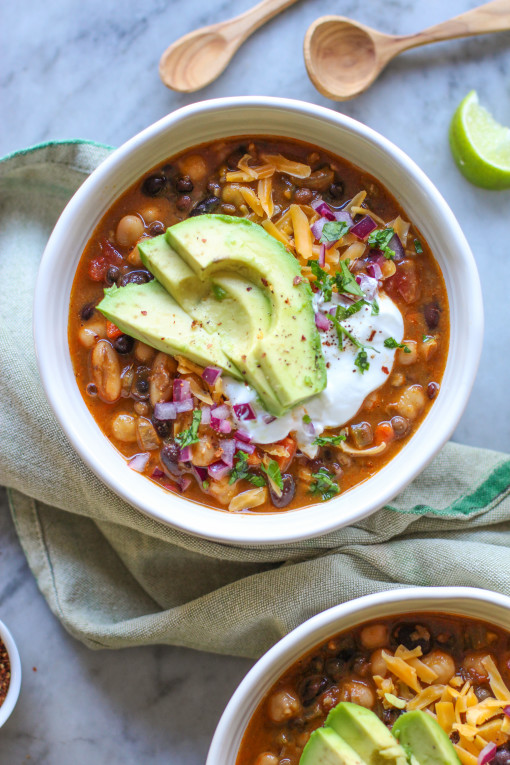 four bean and pumpkin chili
Makes 6 servings
3 tablespoons olive oil
1/2 cup minced yellow onion
3 garlic cloves, minced
1 tablespoon ground cumin
2 teaspoons paprika
2 teaspoons mild chili powder
1 teaspoon salt
2 teaspoons black pepper
2 cups chickpeas, cooked
2 cups black lentils, cooked
2 cups cannellini beans, cooked
2 cups black beans, cooked
1/2 – 1 cup pumpkin puree (optional)
3 tablespoons sundried tomatoes (or 1 cup diced fresh or canned tomatoes, or 1 tablespoon tomato paste)
4 cups vegetable stock or water
In a heavy bottomed pot over medium heat, cook the onions with the olive oil until soft – about five minutes.  Add the garlic and cook for another two minutes.  Add the spices and stir everything together.  Add the beans, pumpkin puree (if using), tomato and vegetable stock.  Give everything a stir to combine and raise the heat to high.  Bring the mixture to a boil and then turn the heat to medium-low, cover the pot, and simmer for about 20 minutes – check halfway through cooking to make sure that the mixture isn't too dry.  If it is, add a bit more water to make a chili-like consistency.
my notes: You can make this recipe in your crockpot instead of on the stove.  I sautéed the onion and garlic, then added it to the crockpot with all the other ingredients, stirred everything together and set the temperature to low for 6 hours.