I've been playing with different Thanksgiving side dish ideas this week.  Some haven't worked AT ALL (….ahem, mushroom and white bean gratin, cough….) but some have been amazing, like these baked mini pumpkins stuffed with jeweled rice.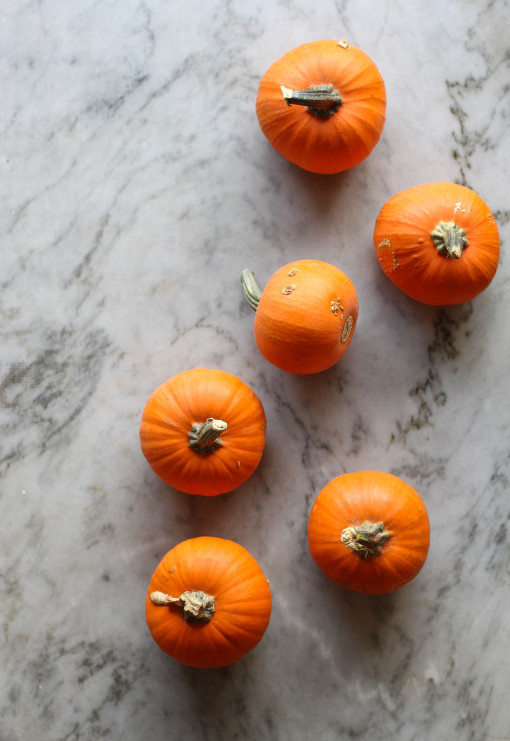 It all started with a trip to the pumpkin patch – as most pumpkin creations do – and throughout the day of snapping pictures with the wee-ones, and picking out three pumpkins to carve for Halloween, well, I saw these little pumpkins in a big bin.  There were a lot of them, all stacked up high and caty-wampus (that means all over the place) when I decided that I was going to take six of these little guys home to be my very own.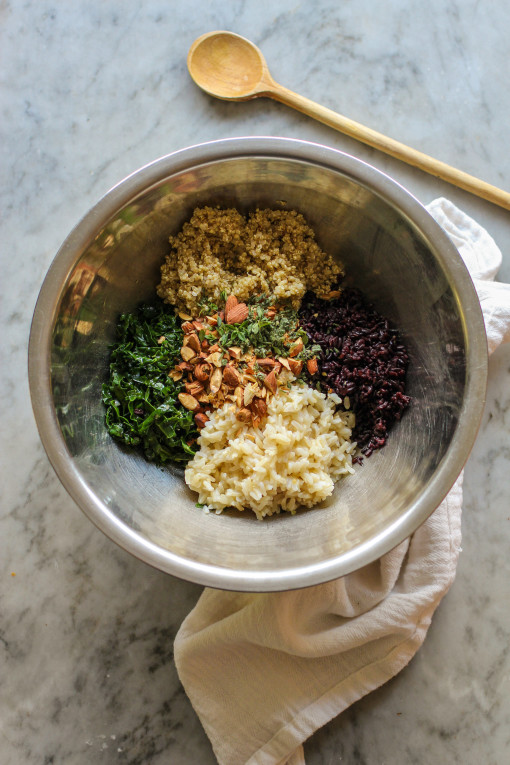 And my very own they were.  For about three weeks.  All alone, sitting on the corner of the kitchen counter where no one really travels.  My little man picked them up a couple of times – once exclaiming, "the are SO cute! Like little babies!!" and then another time asking, "can I roll these across the floor like my golf balls?"
Uh, no.  No, they are food, not toys.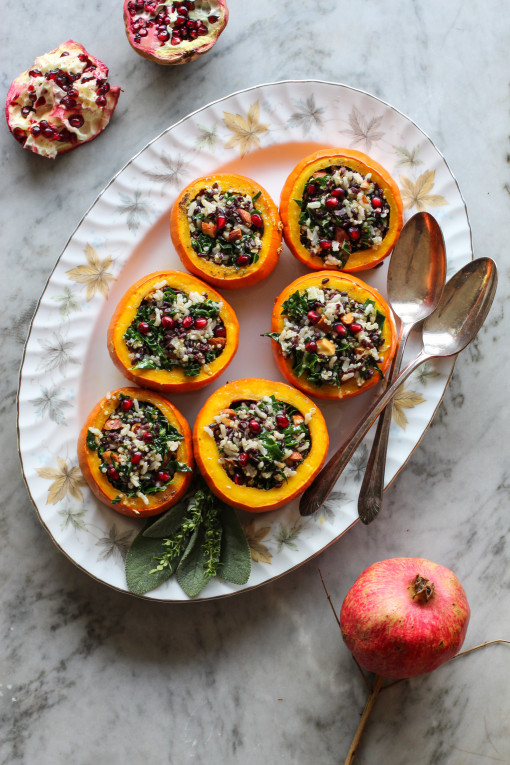 The big man in the house didn't say anything about them.  Just walked by them day after day – maybe having thoughts about them in his own head about why they were just sitting there looking all cute, or maybe what the heck did we bring these home for – but either way he was kind enough to keep his thoughts to his own.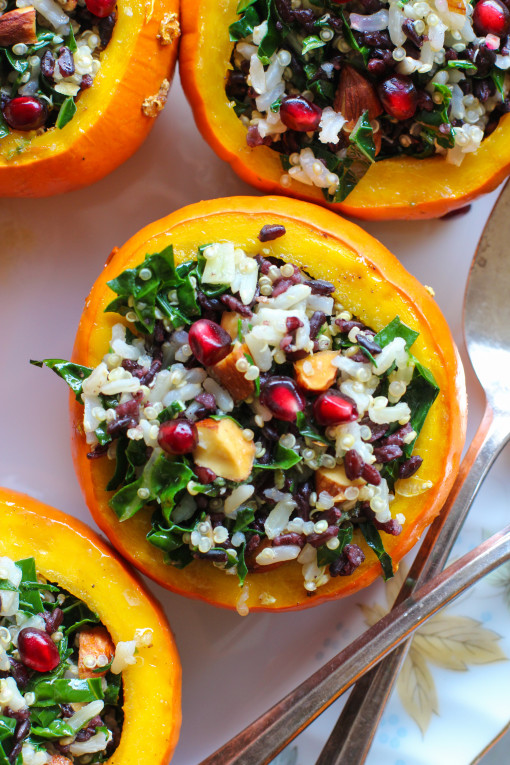 I, of course, thought about them nonstop.  I thought about making breakfast out of them, or a hearty lunch by cracking and baking eggs inside with maybe a drizzle of some sort of sauce over the top.  I thought about pouring hot pumpkin soup inside, baking a cake or crème brulee in them, or roasting some Spanish pork and taking these to another country.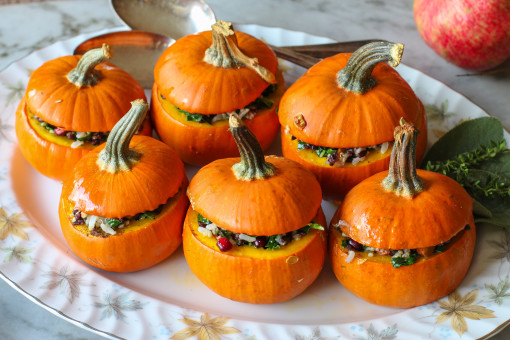 But all I did was open the fridge and mix a few grains with some garlic laden greens, chopped almonds and pomegranate seeds and stuff these adorable baked pumpkins.  Instant Thanksgiving side dish.  Healthy, vegan, and tastes like a million bucks.
Now on to the rest of my Thanksgiving side dish ideas….
XO,
Jenn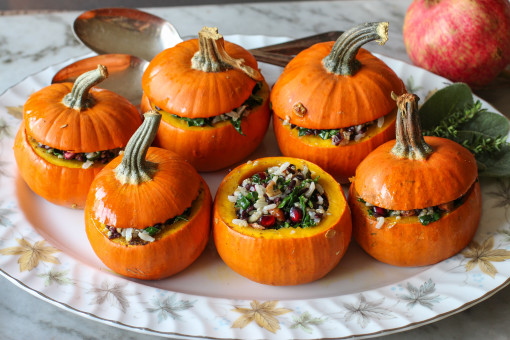 baked mini pumpkins with jeweled rice
makes six servings
six mini pumpkins
olive oil
salt
black pepepr
2 garlic cloves, minced
3 cups shredded kale or swiss chard leaves
1 cup cooked brown rice
1 cup cooked quinoa
1 cup cooked black rice
3 tablespoons almonds, roughly chopped
3 tablespoons pomegranate seeds
Preheat your oven to 400 degrees.  Cut the top off of the mini pumpkins, scoop out the insides and discard the seeds.  Drizzle a little bot of olive oil on the inside of each pumpkin and sprinkle with salt and pepper.  Place the tops back on the pumpkins and place the pumpkins back into the oven.  Bake the pumpkins until cooked through and soft when squeezed – about 25 minutes.  Remove the pumpkins from the oven and place on a baking rack to cool.
In a medium sized saute pan, add 2 tablespoons olive oil, the garlic and the shredded kale, and cook over medium-high heat until cooked through – about 5 minutes.  Stir frequently and you might need to add a splash of water if the pan gets too dry.  Remove from the heat.
Place the greens, grains, almonds, pomegranate seeds, and a pinch of salt and pepper into a bowl and stir every thing together.  Scoop the rice mixture into the mini pumpkins and place the pumpkins back into the oven for about 10 minutes, or until heated through.  Serve immediately.