Salad time.
I know, does anyone really need a recipe for a salad??
Not really – but this salad was so delicious that I had to share.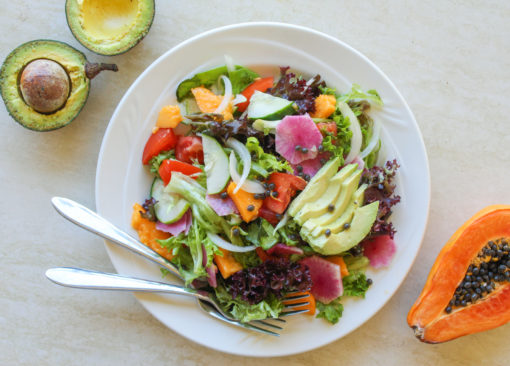 Since arriving on Maui, we have visited two local farmers markets which gave us some wonderful produce.  Some things we had never seen before – there were some local ingredients that we (ME) had to try because I'm always and forever a foodie first – and we were facing some serious summer food cravings since the weather when we left was just starting to peek out from behind the winter clouds.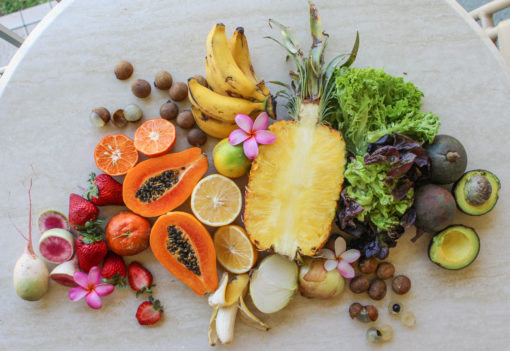 (above: the abundance from a trip to the Napili Farmer's Market)
The pineapple went quickly – the kids eating it by the fistful, juice running down their hands and down their chins.  Those tiny apple-bananas, the avocados and strawberries were pretty much the same – by day two I smartened up enough to at least strip off their shirts so I wouldn't have to laundry every single day.  The longans (the little brown seed looking fruit) were more of an acquired taste – once you peeled the skin off and removed the dark seed, it tasted like a very mild watermelon.  The kids were not impressed.  The hubby not too much either.  But I really enjoyed their mild flavor and soft texture.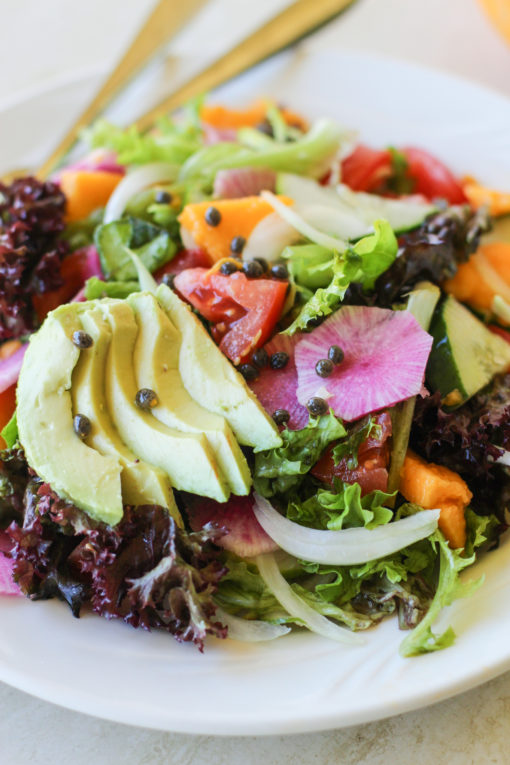 And then we were suddenly left with papaya, avocado, baby greens, one maui onion, watermelon radish, and one locally grown cucumber and tomato that didn't make it in time for the big picture – and a salad was born.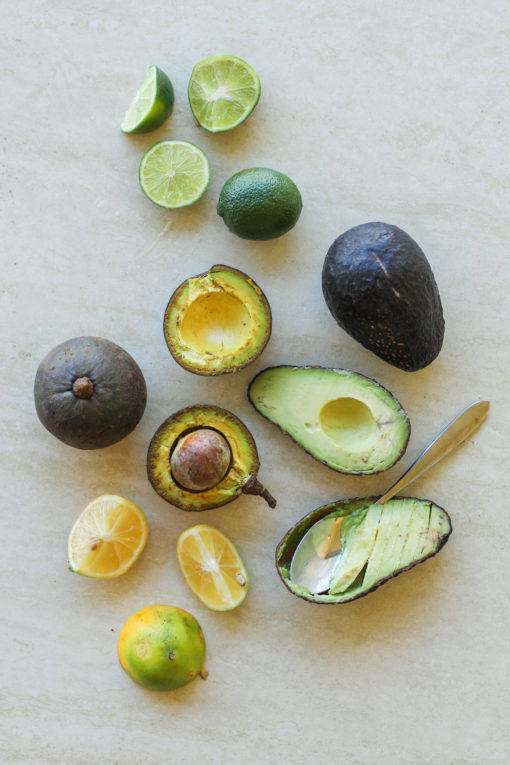 (above: a round locally grown avocado on the left – and on the right, the Mexican grown Hass varietal)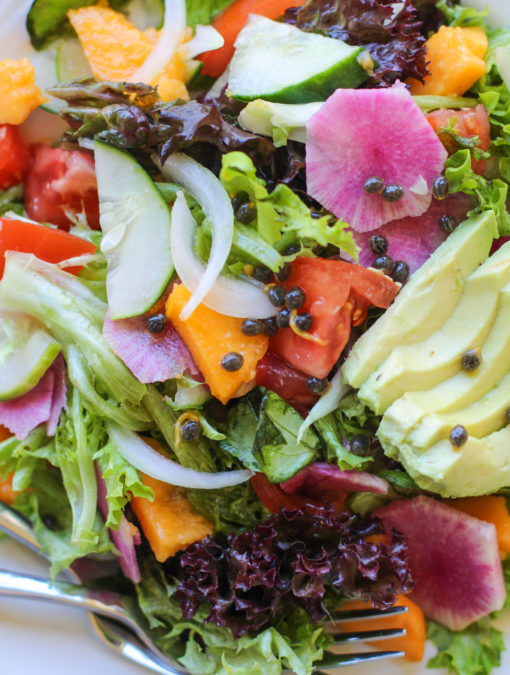 Everything is tossed together with a quickly made vinaigrette using the seeds of the papaya.  Did you know that you can eat papaya seeds?  They are crunchy little bits that have a mild peppery flavor and worked great here in this salad.  But if you don't like papaya or don't have one readily available, I posted some substitutions for the salad in the recipe below.
(above: the sunrise or "strawberry" papaya – one of four Hawaiian grown varietals)
If you want to see what else we've been eating while here, I posted some other fun Maui food finds on my Facebook   and   Instagram pages.
Hope you guys had a great weekend!
XO,
Jenn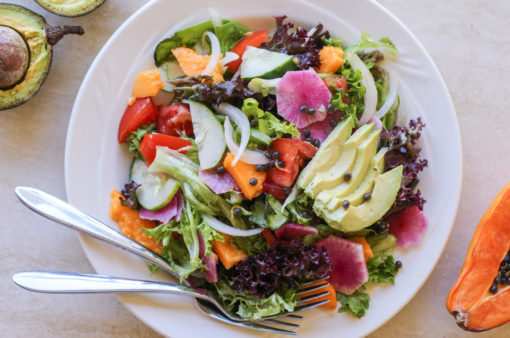 tropical green salad with papaya seed vinaigrette
makes two entrée salads or four starter salads
3 small heads of greens, washed and torn into bit sized pieces
1 small cucumber, cut into half lengthwise and then thinly sliced
1/2 sweet maui onion, thinly sliced
1/2 ripe papaya – seeds reserved – peeled and cut into 1 inch chunks
2 medium sized tomatoes, core removed, cut into eighths
1 watermelon radish, peeled and thinly sliced into rounds
1 avocado, cut into 1 inch chunks
the juice from one tangerine
1 tablespoon red wine vinegar
1 teaspoon honey
salt
black pepper
3 tablespoons extra virgin olive oil
In a small bowl, add the tangerine juice, vinegar, honey, and one pinch of salt and pepper.  Whisk to combine.  While whisking, slowly drizzle the olive oil into the mixture until fully combined.  Add three tablespoons of the reserved papaya seeds (if using.)  Taste, and adjust seasonings if needed.  Set aside.
In a large bowl, add the greens, cucumber, onion, tomatoes, and radish and toss everything together.  Add a bit of the vinaigrette and toss again.  Divide the salad onto plates and top with the papaya and avocado chunks.  Sprinkle with more papaya seeds if desired.
my notes: I've eaten a version of this salad every day since we arrived on Maui, and it's changed every time.  If you don't have (or don't like0 papaya, a good substitute would be sliced strawberries or tangerines.  The maui onion is sweet and can be eaten raw, but green onions would make a great addition/substitution.  I have eaten this salad with roasted chicken, grilled shrimp and even a big dose of Hawaiian poke – the combinations are endless and enjoyable every time.