Hi friends!  Here we are, heading straight into a holiday weekend.  Funny thing for us peeps that don't hold down a typical 9-5 job… weekends sometimes run into weeks and neither one means much over the other really…except for big weekends like this one.
This weekend officially kicks off summer – let's do it!!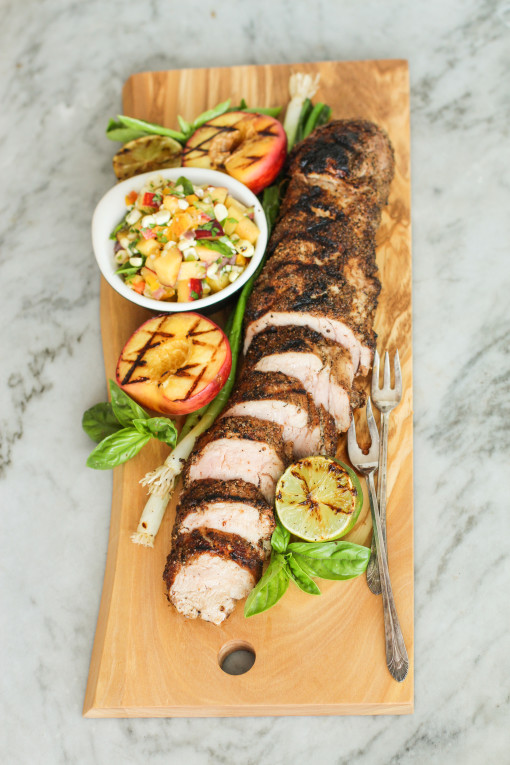 Hot grills and hot weather, cooking and eating outside, cold ice cream, running amuck until the sun goes down, swimming, splashing, sometimes sweating, laughing, playing, and doing whatever you want because no one really has to get up early for school (or work, ahem, cough, me.)
It's the best time of the year!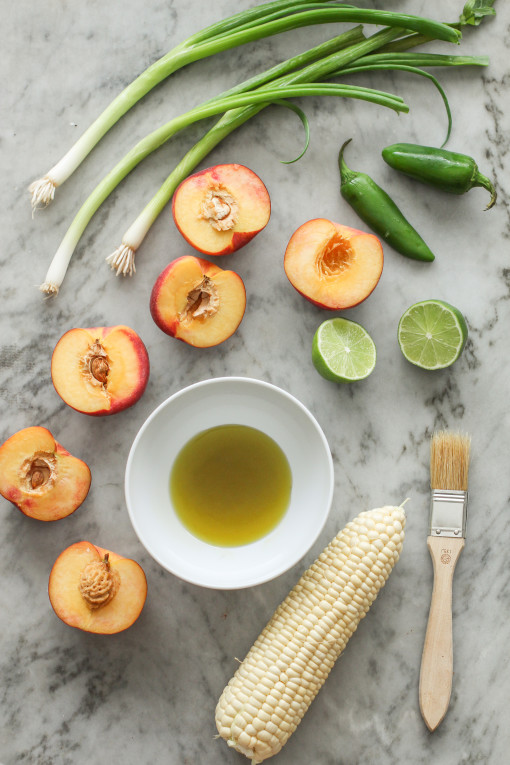 I've spent the last two weeks gathering ideas of what to do with Avery this year.  He's at the perfect age where he's old enough to be excited about doing new things but yet still young enough to want to keep doing things non-stop.  New things, old things, different things – doesn't matter.  He just wants to go-go-go!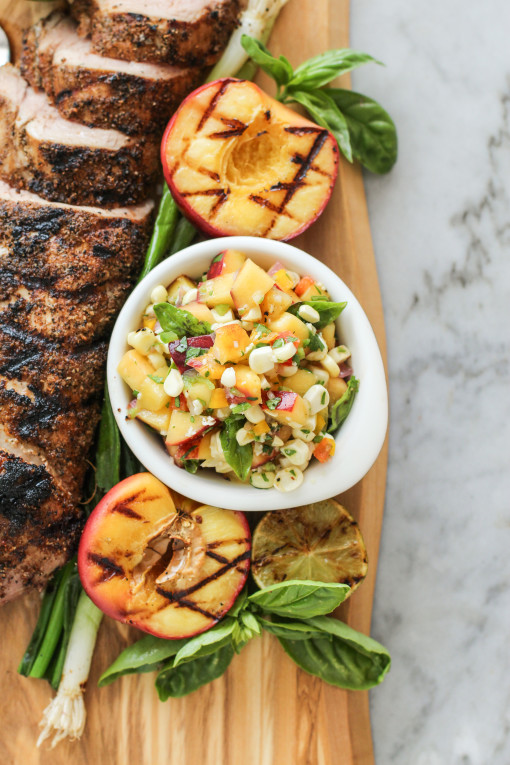 So we have a long list of museums and parks to visit, train rides and zoo trips, and lots and lots (!!) of swimming to do.  This will also be the first year that we have a yard to play in.  An actual, water it, mow it, fertilize it lawn in which we can do the bulk of our summer activities.  I mean, I am SO stoked!!
Lazy days laying in the grass and watching the clouds roll by…
Licking the melting ice cream off of our cones before they run down our hands and drip on the green grass…
Sprinklers to jump through…races to run, games to play…all on a lovely yard.
Isn't my dream just, uh, dreamy?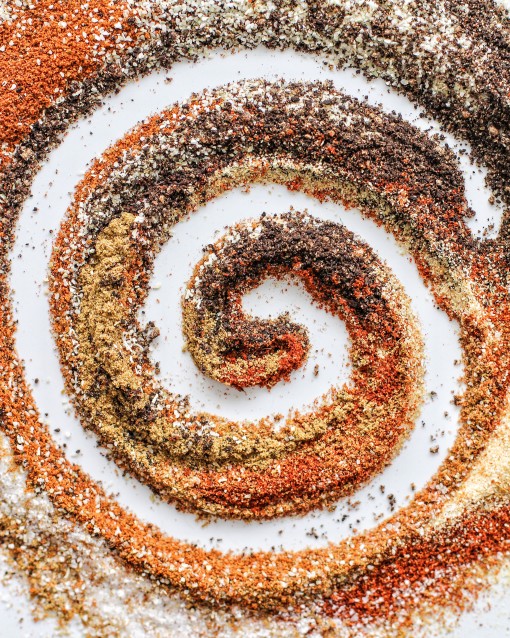 The handsome hubby and I dreamt of a house for so long that the dream of actually having a lawn and grassy area for the kiddos to play on seems almost still out of reach.
We've been working non-stop in the backyard lately, trying to get everything done so we can lay some sod.  The hubs finally finished the new fence and tilled all the dirt into one big dirty (ha) pile.
Yesterday we raked and raked all the old sod clumps up and dumped them and raked some more until all that was left was a dirty husband and wife team, and the most beautifully leveled backyard, ready for green grass.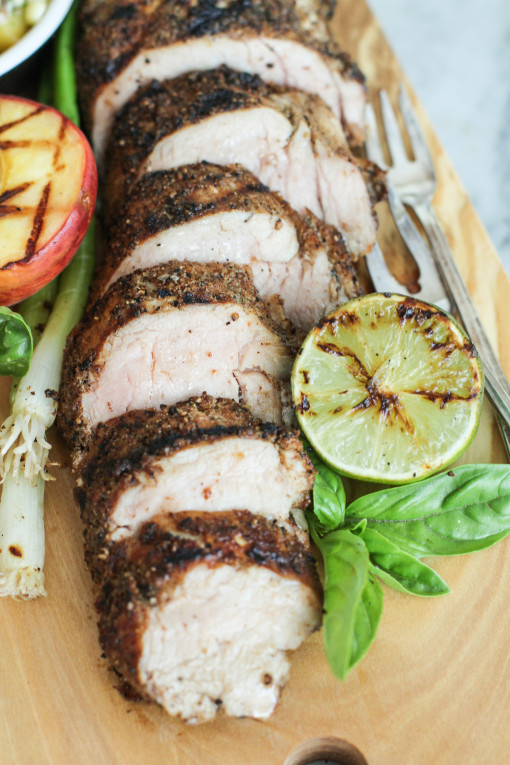 Well, it's almost ready.  We still have to put the flower bed borders in…and THEN we will be ready for green grass.  Hopefully that's next week (fingers crossed!!) and we can get on with all those things that people do with green grass.
Stare at it and just smile.  That's my plan anyway.
In the meantime, pork and grill.  Really, pork and grill and peaches.  And corn and basil.  Savory and piquant spiced rubbed pork tenderloin served with just the most delicious grilled peach, corn and basil salsa.
To kick off your summer dreams…
Happy holiday weekend!
xo,
Jenn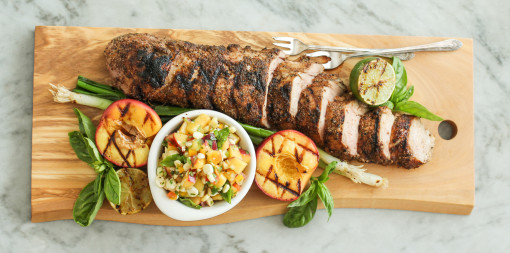 spice-rubbed pork loin with grilled peach salsa
for the salsa – makes about three cups
extra virgin olive oil
3 medium barely ripe peaches
1 cob of corn, shucked and silt removed
1 lime
1 teaspoon minced jalapeno pepper
1/4 cup finely diced bell pepper
salt
black pepper
2 tablespoons chopped basil
1 tablespoon chopped cilantro
Turn your grill on to high heat.  Slice the peaches in half and remove the pits.  Slice the lime in half.  Using a brush, spread a little bit of the olive oil on the cut sides of the peaches and lime, and all over the corn.  Place the fruit (cut side down) and corn onto the grill and turn the heat down to medium high.  Grill for about five minutes, then slightly turn the fruit to set the grill marks and flip the corn over.  Grill for another 2-3 minutes and then remove from the heat and allow to cool.
In a medium sized bowl, squeeze the limes to release their juice.  Add 3 tablespoons of extra virgin olive oil, a pinch of salt and pepper and whisk everything together.
Chop the peaches into smaller sized dice and cut the corn off of the cob.  Add the peaches, corn, jalapeno and bell pepper to the bowl and stir everything together.  Add the basil and cilantro, stirring again, and taste.  Adjust seasonings as needed.
for the pork
1 tablespoons onion powder
1 tablespoons garlic powder
1 tablespoon ground cumin
1 tablespoon mild chili powder
1 tablespoon paprika
2 teaspoons black pepper
2 teaspoons ground coffee
2 teaspoons salt
3 pound pork loin, silver skin removed
Mix all the spices together in a medium sized bowl.  Rub the spices onto a pork loin (or chicken or beef cut) and grill over medium high heat until the internal temperature reaches 125 degrees.  Remove the pork from the grill and place it on a cutting board to rest for 10-15 minutes.  Slice the pork and serve topped with the grilled peach salsa.