I'm celebrating spring today by savoring one last lovely citrus salad.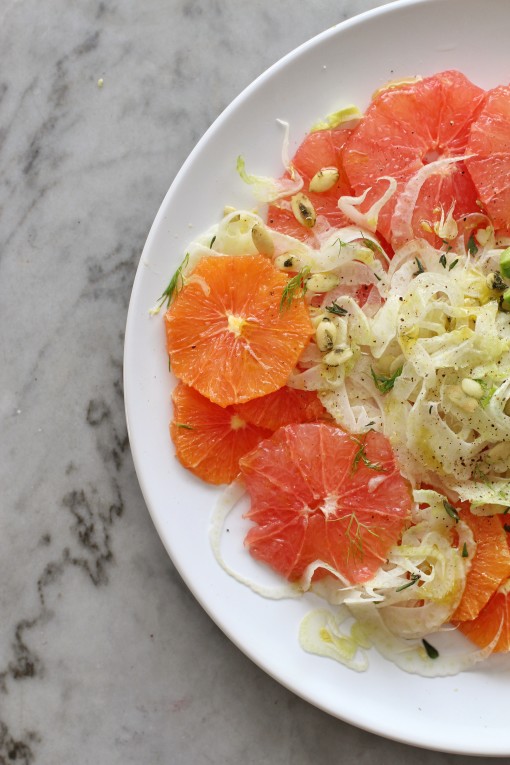 I looked over our fruit bowl this morning before heading to the farmer's market – taking an inventory of the have's and have not's – and realized I had four little cara cara oranges hanging out with two large grapefruit – the last of the season.  It's bittersweet really.  As much as I love citrus, I know it's time to say bu-bye – time to make room for sweet strawberries and crisp rhubarb.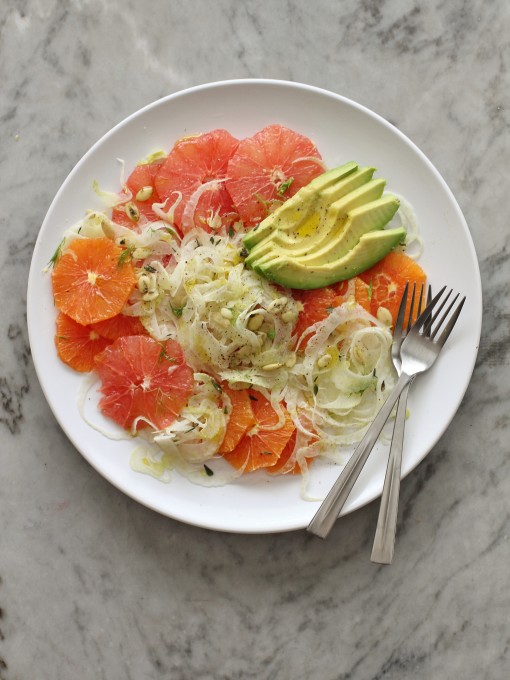 So here's a super simple, easy and delicious salad that I could eat every day of the year – crispy shaved fennel, sweet and tart cara cara oranges and grapefruit, and a bit of creamy avocado.  All topped with a squeeze of fresh lemon juice, a good glug of olive oil and some crunchy raw sprouted pumpkin seeds.
If you want to share this with a crowd, add some baby greens to the mix and maybe some feta cheese or Kalamata olives or both – it would make a great addition to your brunch table this coming weekend.
xo,
Jenn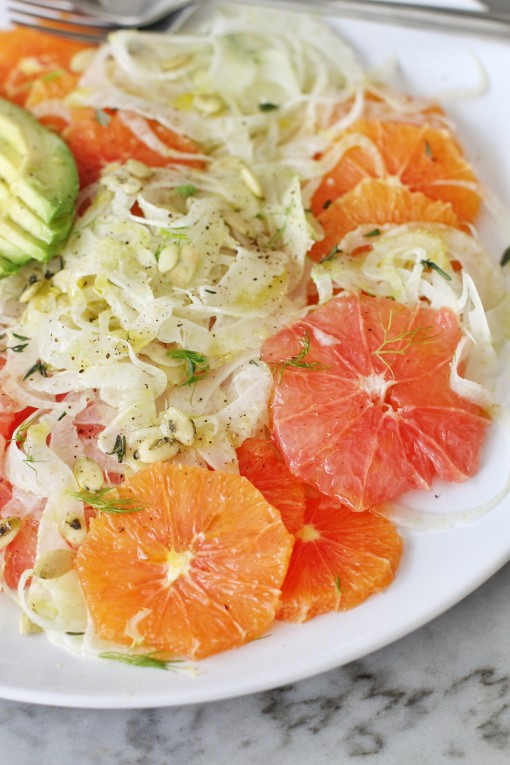 shaved fennel, citrus and avocado salad
makes one big salad
1 medium fennel bulb, trimmed of fronds and root end
1 cara cara orange
1 grapefruit
1 ripe avocado
2 tablespoons sprouted raw pumpkin seeds
salt
black pepper
1 tablespoon lemon juice
2 tablespoons extra virgin olive oil
Using a mandolin, thinly shave the fennel bulb and place it into a large bowl.
Cut the ends off of the orange and place the orange on a flat end.  Slowly cut the rind off of the orange, working your way around the orange until all the rind has been removed.  Thinly slice the orange and place it in the bowl with the fennel.  Repeat the same steps with the grapefruit.
Add a pinch of salt and pepper to the salad, along with the lemon juice and olive oil.  Gently toss everything together and lay it on a plate.  Add some thinly sliced avocado to the top of the salad and sprinkle with the pumpkin seeds.