Another hot day calls for something refreshing and delicious to help us cool down!!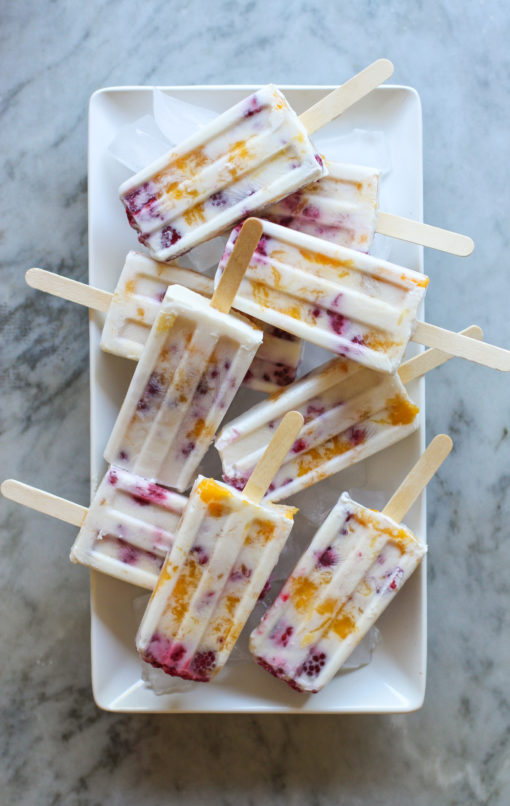 After the latest heatwave, we've been eating more than our share of fruity popsicle snacks after taking our daily dip in the pool.  The kiddos have been more than happy to be taste-testers for me and we all agree that this is the best coconut popsicle recipe yet!!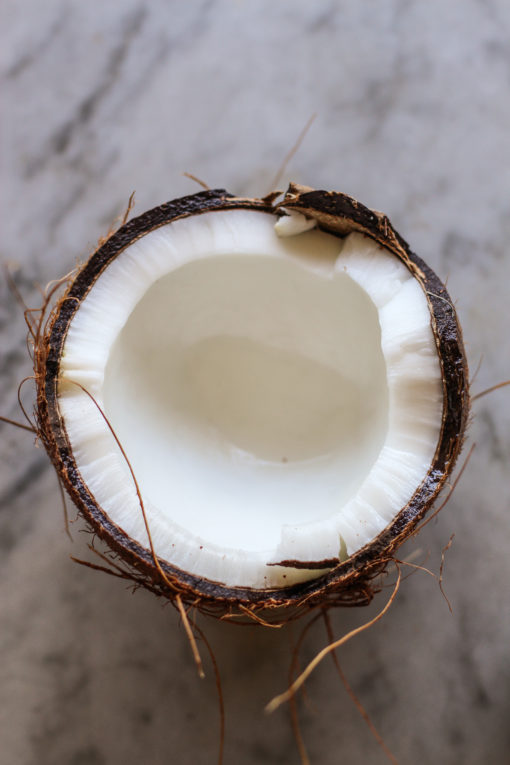 We seem to collect these little containers of fruit in our fridge – three strawberries here, half a mango there – that kind of thing.  Do you have these types of bins in your fridge too?  If so, these popsicles are a great way to use up any of those bits of fruit in your fridge, or you can make them from the fresh fruit that you just picked up at the farmer's market or your favorite store.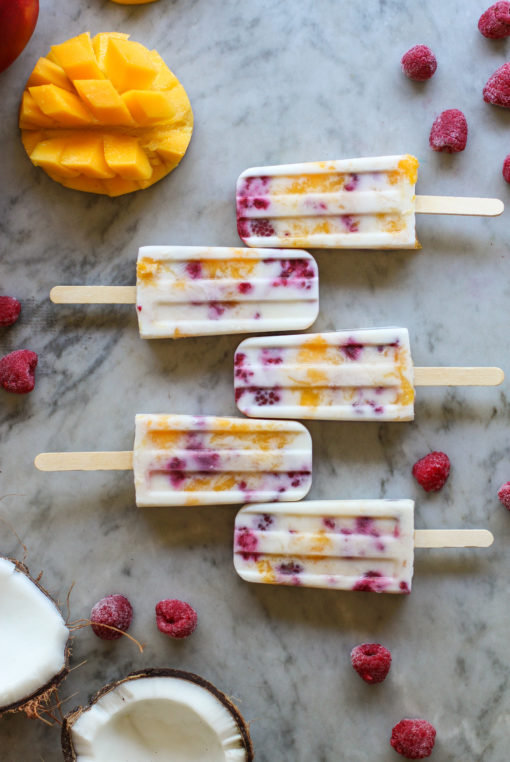 You can use any kind of fruit in this recipe that you like.  The kids are really enjoying raspberries and mango this week so that's what I made – but blueberries, kiwi, strawberries and even a mixture of all three would be great in these pops.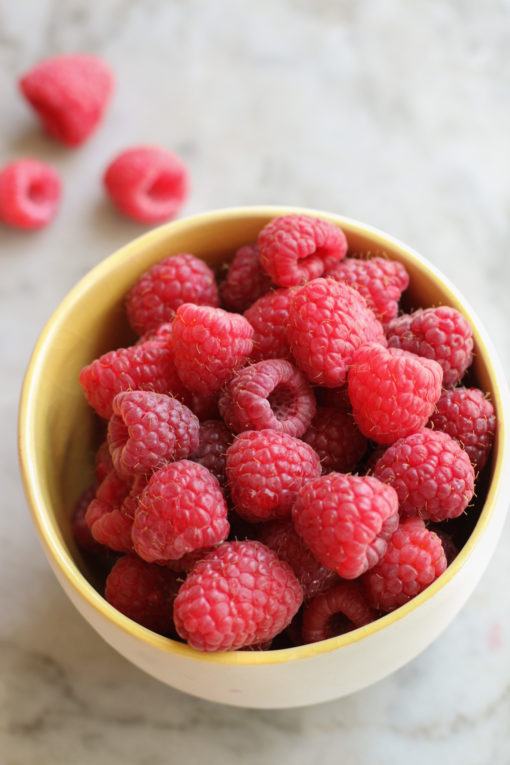 The coconut milk is naturally sweetened with maple syrup so these pops are refined sugar free and dairy free.  I used a can of full fat coconut milk but these pops would also work with a light version too.  You could even make these with coconut water if you wanted to lower the calories even more – but the creaminess of the coconut milk in these pops make them taste like ice cream and who doesn't want to smack on some ice cream in the middle of a hot day??
Everyone does.  That's who.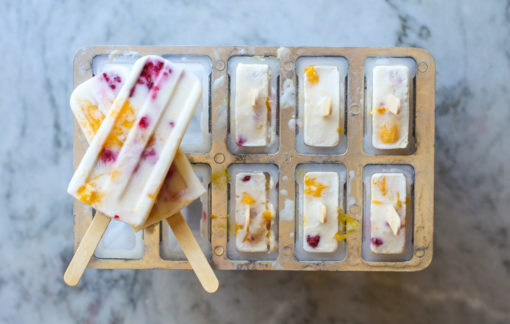 So ice cream away with these delicious and as healthy as they can be pops – and try to stay cool my friends!
XO,
Jenn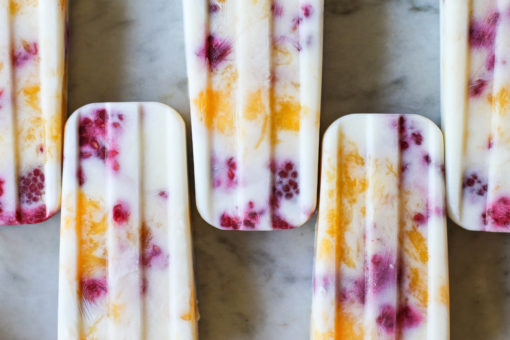 raspberry, mango and coconut popsicles
makes 10 popsicles
1 1/2 cups coconut milk
3 tablespoons maple syrup
1 cup fresh mango, cut into 1 inch pieces
1 cup fresh raspberries
popsicle mold (I use this one and it's fabulous)
popsicle sticks
In a small bowl, combine the coconut milk and the maple syrup, whisking to combine.
Place the mango into a small bowl and mash slightly with a fork or a potato masher.  In a separate bowl, do the same with the raspberries.
Assemble the popsicles by pouring about three tablespoons of coconut milk into each mold.  Place a spoonful of mango into each mold.  Pour another three tablespoons of coconut milk into each mold.  And then place a spoonful of raspberry into each mold.  Continue until the molds are filled to the top.  Place one popsicle stick into each popsicle and place the mold into the freezer.
Freeze the popsicles for at least three hours, or overnight.  When you are ready to eat the popsicles, run the mold under warm water until the popsicle releases from the mold.
my notes: The popsicle mold I'm recommending is amazing and works great for me.  But what doesn't work is the metal lid that comes with the mold.  I believe the lid is there to hold the popsicle sticks in each of the popsicles, however, all the lid does for me is freeze to the top and I'm unable to unmold anything, much less a popsicle.  It is utterly frustrating.  So I would recommend using the mold like I do – without the lid.  The sticks mostly stay in my popsicles, but just to be on the safe side, I usually check on my mold about 20 minutes after I place it in the freezer.  The popsicle gets frozen enough so I can adjust the sticks if needed, if there's a wayward stick or two, and then I just close the freezer and wait for popsicle time!