Let's be honest here.   I work out so I can eat bread.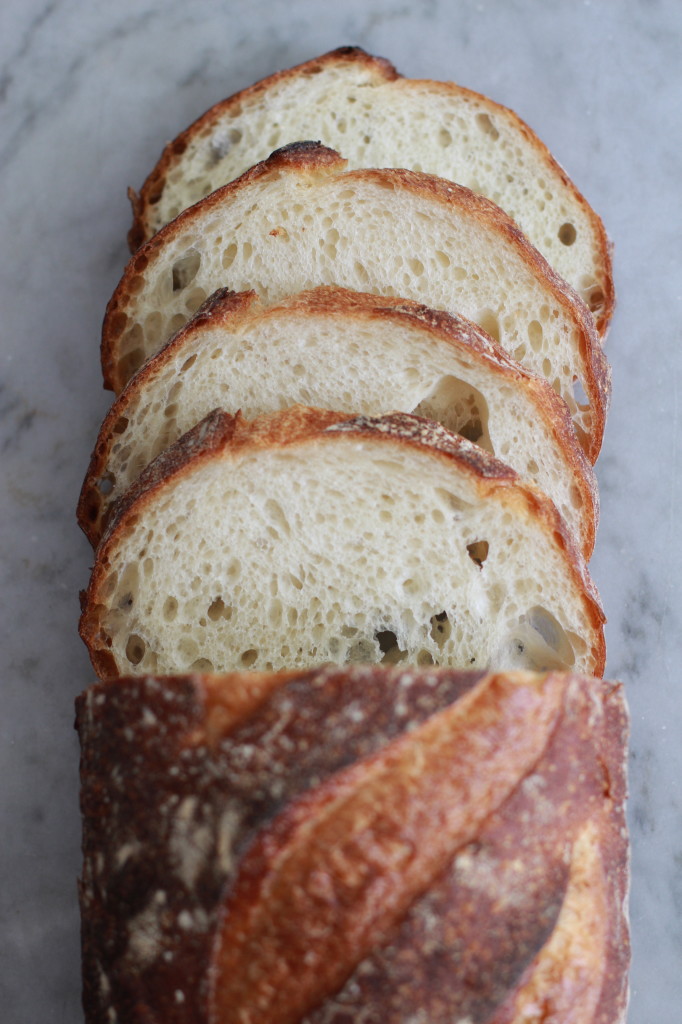 And not just any kind of bread.  But crunchy crusted and chewy centered.  Usually grilled, with many drizzles of a really fruity olive oil, rubbed with a garlic clove and topped with something fun.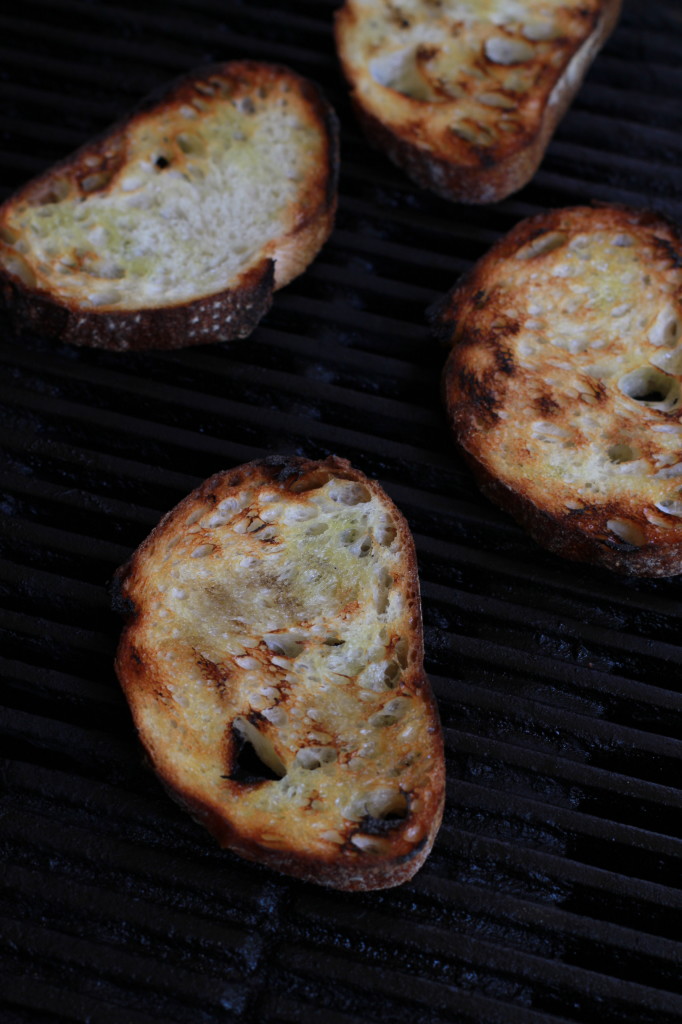 And as I can make four square meals a day out of this combination….well, let's just say my sneakers get worn quite a bit.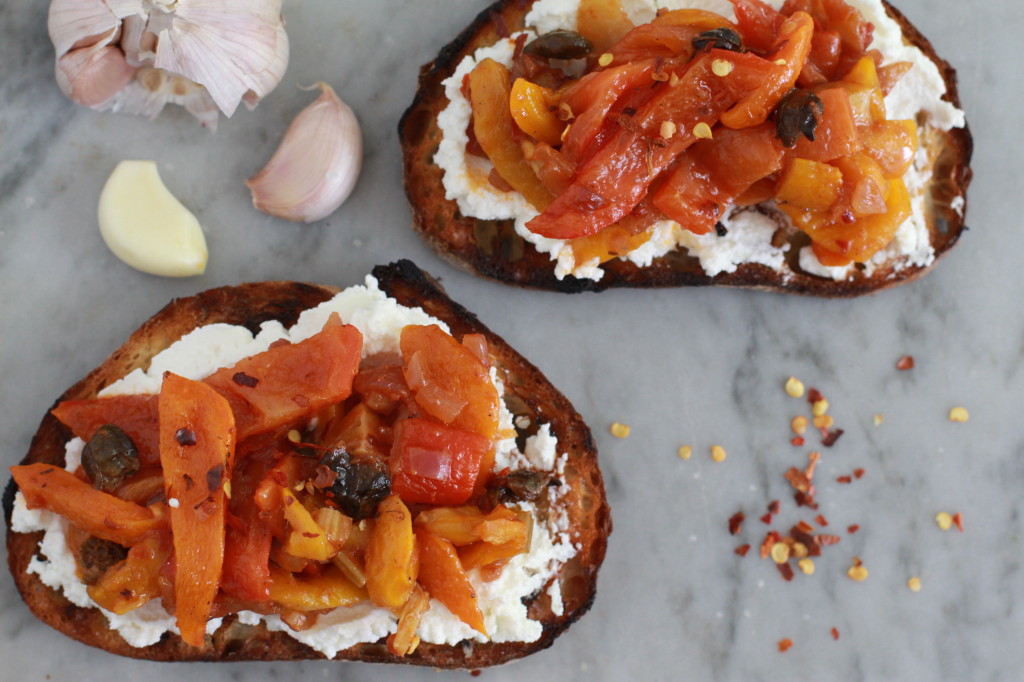 But it's totally worth it.  Crunchy toast with creamy fresh ricotta, sweet roasted peppers, tangy vinegar and salty capers.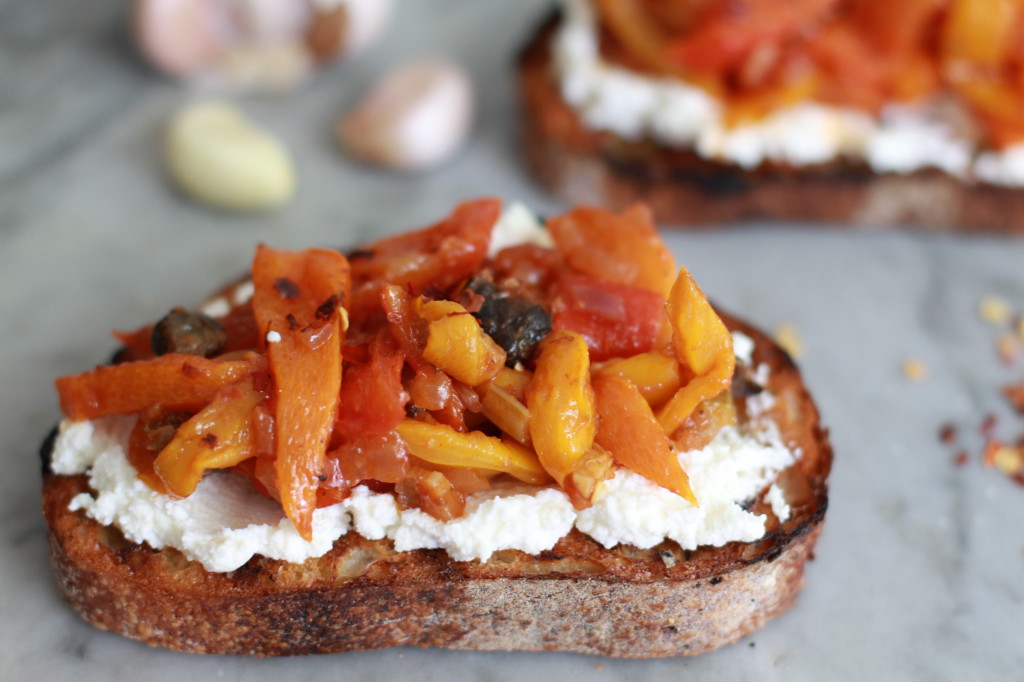 Gotta go and put on my sneakers.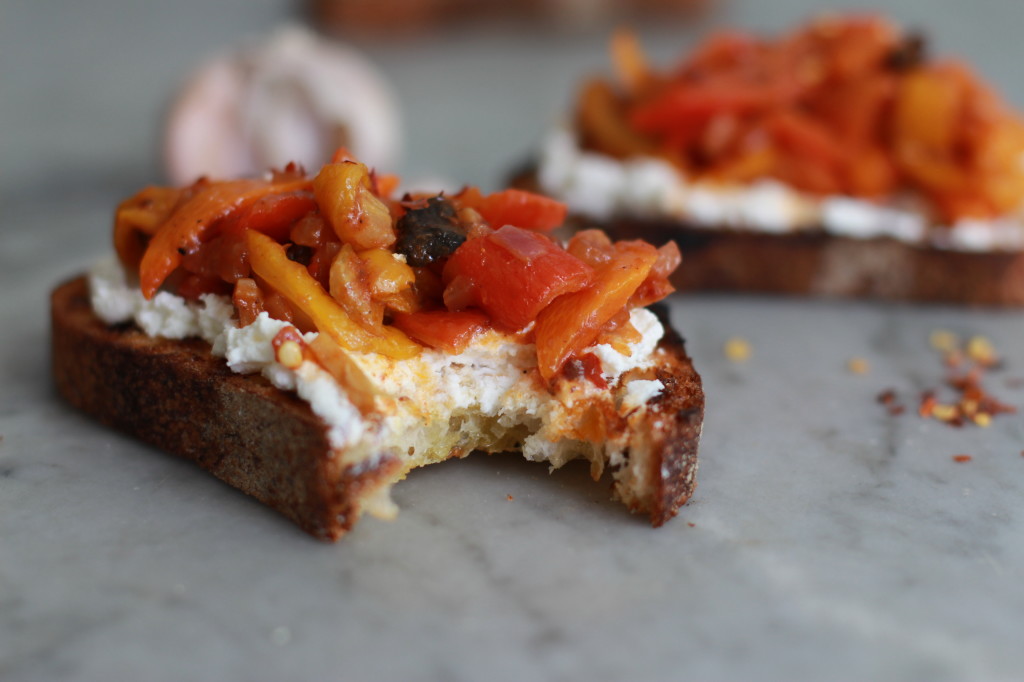 pepperonata with fresh ricotta
four slices of really good quality bread (I used Semifreddi's sourdough as it's my current favorite)
one whole garlic clove, peeled
a couple of glugs of really good quality olive oil
pepperonata, recipe follows
fresh ricotta, recipe follows
Preheat your grill.  While the grill heats, drizzle the slices of bread with olive oil.  Grill the bread on both sides until toasted.  Remove the toast from the grill and rub both sides with the whole garlic clove.  Top the toast with the fresh ricotta and pepperonata.  Eat and enjoy.  Then go put on your sneakers and get moving.
notes: Fresh goat's cheese or fresh mozzarella cheese can be used in place of the ricotta.  Or, if you are avoiding dairy, leave the cheese off and just enjoy the pepperonata on toast. 
pepperonata
recipe from  A16 Cookbook by Nate Appleman
2 red bell peppers
2 orange bell peppers
2 yellow bell peppers
1/4 cup olive oil
2 tbsp. salt packed capers, soaked, drained and dried
1 tbsp. tomato paste
1/4 cup diced red onion
1/4 cup diced fennel
1 tsp dried chili flakes
1/4 cup red wine vinegar
Roast bell peppers under a broiler until the skins blister and turn black.  Rotate peppers so that each side of the peppers are roasted.  Remove peppers from the broiler and place them in a heat proof bowl and cover tightly with plastic wrap.  Leave the peppers at room temperature until they are cool enough to handle.  Once they are cool, remove the skins and seeds from the peppers and cut the peppers into strips that are 1/4 inch wide.
In a medium sauté pan, heat the olive oil and add the capers.  Fry the capers until they bloom, then remove them with a slotted spoon, turning down the heat to medium.
Add the tomato paste, stirring constantly and cooking until the paste turns dark red, about two minutes.
Stir in onion, fennel, chili flakes and cook for about 5 minutes or until the fennel and onions are tender.
Deglaze the pan with the vinegar, stir in the peppers and the capers.  Cook until peppers are heated through, taste, and adjust seasoning as needed.
notes:  I added more chili flakes and vinegar to my version as I liked the conflicting hot-sour flavors that came out of this recipe.  However, if heat or sour flavors aren't your favorite, reduce the quantity in your version.
This would also be great on a hors d'oeurves platter, with hummus, or even as a spread on a sandwich. 
fresh ricotta
There are so many recipes online for making ricotta cheese, but I used this one from Bon Appetit magazine:
8 cups whole milk
1 tsp. kosher salt
3 tbsp. lemon juice
Line a colander with 3-4 layers of cheesecloth and set the colander in the sink.
Over medium to high heat, bring the milk and salt to a simmer.  Stir in the lemon juice and let simmer until curds form, about 2 minutes.
With a slotted spoon, scoop the curds from the pan and put in the colander.  Let the curds drain for a few minutes, then gently twist the cheesecloth around the curds to release a bit more of the liquid.
Place the colander with the cheesecloth and curds into a bowl to catch the liquid.  Cover tightly with plastic wrap.  Place everything in the fridge to chill until cold, about 3 hours.
notes: This is best eaten the day it is made.  But unless you can really eat almost 2 cups of ricotta cheese in one sitting, keep the cheese wrapped tightly and chilled – it will be good for three days.