Well, this recipe was a happy accident and I'm really happy to have such a delicious accident to share it with you today!!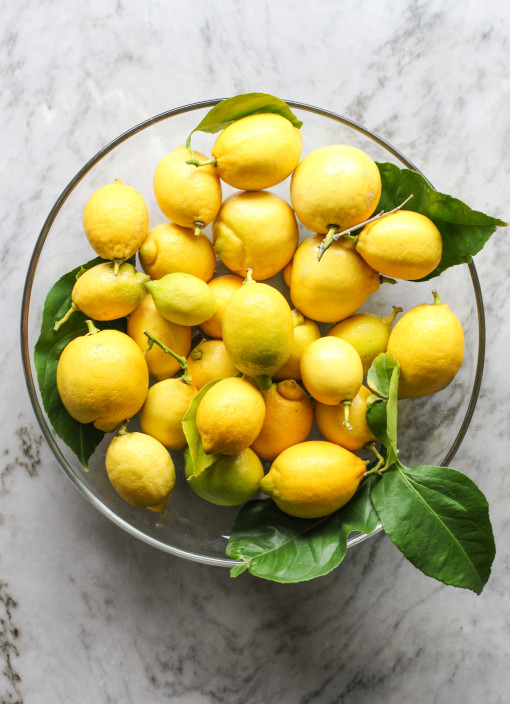 The kiddos and I are still pulling lemons off of our lemon tree, and just yesterday we pulled off another 5 gallon bucketful.  We took turns using the fruit plucker-grabby-thing (that's not it's professional name but one that fits) and tossing the lemons into the bucket one at a time and then again if we missed.  It was really lots of fun and it filled the day with giggles and many repetitions of "mommy, look at me!!!" as lemons were pulled, yanked, dropped and then tossed.
Those poor lemons.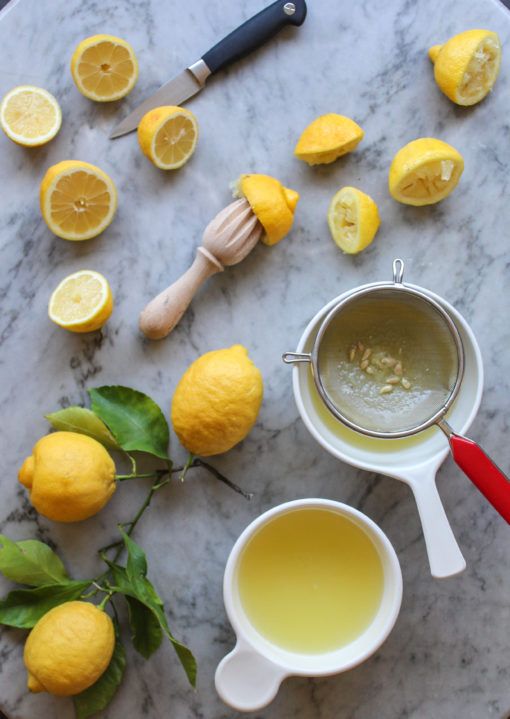 But at the end of the day I had more lemons than I knew what to do with and after making another batch of preserved lemons, a big jar of lemon vinaigrette for our weekly dose of salad bowls, a lemon tahini sauce (because, can you ever really have enough??), AND some strawberry lemonade – well, there was still an almost full bucket of lemons sitting there staring at me.
So dessert it was.  A lemon meringue pie or tart – with crispy crust and layers upon layers of creamy toasted meringue sitting on top of a sweet/tart lemon base, just waiting for someone (me) to stick a fork in it and take a big bite.  Mmmmmm….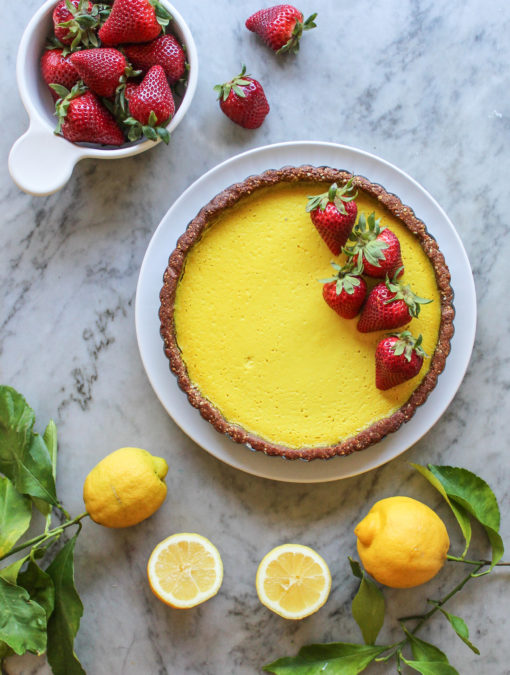 Off I went, making a crust, wrapping it and placing it into the fridge for chilling.  Then turned around to start the lemon pie filling…lemon juice – check…sugar – check….butter – uh….butter??  Turns out I had used all the butter for the crust.  Wah – wah.
Dang.  Well, I still had about 8 cups of freshly squeezed lemon juice dying for a home so I did like any good lemon wrangler would do, I called on my friend Google and set out to find how to make a lemon tart without any butter.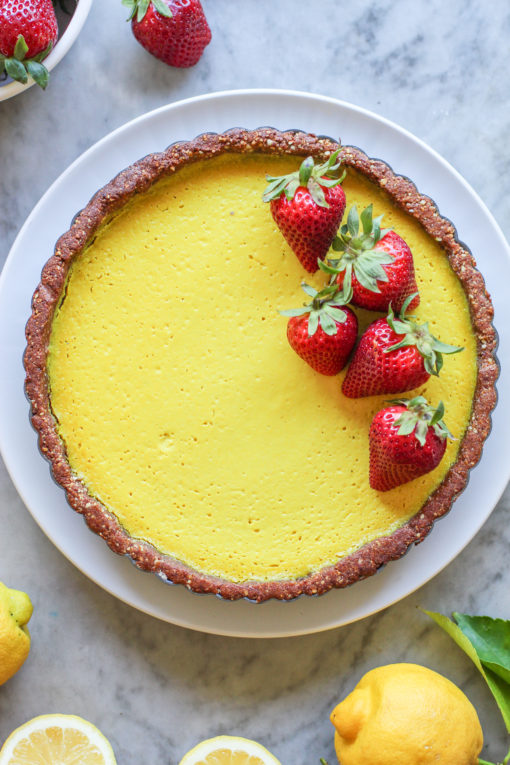 I know.  But bear with me.  I had seen and actually follow a lot of vegan food bloggers and vegan chefs out in the universe and I had seen quite a few vegan lemon tarts floating around out there.
But had I ever attempted to make one myself?  Much less actually eat one?
Uh, no.
Until today.
Today – when after reaching for the butter and coming up empty handed – I found a need for a non-dairy, refined sugar free and gluten free dessert made with all the lemons I could possibly stuff into a tart shell and call it dessert.
Let me tell you right now, it was AMAZING!!
It WAS amazing because we ate it all!
The kiddos jumped on it, even the butter-loving daddy ate more than his fair share (a-hem) and I couldn't wait yo get to the computer and to share this recipe with you as well.
And, in case you have any food sensitivities or food allergies in your family or group of friends, this is a great dessert to share with those and those without allergies – delicious as is, or topped with fresh strawberries or blueberries – it is a great guilt free dessert that anyone can enjoy.
XO,
Jenn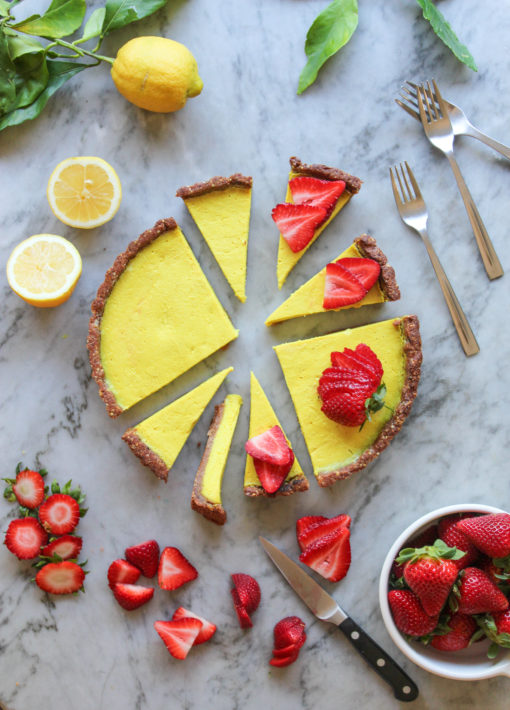 vegan lemon tart with almond crust
vegan lemon tart filling recipe from minimalist baker
For the crust:
1 1/2 cup raisins
1 cup whole almonds, roasted
1 cup almond meal
2 tsp cinnamon
In a food processor, process the raisins until they have broken down into a paste.  Add the almonds, almond meal and cinnamon and process until the mixture is crumbly and sticks together when pressed with your fingers.
Press the mixture into the bottom of a 9 inch tart pan.  Set the tart pan in the refrigerator to chill while you prepare the filling.
For the filling:
1 cup raw cashews
1 cup coconut cream* (the hardened portion at the top of full fat coconut milk)
2 tablespoon cornstarch
1/2 cup lemon juice
1 heaping tablespoon lemon zest
one pinch salt
1/4 cup maple syrup, plus more to taste
1-2 teaspoons turmeric for coloring (optional)
Add raw cashews to a mixing bowl and cover with boiling hot water. Let rest for 1 hour (uncovered), then drain thoroughly.
Prepare crust as directions instruct.  Spray nonstick spray into 9 inch tart pan with removable bottom.  Press almond tart into the pan, working up the sides and making everything as even as possible.  Preheat your oven to 350 degrees and place the tart pan on top of a rimmed baking sheet lined with parchment paper.  Bake the crust for 20 – 25 minutes, until the edges are golden brown.  Remove from the oven to cool while you prepare the filling.
Once the cashews are soaked and drained, add to a high speed blender with coconut cream, cornstarch, lemon juice, lemon zest, salt, maple syrup and turmeric, if using.  Mix on high until very creamy and smooth.
Taste and adjust flavor as needed.  It should be very lemony, and not overly sweet.
Pour filling over the pre-baked crust and spread into an even layer. Tap on counter to remove any air bubbles.
Bake for 20-25 minutes or until the edges look very slightly dry and the center appears "giggly" but not liquidy.
Let rest for 10 minutes, then transfer to refrigerator to let cool completely (uncovered) – at least 4 hours, preferably overnight.
To serve, slice and add sliced strawberries or fresh blueberries to the top.  Store leftovers in the refrigerator, covered, up to 4 days, though best within the first 2 days.
my notes: This tart is best eaten the day it is made.  Although it still tastes amazing, the crunchy texture of the crust is lost once it has been refrigerated overnight.