Well, it seems that summer is here.  Not surea bout your neck of the woods, but our summer pretty much kicked in the door and started taking names.  It's been hot – like a kind of heat that makes you sweat in places you rather not mention and finds one standing in front of the fridge with the door wide open, taking my dang time looking for the strawberries that are sitting right in front of my face.
Seriously.  It's hot.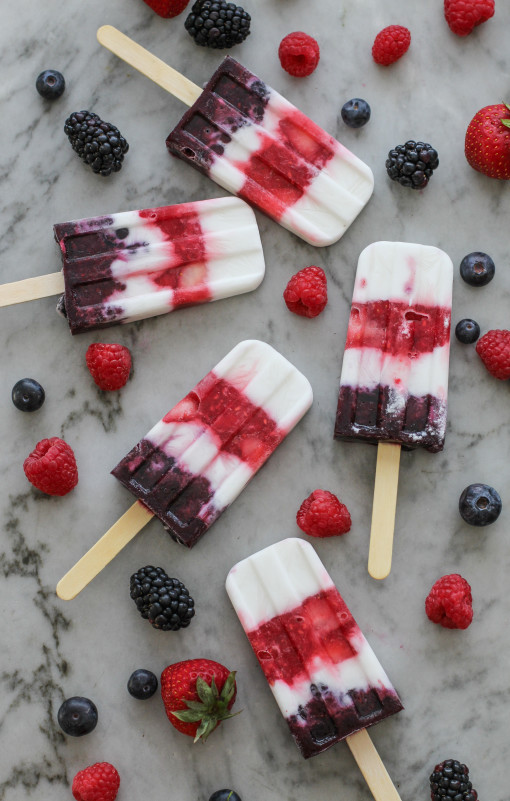 So in an effort to beat the heat, there's been lots of swimming and lots and lots of popsicles – like these you see here…yum, right?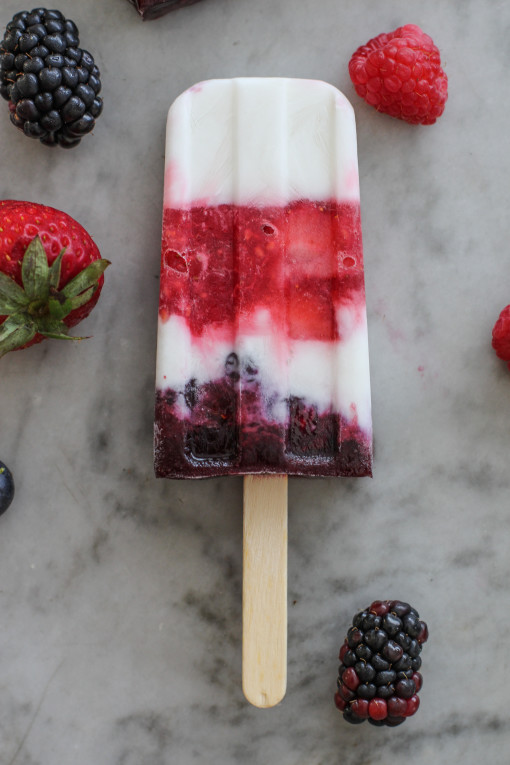 At the beginning of this heat wave, I found myself standing in the grocery store looking at the back of a package of popsicles.  They were labeled "100% fruit" and sounded really healthy…until I read the ingredient list and whoa – the sugar content alone was so high that and put them back into the freezer and promptly went home and ordered a popsicle mold.
I mean, why not make my own and make them with ingredients I know are healthy?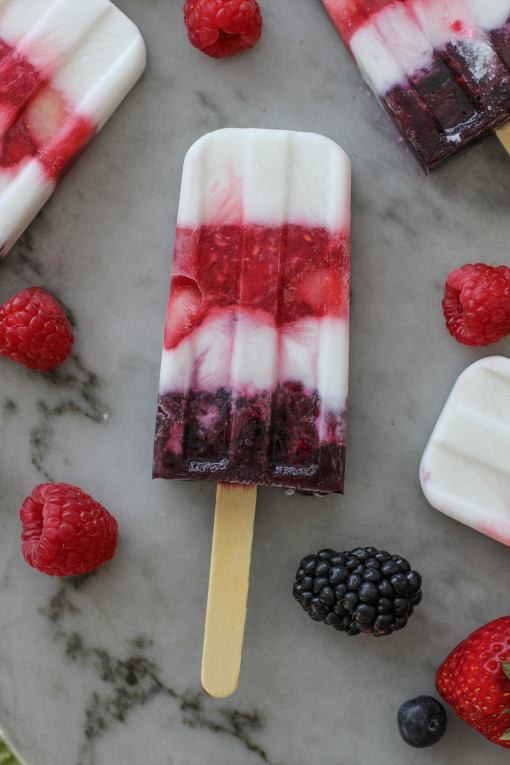 So I did just that.
The first batch of popsicles I made was just with sliced kiwi and coconut water.  They were so refreshing and they were also gone in about 5 minutes.  The family came out in droves.
It could have been because they got to stand in front of the open freezer for a minute in the heat – but I'm pretty sure they just loved eating popsicles because when I made these summer berry popsicles they got the same treatment.  There was even a little bargaining between the daddy and the Avery as to who got the last one (they shared of course.) 
These summer berry popsicles are just coconut milk and berries.  You can add a touch of honey if you don't like a big bite of frozen coconut milk (noted in recipe) or you can do what I did and let the sweet summer berries speak for themselves.   Freeze it in layers, mix everything together, use just your favorite berry instead of the four – it's your summer, make whatever works for you!
xo,
Jenn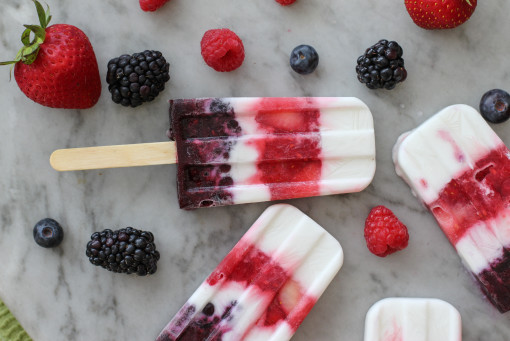 summer berry popsicles
makes six-eight popsicles
1 can unsweetened coconut milk
2 tablespoons maple syrup, optional
1 pint raspberries
1 pint strawberries
1 pint blueberries
1 pint blackberries
In a small bowl, whisk the coconut milk to blend the solid and the liquid.  If using the maple syrup, add it to the coconut milk and whisk to combine.  Set aside.
Wash all the berries.
Starting with the strawberries – place them onto a cutting board then hull them, give them a rough chop and place them into a medium sized bowl.  Place the raspberries onto the cutting board, roughly chop them, and place them into the same bowl with the strawberries.  Stir to combine.
Continue with the blackberries – place them on the cutting board, give them a rough chop and place them into a separate medium sized bowl.  Roughly chop the blueberries and place them in the bowl with the blackberries, stirring to combine.
(At this point, you can leave the berries as they are – sightly chunky with good bits of berry – or you can mash them a bit to make a more smashed berry layer for your popsicles.  Totally up to you!!)
To assemble: Pour a bit of the coconut milk into each of the popsicle molds, about 1/8 of an inch high.  Place the mold into the freezer for 30 minutes to allow the coconut milk to completely solidify.  After the 30 minutes has elapsed, pour a bit of the strawberry/raspberry mixture into each of the popsicle molds, about 1/8 of an inch high.  Place the mold into the freezer for 30 minutes to allow the strawberry layer to completely solidify.  Repeat these steps with another layer of coconut milk and a layer of blackberry/blueberry mixture.
After you fill the molds with the blackberry layer, place a popsicle stick into each mold and place everything into the freezer for at least a good hour to completely freeze solid then enjoy!
my notes: If you don't want dedicated lines to each popsicle, you can skip each step in the freezer and just pour coconut milk/strawberry/blackberry in any order and mix everything together.  Play with the recipe and do what you like best!