We spent another morning digging in the dirt.  Well, I was digging at least.  Avery decided to use his water hose for evil and made a giant (GIANT!!) mud puddle in the newly dug dirt and then proceeded to jump, flop and kick his way to mud puddle heaven.  It was too funny to say anything negative – plus, how many adults do you know that will just flop in the mud and wriggle around like nobody's business?  Guess you gotta get it in before you grow up.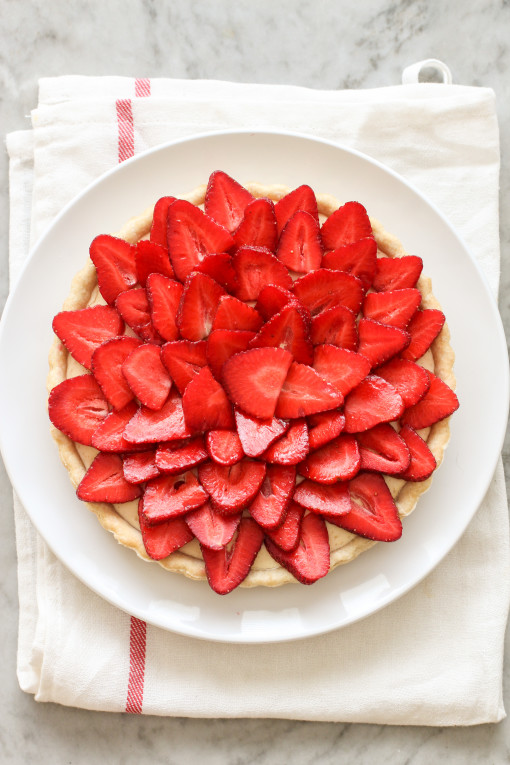 After flopping around in the mud, Avery was promptly rinsed off and set free to run and play with the neighbor.  I think I mentioned to you before how amazing our luck was to (1) buy this house in this crazy market and (2) land the best neighbors ever.  And I mean EVER.  Not only are the adults in the house awesome, but they have a little boy the same age as Avery and they have become fast friends – both waking up and immediately looking for the other like some sort of non-twin twin-ness that I've never witnessed before.  They run between both the houses, grabbing snacks, grabbing a kite, grabbing a kiss – and then tear outside screaming and laughing and racing each other to whatever is next on the daily exploration menu.
It is adorable.  And heart-warming.  And amazing.
I love them both so dearly.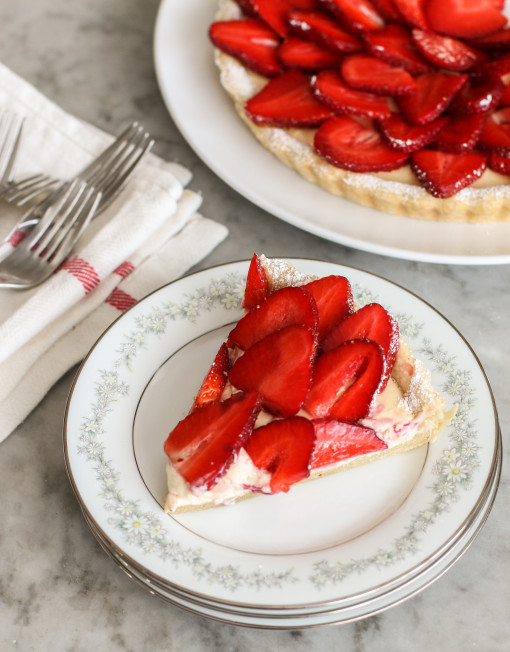 A couple of weekends ago when these two were terrorizing the cul-de-sac and running in and out of our houses, I was making this tart.  Quietly minding my business in the kitchen while the baby slept, dusting flour and rolling out dough when I was greeted with a banging screen door and a "Avery's Mommy? Can we have some juice?"  Juice poured and out the door they ran.
During the baking process I heard from the backyard, "No, that's not how the bugs do it, they do it like this!"  Laughing to myself and wondering, "how do the bugs do what?"  Maybe it's better not to ask.
And then came the topping – slicing the strawberries and trying to keep my stash protected when all of a sudden four little hands came grabbing all over the counter – strawberry juice running down their little boy faces, sticky smiles, red fingers and out the door they went again.
Strawberry stash still intact.
Memories made.
Tart recipe below.
xo,
Jenn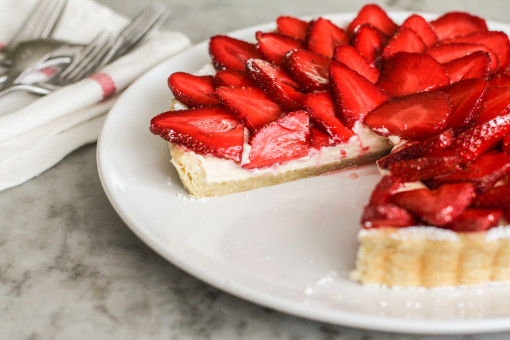 blah
strawberry cheesecake tart
makes on 9-inch tart
recipe adapted loosely from baked by Rachel
1 pie crust dough
8 ounces cream cheese, softened
3 tablespoons agave nectar
2 tablespoons heavy cream or milk
1/2 teaspoon vanilla extract
1 egg
12 ounces strawberries, washed, hulled and sliced
Preheat oven to 350 degrees.  Lightly spray non-stick cooking spray into a 9 inch tart pan with a removable bottom.  Roll out the pie crust to fit the pan.  Press the down into the pan, using a fork to prick the entire surface of the dough.  Bake for  30-35 minutes or until the crust is lightly golden brown.
Meanwhile, in a large bowl, beat the cream cheese until completely smooth.  Mix in the sugar, salt and vanilla, followed by the heavy cream.  Finally mix in the egg, beating only until batter is just combined.
Remove the crust from the oven and reduce oven temperature to 325 degrees.
Spread the filling into an even layer in the prebaked crust and bake for 20 minutes, or until the center is just set.
Cool on a wire rack until the cheesecake is room temperature.  Transfer to the refrigerator to chill completely.  Top the tart with strawberries – laying one slice next to the other on the edge of the crust, and then slowly layering one slice on top of the next in a circular pattern.
Serve immediately or keep in the refrigerator for up to five days.  (Long term storage might make the strawberries discolor the crust and cheesecake filling.)