I wish I had some funny story to share with you this week, but we've been pretty "status quo" over here.
Everyday finds us enjoying the summer weather and summer break – grilling and chilling, staying up late to howl at the moon, jumping in the pool and through the sprinkler, rubbing so much sunscreen on ourselves that we should probably buy stock in it, and eating as many tasty frozen treats that we can get our hands on.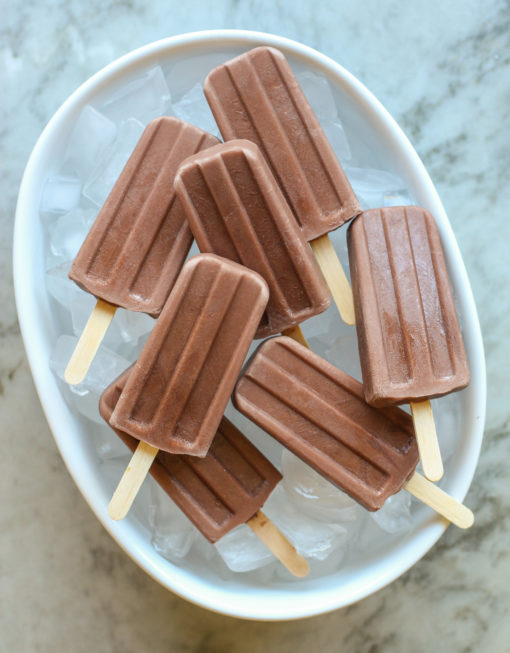 That last part though – tasty frozen treats – it's why I'm here today.
Specifically, I'm here for the fudgesicles.
Creamy, fudgy, frozen, tasty treats.  They are everything you want (and dream of) on a warm summer day.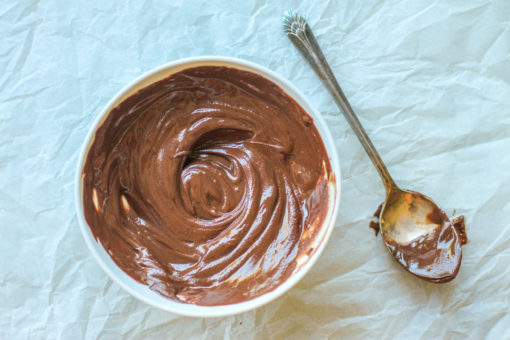 I had a few followers while I was recipe testing these bad boys.
For three days in a row I heard things like – Hi honey, did you make those fudgesicles yet?  Um, hey, you look nice…are there any fudgesicles you want me to try for you?  And even….Mommy, hand over the fudgesicles and no one will get hurt!!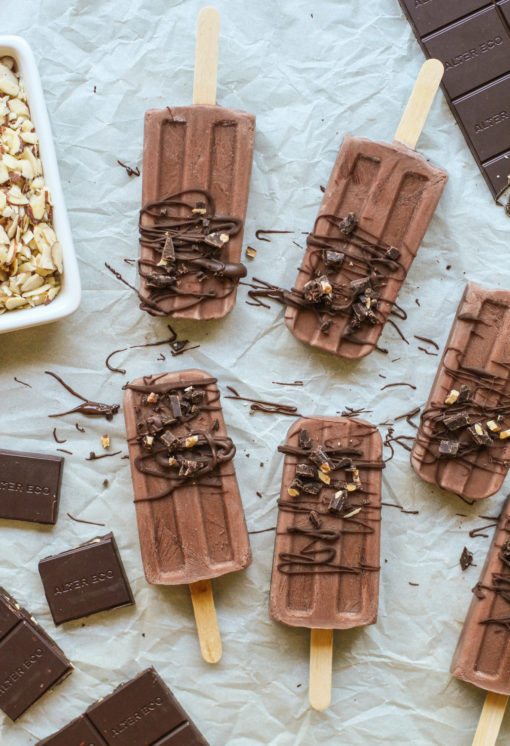 Seriously.  It was almost worth keeping the suspense building so I could see what funny sayings these monkeys would come up with!!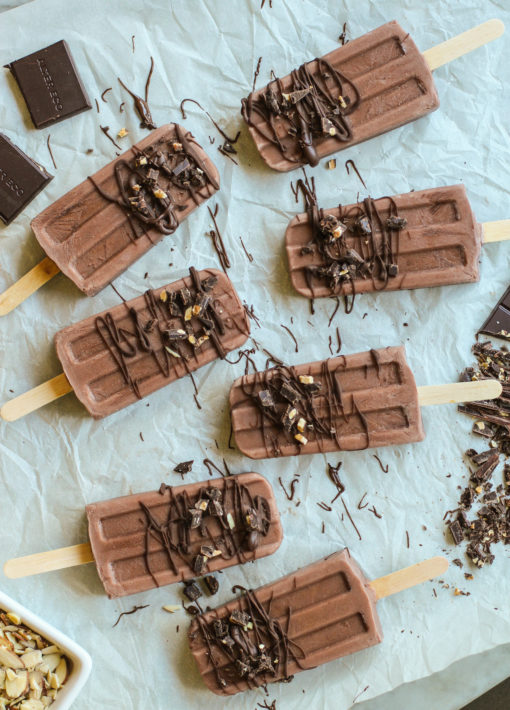 But let's wait no longer!!  These vegan fudgesicles are made by whisking creamy coconut milk and fresh almond milk together with some maple syrup and cocoa powder, and then the mixture is poured into some popsicle molds and placed into the freezer until frozen.
Easy breezy popsicle freeze-y!!!
Looks like those monkeys are rubbing off on me!! haha!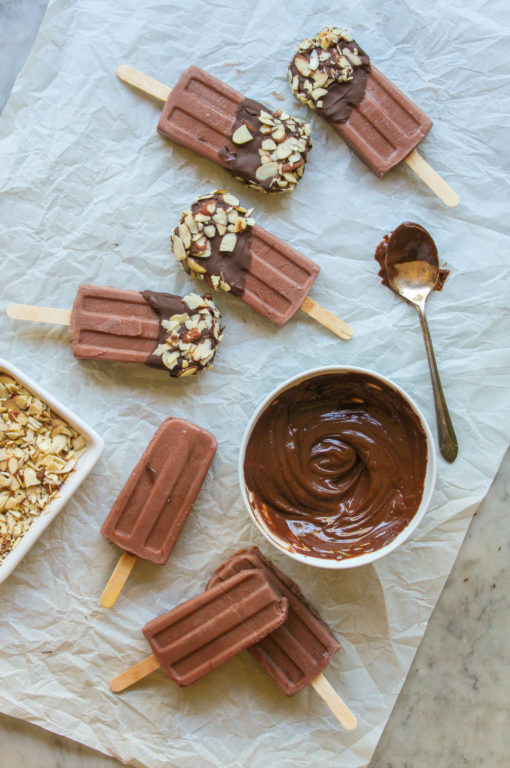 You can pop them out and eat as is – the fudgesicles we all know and love.  Or you can jazz these up with a drizzle of chocolate and some chopped salted almond dark chocolate.  Orrrrrrr, you could make a chocolate magic shell – you know that hardened chocolate shell that you can pour over ice cream and then bite through and drift off into your happy place???
Yea, that.  Yummmmm…..
All the options for your ultimate dreamy fudgesicle are below in the recipe section and I hope you can enjoy these at least once this summer.
But do be warned – making these fudgesicles will bring out all the little monkeys in your house!!
XO,
Jenn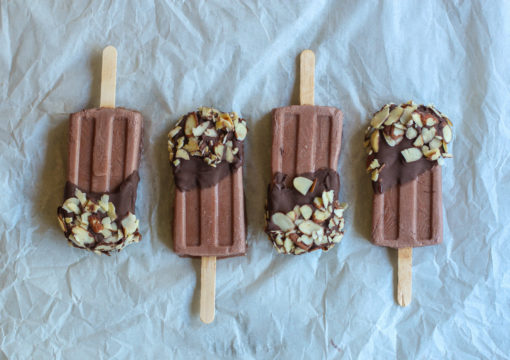 homemade fudgesicles
makes 10 popsicles
1 15 oz can coconut milk
1/3 cup cocoa powder
1 cup almond milk
1/3 cup maple syrup
1 cup chopped dark chocolate
1 tablespoon coconut oil (or olive oil)
sliced almonds
Place all ingredients into a medium size bowl and whisk to combine completely.
Pour the mixture into your popsicle mold (I use this mold and I love it!!) and place one popsicle stick into each mold.  Place the mold into the freezer until completely frozen – about 8 hours or overnight.
When you are ready to dip your popsicles into the magic shell, combine the chopped dark chocolate and coconut oil together in a heat proof bowl.  Microwave the chocolate mixture in 30 second increments until it is melted.  Stir to combine.
Quickly dip your popsicle into the chocolate, forming a shell, and dip it into the sliced almonds.  Alternatively, drizzle the popsicle with the melted chocolate and then top it with chopped chocolate pieces.  Place the popsicle back into the freezer until you are ready to eat it.