Last month the hubby and I decided to get "healthy."
It's not that we were "unhealthy" but we certainly were not paying attention to what we were putting in our mouths.  The cheese drawer was always full of yummy new cheeses to try, a moist and flavorful rosemary cornbread (with butter – duh – like there's any other way) seemed to grace our table about once a week, and the adult beverages seemed to be flowing nightly.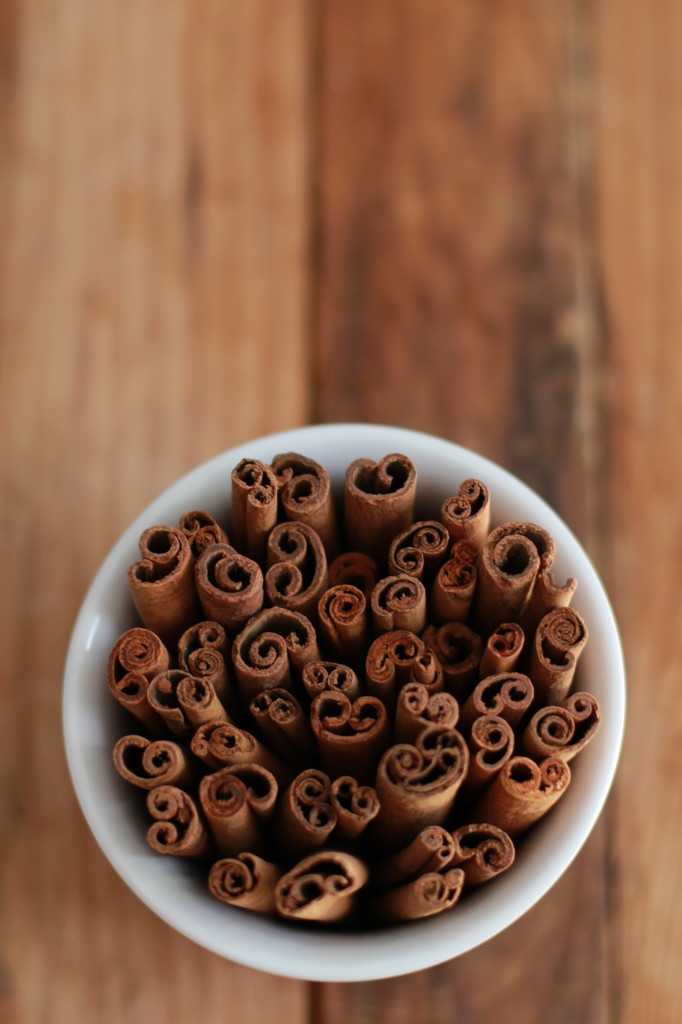 Well, the first step was to cut out the adult beverages.  And as much as that cabernet was missed at first, now it's just a memory.  A fond memory, don't get me wrong.  I think of it often and usually when my day has been more than a little stressful.  But that was the first step.
No more drinky-poos.
Poo.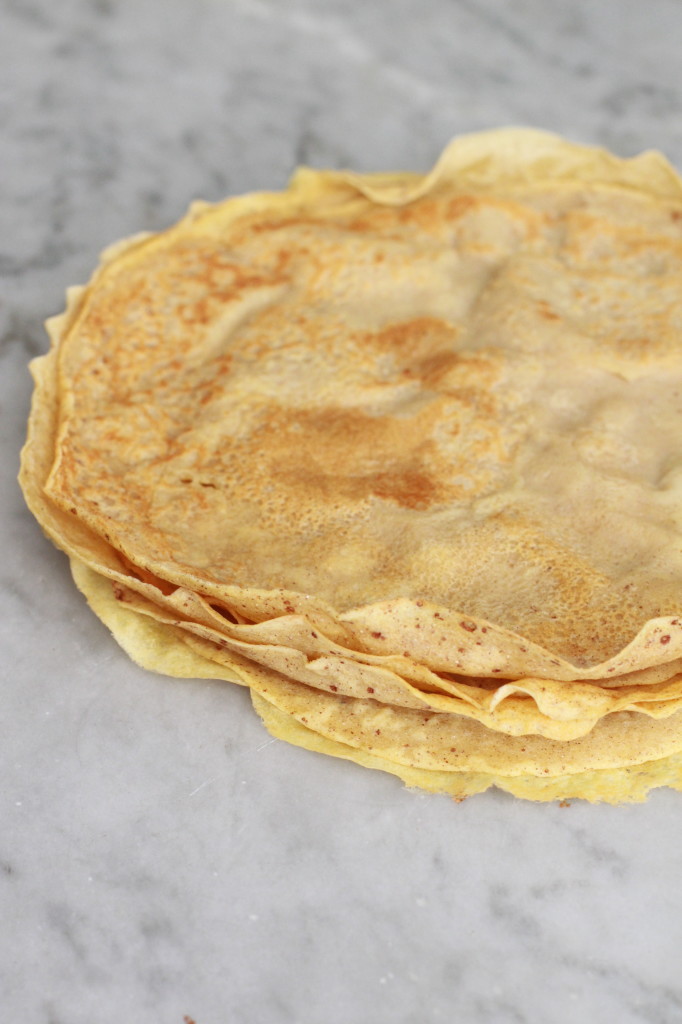 During the first phase of the get healthy plan, we could still eat whatever we wanted, with the emphasis on getting healthy.  The cheese drawer was still available yet the cheeses became lower fat.  And the cornbread was still eaten, but only twice.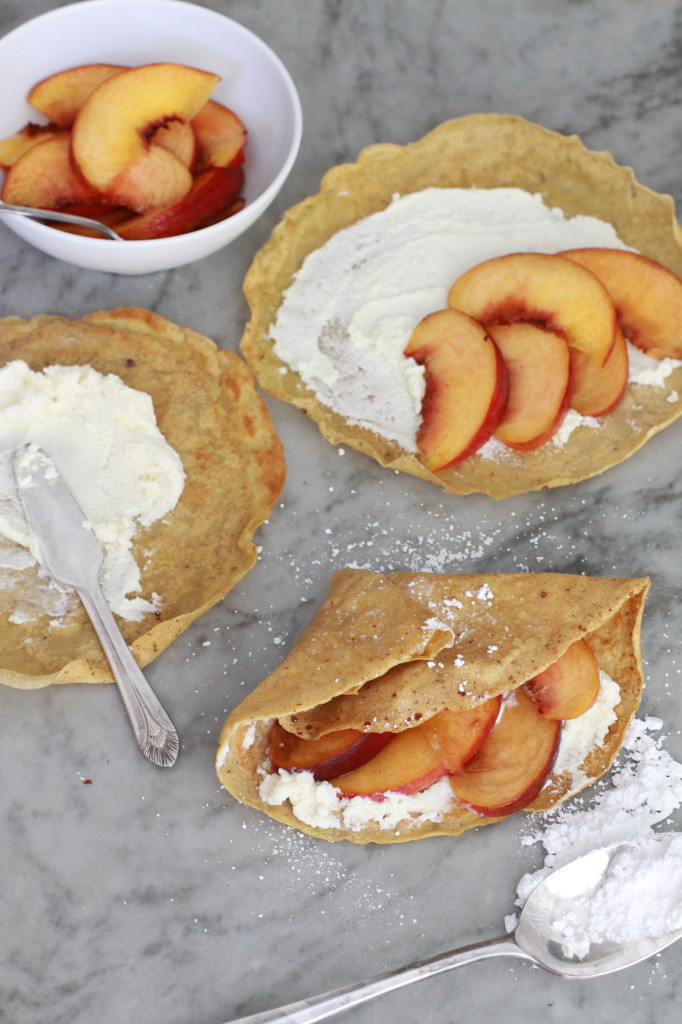 And interesting enough, desserts seemed to be the focus during this phase, which is strange because neither of us really even like dessert.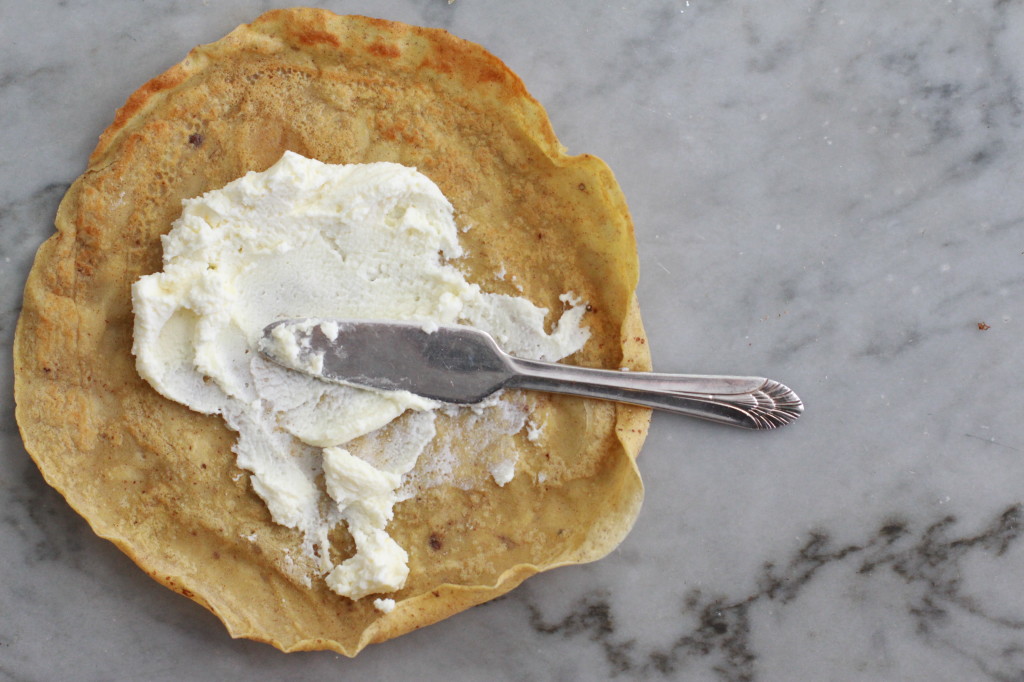 What?  Who doesn't like dessert??
Well, we like dessert, we just don't crave it or eat it very frequently.  Basically we are birthday cake people and that's about it.  (Oh, and the super dark chocolate bars that are sprinkled in here and there...)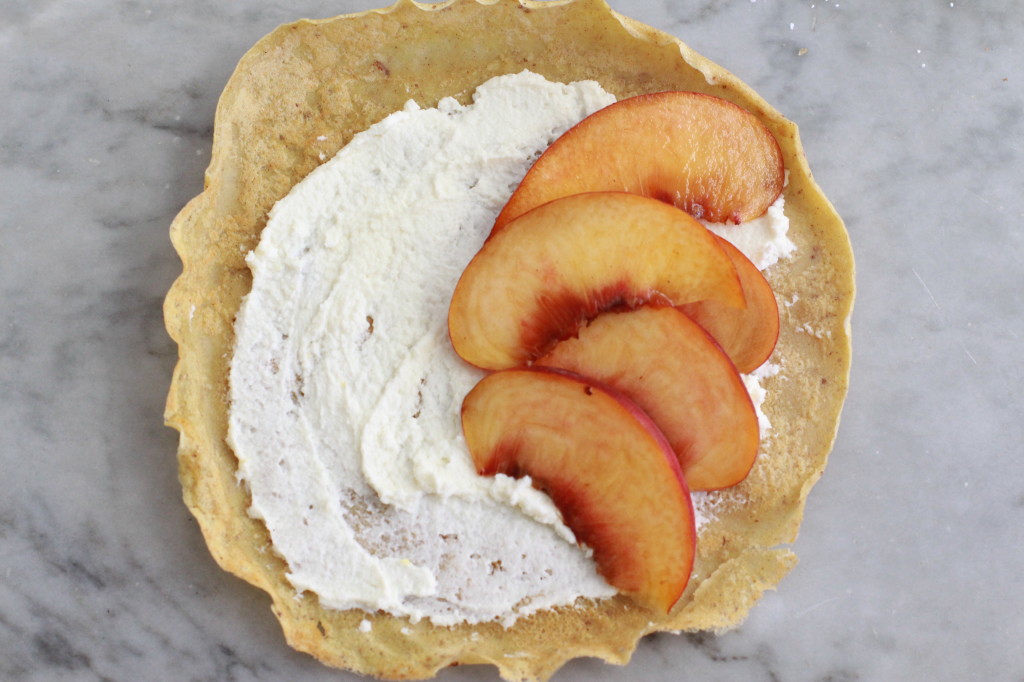 So here's a "get healthy" dessert.  Or at least a dessert that is using up the remaining ricotta cheese I made for this post and balances the decadence with vegan crepes dusted with cinnamon and layered with fresh peaches.  Because phase two is where things are going to get really healthy.  Do you hear me cheese drawer and cornbread?  I'm talking to you.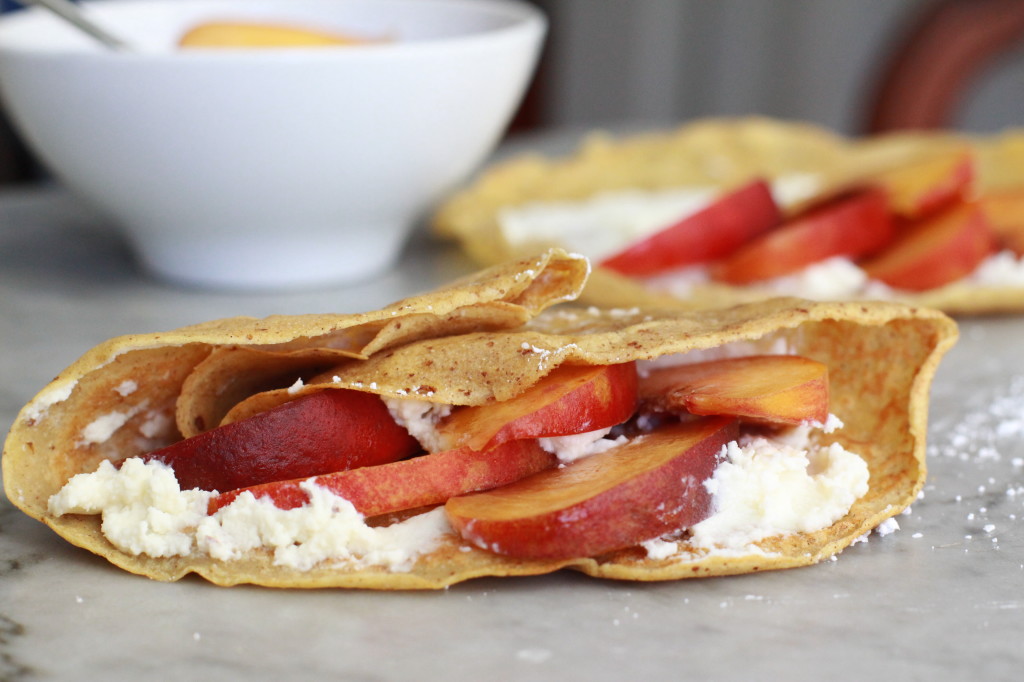 cinnamon crepes with peaches and cream
recipe inspired by this post on como come cami
1 cup chickpea flour
1 1/2 cups water
2 tsp cinnamon
2 medium peaches, sliced
2 cups ricotta cheese
1/4 cup powdered sugar
1 tsp vanilla extract
zest of half of a lemon
for the crepes:
In a bowl, stir together the chickpea flour and water.  Cover and let sit for at least 8 hours or overnight so that the flour absorbs all of the water.
When you are ready to make your crepes, heat a nonstick pan over medium-high heat.  Spray with non-stick spray and pour the batter into the middle of the pan.  Immediately swirl your pan to get the desired size of crepe and place the pan back on the heat.  Turn the crepe over once you can see that it is set  and there are small bubbles along the edge of the crepe.  The crepe is finished cooking on the second side once you are able to move the pan around and the crepe does not stick to the pan.
for the cream:
In a mixer with the paddle attachment, beat the ricotta cheese, powdered sugar, lemon zest and vanilla extract.
assembly:
Spread about 1/4 cup of the ricotta mixture onto one crepe.  Layer the peaches over half of the crepe, fold, and sprinkle with more powdered sugar if desired.
notes:
The crepe recipe makes about five 8-inch crepes or ten 4-inch crepes.  I used a 1/4 cup measure to make the 8-inch crepes and a 1/8 cup measure to make the 4-inch crepes. The crepes can be made the day before you want to eat them, just wrap them tightly in plastic and keep them refrigerated.  Any fruit can be substituted for the peaches.  If you don't have ricotta, mascarpone, or even cream cheese would be perfect in this recipe.  And, if you want to make this dish completely vegan, replace the cream above with the coconut cream recipe from this post.