I picked my daughter up from preschool yesterday and after giving each other big hugs and exchanging "I missed you more's" – after three hours apart – I asked her if she wanted to make a cake when we got home.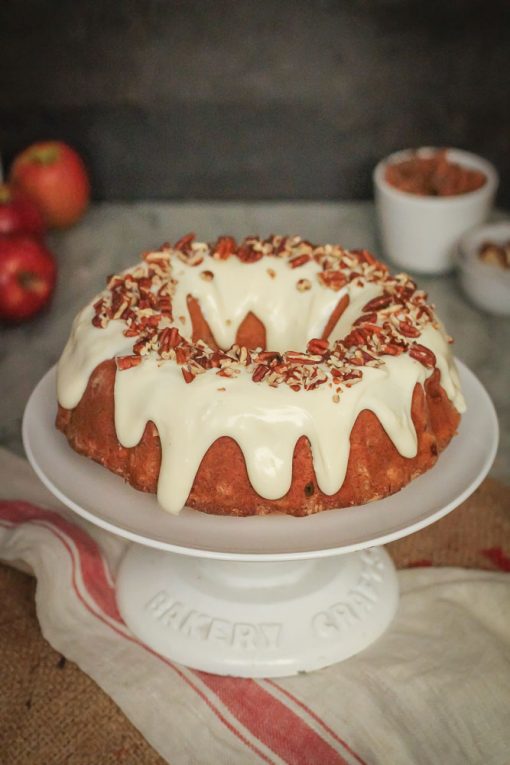 Of course, being my child, she immediately answered "YESSSSS!" And then asked, "Can we have sprinkles? Pink sprinkles?" And then I spent the entire ride home trying to explain to her that there are different cakes than birthday cakes but the whole conversation was lost on her because -> sprinkles <- and she's three.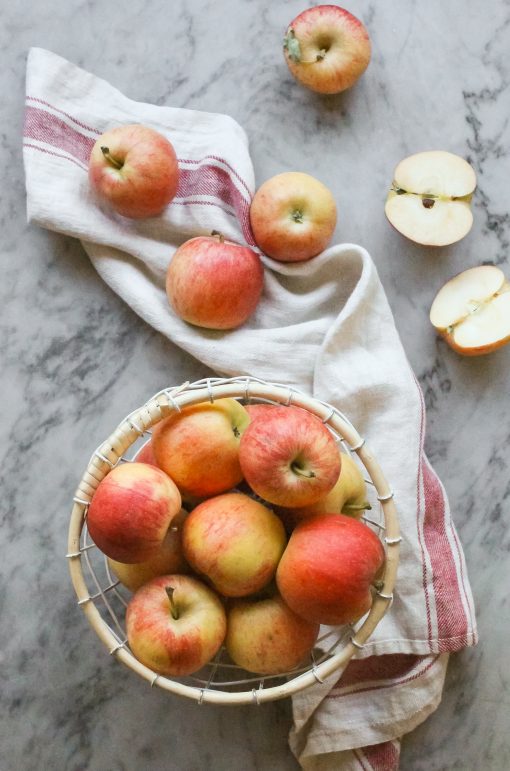 So we cranked the oven AND the air conditioner (it was 93 today and it's going to be 95 tomorrow!!) and whipped up this cinnamon apple bundt cake with vanilla bean glaze and toasted pecans . My daughter was super excited about the whole process until the toasted pecans were ready to put over the top instead of sprinkles. She even pointed out that we have not one or two but eleven (!!) different kinds of sprinkles and followed that up with "why, mommy, why, why why!!"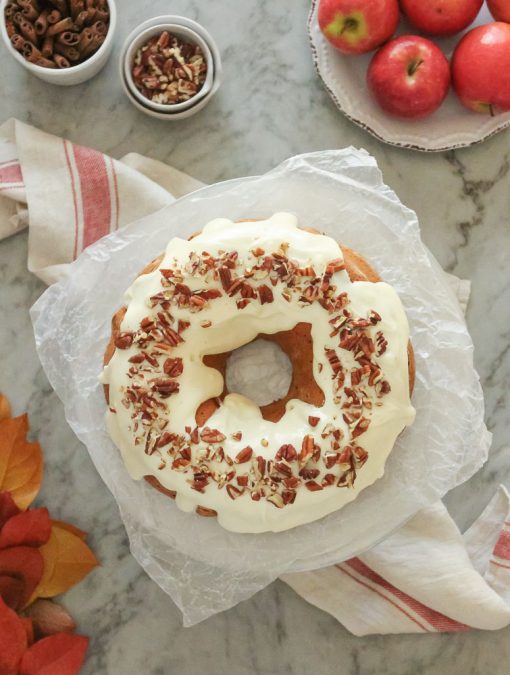 After negotiating time to take multiple pictures of the pecan-topped cake, interrupted by me feeding her younger brother, and then picking up her old brother from school – my darling, and very patient daughter, got a slice of cake – with the pecans picked off, and pink and red sprinkles added – because that's just how a three year old rolls, and how much her mama loves her.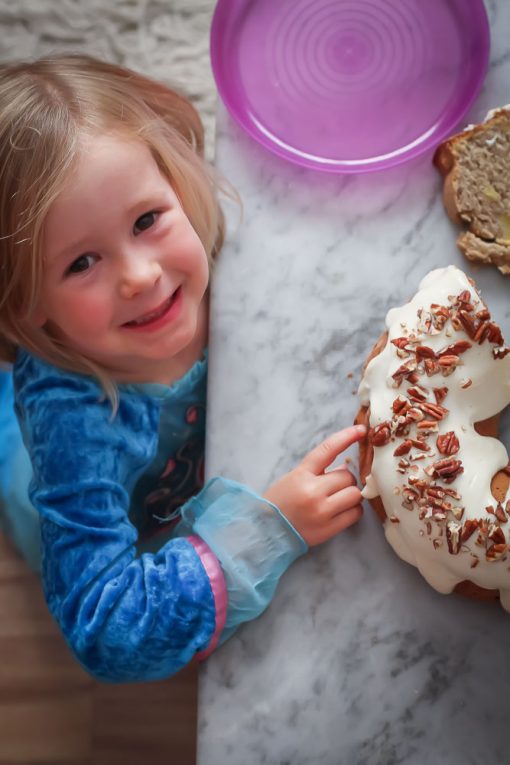 Highly recommend making this delicious cake – with or without sprinkles – for someone you love this week!!
XO,
Jenn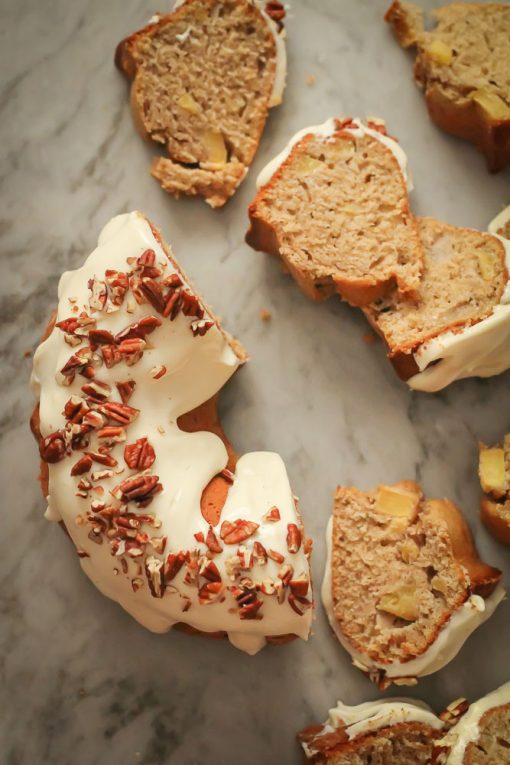 cinnamon apple bundt cake
recipe from the kitchn
Serves 12 to 16
For the cake:
1 tablespoon unsalted butter, at room temperature, for greasing
3 cups all-purpose flour, plus 2 tablespoons for the pan
1 cup granulated sugar
1/2 cup packed light or dark brown sugar
1 tablespoon ground cinnamon
1 1/2 teaspoons baking powder
3/4 teaspoon kosher salt
1 cup milk or alternative milk
3/4 cup canola oil, or 12 tablespoons (1 1/2 sticks) unsalted butter, melted and cooled
4 large eggs
1 teaspoon pure vanilla extract
4 medium apples, such as Granny Smith or Honeycrisp, peeled, cored, and chopped into 1/2-inch pieces
For the glaze:
4 ounces cream cheese, at room temperature
1 cup powdered sugar
2 tablespoons milk or alternative milk
1/2 teaspoon pure vanilla extract
1/4 cup chopped pecans or walnuts, toasted (optional)
Make the cake:
Arrange a rack in the middle of the oven and heat to 350°F. Generously coat a 12-cup Bundt pan with 1 tablespoon of butter. Dust with the 2 tablespoons of flour and tap out any excess; set aside.
Place the remaining 3 cups flour, granulated sugar, brown sugar, cinnamon, baking powder, and salt in a large bowl or in the bowl of a stand mixer fitted with the paddle attachment and beat or whisk to combine. Add the milk, oil or butter, eggs, and vanilla and beat with an electric hand mixer or in the stand mixer on medium speed until smooth, 1 to 1 1/2 minutes. Fold in the apples with a rubber spatula.
Pour the batter into the prepared pan. Bake until the cake is lightly browned, springs back when lightly pressed with a finger, and a tester inserted in the center comes out clean, 45 to 50 minutes.
Cool on a wire rack for 15 minutes. Run a knife around the pan to loosen the cake and flip it out of the pan onto a wire rack. Cool completely before glazing.
Make the glaze:
Place the cream cheese in a stand mixer fitted with the paddle attachment. (Alternatively, use an electric hand mixer, small food processor, or sturdy whisk). Beat on medium speed until light and fluffy, 1 to 2 minutes. Reduce speed to low, gradually add the powdered sugar, and beat until combined, about 1 minute. Add the milk and vanilla and mix on low speed until smooth and creamy, about 15 seconds.
Pour the glaze over the cooled cake, making sure that the glaze drips down the sides of the cake. Finish with the chopped walnuts or pecans, if using.