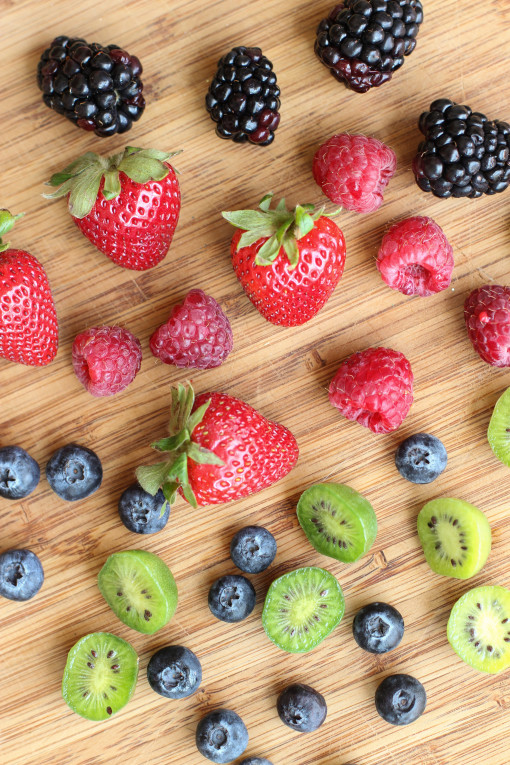 Okay friends, time for dessert.  Or breakfast.  What?  There is fruit in great quantities in this bowl.  Yes, the fruit is layered with crumbly buttery shortbread and creamy coconut milk but who doesn't like milk and cookies and fruit for breakfast?
That's what I thought.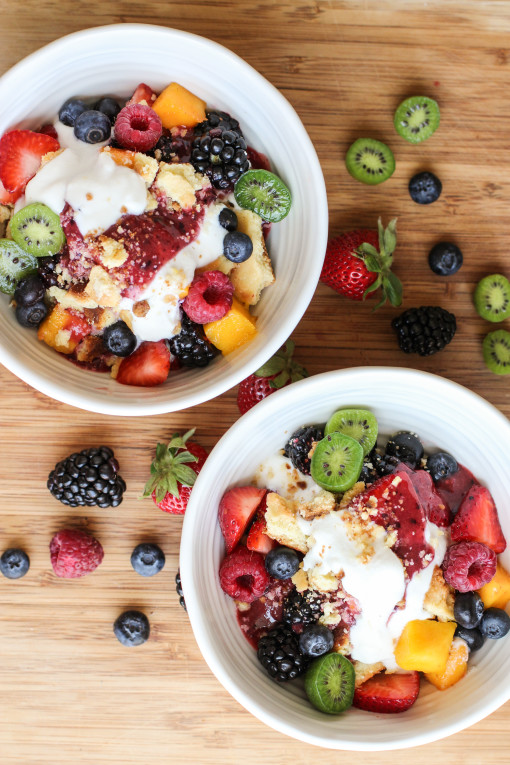 I've been craving fruit lately and since I saw this combo in an issue of Saveur Magazine some time ago, it has always been in the back of my brain, just waiting for the perfect moment.  And the moment is here.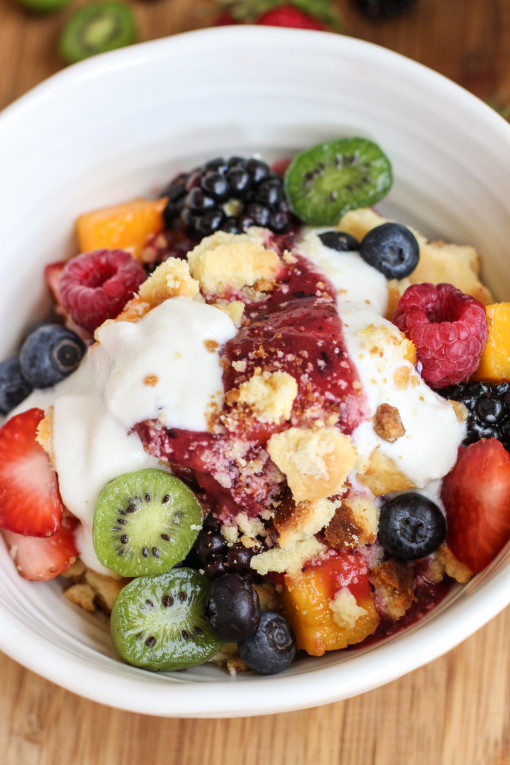 Fresh berries are mixed with tangy kiwi fruit and sweet mango chunks to form one of the amazing parts of this parfait.  There is also a rich berry sauce, and some fluffy whipped coconut cream.  And all of that is layered with crumbly, buttery shortbread cookies.
Y.U.M.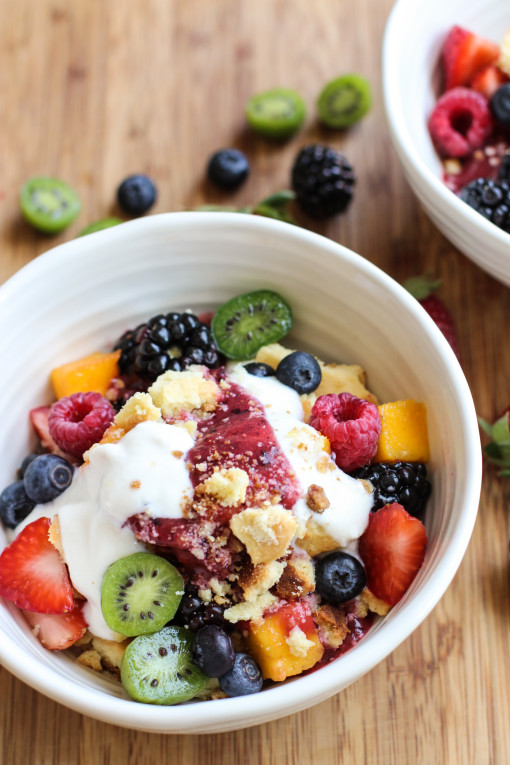 buttery shortbread and berry parfait
adapted from saveur
serves 4
8 oz strawberries, hulled and sliced
4 oz raspberries
4 oz blueberries
4 oz blackberries
2 oz kiwi berries, washed and cut into half
1 small mango, peeled and chopped
1 tablespoon agave nectar
1 tablespoon lemon juice
1 tablespoon lemon zest
1 tablespoon vanilla extract
1 1/4 cup all purpose flour
one pinch of kosher salt
1/4 cup sugar
8 tablespoons butter, softened
2 egg yolks
1 can of coconut cream
In a small bowl, add 1/2 cup strawberries, 1 tablespoon agave nectar, 1 teaspoon lemon juice and 1 teaspoon vanilla extract in a bowl and stir together.  Set aside.
Heat oven to 400 degrees.  Whisk flour and salt in a bowl and set aside.  In a stand mixer fitted with the paddle attachment, beat 1/4 cup sugar and remaining lemon juice, plus the zest, 1 teaspoon vanilla and the butter in the bowl until fluffy.  Add yolks one at a time, beating well after each additions and with the motor running, slowly add flour mixture until dough forms.  Divide dough into three balls and flatten into 3/4 inch disks; transfer to parchment paper-lined baking sheet.  Bake until golden and slightly firm, 20 -25 minutes; let cool completely.
In a blender, puree the remaining strawberries with 1/2 of the blueberries, 1/2 of the blackberries and 1/2 of the mango until a smooth sauce forms.
In a medium sized bowl, combine the remaining berries and mango, with the marinated strawberries.
Whip the coconut cream with 1 teaspoon vanilla extract until doubled in size.
Spoon 1/2 cup whipped coconut cream into four bowls; crumble 1/4 cookie over each.  Top with half of the remaining berries and mango and drizzle with some of the fruit sauce.  Repeat with remaining cream, cookies, fruit, and sauce.